Soccer defeats Illinois State for first win of the season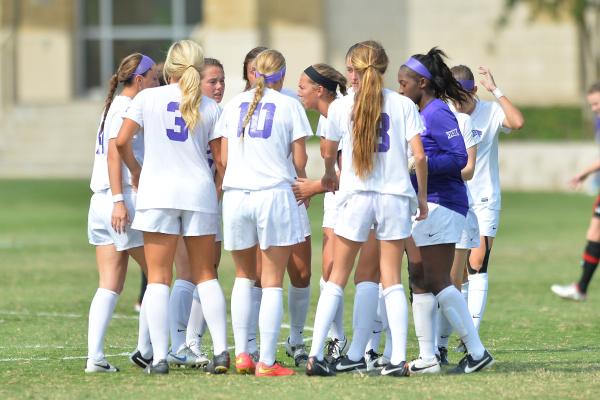 Published August 30, 2015
TCU Soccer finally pulled through on Sunday afternoon, defeating Illinois State 2-0.
Sophomores Allison Ganter and Emma Heckendorn each scored in the shutout win over the Red Birds. The team was riding a three-game losing streak to open the season before Sunday's victory.
"Today was a true team effort. We showed our depth, which was important on a hot day," coach Eric Bell said. "We were able to come through with a couple goals and get the win."
Defense was one of the big stories for the Frogs in Sunday's contest. The team only allowed four shots on goal the entire match, and only one in the second half. TCU out-shot Illinois State 14-4 for the match.
It was the second career shutout for junior goalkeeper Shannon Coffer, who was making her first appearance with the team since November 2013. Coffer tallied her first shutout in October that same year.
Bell said the past three games motivated the team to come out stronger on Sunday.
"We talked at half about what happened on Friday and we didn't let that happen today," Bell said. "I thought we came out of the half with more energy and great intensity. Even with all the substitutions, the group responded with the same level of intensity if not higher."
The victory capped off a four-game road trip to the start the season. TCU will take the field at home at 7 p.m. on Friday against Maryland for their next match.
"We are looking forward to being home," Bell said. "We will have the comfort of our stadium and good crowds. We are excited and looking forward to it. Hopefully our fans are excited to see this edition of TCU soccer."