TCU trails SMU 40-37 at halftime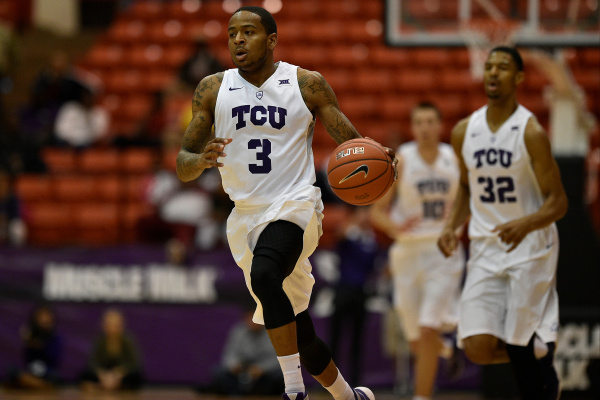 Published December 2, 2015
The Horned Frogs trail the No. 22 SMU Mustangs 40-37 at halftime at the Wilkerson-Greines Activity Center in Fort Worth, Texas.
The Frogs once had a commanding 22-10 over SMU thanks to a 15-1 run, but the Mustangs stormed all the way back to take a halftime lead, via a 16-1 run of their own.
Trailing 38-37, the Frogs were called for a shooting foul as time expired, sending Sterling Brown to the line who made both free-throw attempts.
The Frogs shot 43.3 percent from the field in the half. Forward Vlad Brodziansky shot 5-9, recording a team high 13 points and four rebounds for the Frogs. Guard Chauncey Collins recorded 9 points of three three pointers.
SMU shot 41.2 percent from the field in the half, but went 69.2 percent from the line, opposed to the Frogs 60 percent. Forward Ben Moore led the way for the Mustangs with eight points. Brown, Nic Moore, and Marcus Kennedy combined for a team-second best of seven points each in the half.
The Mustangs are without head coach Larry Brown, who is serving a nine-game suspension as part of sanctions against SMU for academic violations.