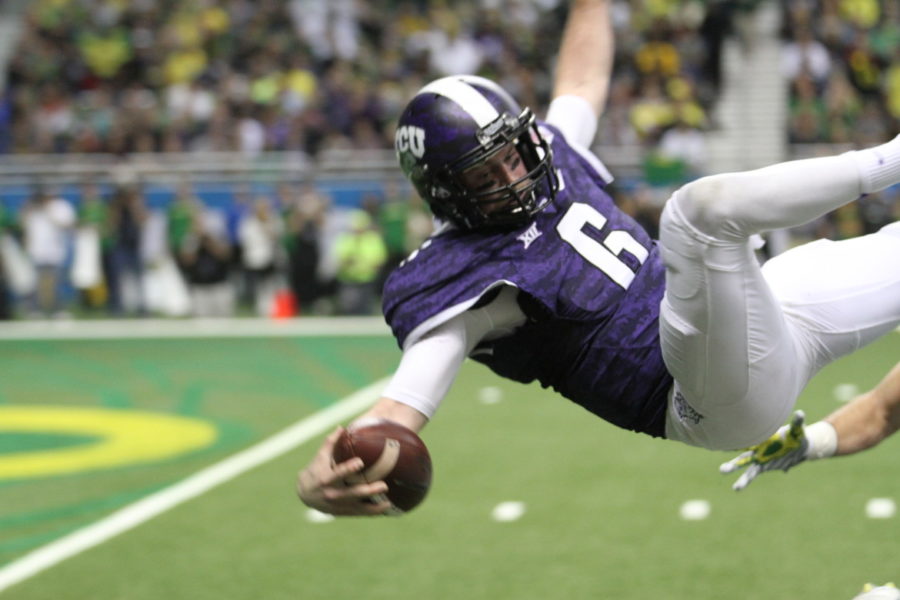 It's been just over a day since the TCU Horned Frogs pulled off one of the most remarkable comebacks in football history in the Valero Alamo Bowl.
And no, it hasn't gotten any less remarkable.
Down 31-0 at the half, after the offense struggled to put three plays together without a penalty mucking up their efforts and the defense failed to contain Oregon's star quarterback and running back, TCU head coach Gary Patterson and his now-legendary purple shirt (he changed from a black shirt at halftime) led his team to engineer 31 straight points to tie the game just seconds before the final whistle.
Three harrowingly nerve-racking overtime periods later, TCU safety Denzel Johnson swatted away a fourth-down pass over the middle and the Alamodome erupted in purple and white euphoria. The 31-point comeback tied the largest come-from-behind win in bowl history.
Pretty impressive for a team that didn't even have their starting quarterback.
Kohlhausen enters the history books
Bram Kohlhausen, a fifth-year transfer senior from the University of Houston and Los Angeles Harbor College, had "TB" written on his wrist tape in honor of suspended quarterback Trevone Boykin. He managed to channel some Boykin magic during the Alamobowl, leading the Horned Frogs' charge from behind and even attempting his own "Boykin-flip" just shy of the end zone.
"This will be one I'll tell my grandkids," Kohlhausen said postgame, a fist tightly clenched around the game's offensive MVP trophy.
Kohlhausen had seen action in the Oklahoma game earlier this year, after Boykin was unable to play due to injury and freshman Foster Sawyer struggled in his stead. Kohlhausen led the Frogs back from the brink of disaster then, too, but a failed two-point conversion prevented a miracle in Norman.
In the first half in San Antonio, the Frogs were pushed to the brink of disaster again, and it looked like Boykin's arrest on Thursday and subsequent suspension was the final nail in the coffin for a team that had been hanging on by a thread due to injuries the entire year.
Kohlhausen looked uncomfortable in the pocket, overthrowing open receivers by ten yards or more and scrambling ineffectively into trouble. When he sailed a pass into the arms of Oregon's Charles Nelson late in the second quarter, many on social media began looking to see if Foster Sawyer would come out from the sidelines in the second half.
Instead, Kohlhausen transformed into a calm and collected presence in the second half, standing tall in the pocket and finding open receivers in space. He checked down when he needed to, made plays with his feet that surprised national media as much as the Oregon defense, and fit some laser throws into tight windows at crucial moments.
He even scored the game-winning touchdown, skirting the sidelines on a speed option in the third overtime on a play that wouldn't have seemed out of place in a Boykin highlight reel.
Patterson said he was impressed by Kohlhausen's performance.
"I thought he made some unbelievable plays as far as throwing it and running the ball," Patterson said. "He had the option play, we all looked at each other, he went down the sideline in overtime."
Doing it the hard way
Kohlhausen's effort was made possible in part by a group of talented freshmen and sophomores that promise to be the next wave of TCU football stars. Jaelan Austin, Shaun Nixon, KaVontae Turpin, Emmanuel Porter and Jarrison Stewart all made crucial catches for the Frogs.
Anyone who has watched TCU football this year shouldn't be surprised to learn that out of Kohlhausen's 28 completions, 20 were caught by freshmen. After all, the Frogs used 30 freshmen during the season, by far the most in the Patterson era.
Even before Saturday night's win, it wouldn't have been out of line to call this season Patterson's best coaching job, even if the Rose Bowl and Peach Bowl-winning squads finished with more national recognition. Injury after injury decimated the Horned Frogs throughout the year, but the coaching staff found ways to get their team to win.
In an unusually lengthy answer for the normally stoic coach, Patterson, who had a barely-hidden smile on his face throughout the entire postgame press conference, said that this game was a major confidence booster moving forward.
"It makes me know as a head coach we're doing a lot of things right with our program," Patterson said. "Here is the thing about fighting through adversity — it's not just about the football game. It's about the next 40 years.
"You teach someone when they get up in the morning, they have to fight for a living, be something in life, don't let anyone tell you you can't be something."
Safety Derrick Kindred, who played his last game in purple in white at the Alamo Bowl, said postgame that Patterson used help from senior leaders to keep the team afloat.
"As you've seen all season, we had a lot of guys go down," Kindred said. "Coach P did a great job of growing up the young guys. Also the seniors on this team, we did a great job of talking to the young guys."
Thanks to their leadership, that group of seniors, including Aaron Green (who rushed for over 100 yards in front of his hometown fans on Saturday), wide receivers Josh Doctson and Kolby Listenbee, and Kindred — and, yes, Boykin, whom Kohlhausen dedicated the win to — will leave TCU in capable hands.
Patterson said he couldn't have imagined a better way for their Horned Frog careers to end.
"I don't think they can ask any more from a program," Patterson said.
Green echoed Patterson in the postgame press conference.
"This is definitely one of my favorite years of playing football," Green said, "one of my favorite teams, just because of the adversity and the trials and the tribulations that we have had to overcome."
"I just love it, man. It's taught me a lot. I'm just humbled to be a part of this TCU legacy."