First of 4 candidates for deanship of medical school holds open forum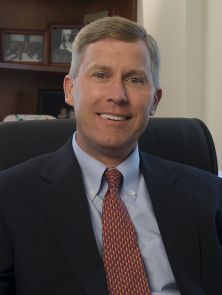 Published January 12, 2016
The first of four candidates for the deanship of TCU's new medical school spoke in an open forum Tuesday afternoon in Sid Richardson Hall.
The new medical school is a partnership between TCU and the University of North Texas Health Science Center. A search committee for the school's dean, comprised of both TCU and UNTHSC professionals, has been looking for possible deans since the announcement of the medical school back in November.
The four candidates each get a chance to present their backgrounds and ideas for the new medical school to TCU and UNTHSC faculty and students.
Dr. Stuart Flynn was the first candidate to present his case for the deanship. Flynn, who is currently the dean of the College of Medicine at the University of Arizona, received his medical and residency training from the University of Michigan. He completed his postdoctoral work at Stanford University.
Flynn said one of his goals as dean would be to implement more competency-driven courses rather than time-driven courses. He also said he wants to create a program in which students have an opportunity to work closely with patients.
Approximately 70 people attended the forum, a number which Flynn said was a great sign.
"It shows that the people of the Fort Worth community really care," Flynn said. "I can really tell that they really want to know that the right candidate is chosen for this job."
The other three candidates will speak at TCU next week:
Candidate B: Jan. 20 at 3:15 p.m., Sid Richardson Lecture Hall 4
Candidate C: Jan. 21 at 3:45 p.m., Sid Richardson Lecture Hall 2
Candidate D: Jan. 22 at 3:15 p.m., Sid Richardson Lecture Hall 4