TCU squanders lead against No. 6 Texas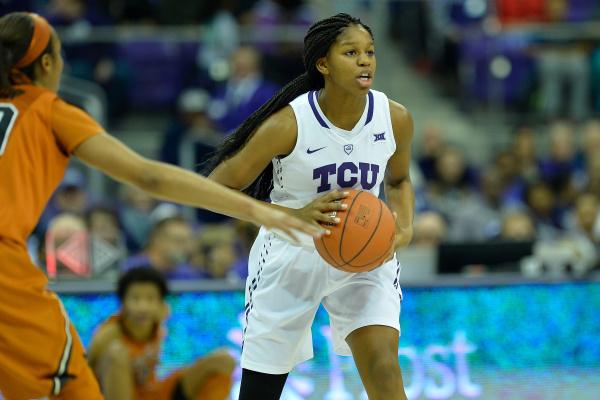 Published January 21, 2016
The TCU women's basketball team led No. 6 Texas for the vast majority of the game Wednesday night, but they lost the lead for good with 5:08 left in the game and ended up losing 65-58.
The loss dropped the Horned Frogs to 11-7 overall and 3-4 in Big 12 play. The Longhorns improved their record over TCU to 37-2.
There was a silver lining in the game for TCU senior guard Zahna Medley, as she passed Edwina Brown, current TCU assistant coach and Texas legend, for 33rd place on the all-time Big 12 scoring list 57 seconds into the game with a tough layup over a couple of defenders.
Both teams came out of the gate cold in the first quarter, with Texas shooting 29% from the floor (5-17) and TCU shooting 32% (6-19). However, the Frogs took much better care of the ball the ball than the Longhorns in the first quarter, with only one turnover compared to UT's five.
TCU was on fire to begin the second quarter, opening the period on an 8-2 run to jump out to a 24-13 lead and hitting their first three shots. TCU's AJ Alix suffered an apparent lower-body injury four minutes into the second quarter.
However, Texas countered with a 6-0 run of its own by scoring three straight layups. Alix shook off her injury by returning to the court with four minutes left in the half and immediately hit a driving layup while she was being fouled, showing no signs that she had just stumbled off the court in apparent pain about ten minutes earlier.
Shortly after Alix's return, Medley hit a 3-pointer to negate Texas's 6-0 with a TCU 6-0 run, as the Frogs pushed their lead back up to 11, 30-19.
But right on cue, the Longhorns forced back-to-back Horned Frog turnovers to answer right back with another 6-0 run powered by three straight layups from junior center Kelsey Lang, senior center Imani Boyette, and junior guard Brianna Taylor to cut the TCU lead down to five.
TCU entered the half with a five-point advantage, 33-28.
The reason for the Frogs' halftime lead in the turnover department, as TCU had three fewer turnovers than the Longhorns in the first half.
To begin the third quarter, both teams traded buckets and offensive fouls. Texas went four straight minutes without scoring a basket midway through the third quarter, which allowed TCU to gain some separation.
However, the Longhorns went on a rally over the final 2:07 of the third quarter to trim the Horned Frog lead to just one at the end of the quarter, 43-42.
Caitlin Diaz, a TCU senior forward and the team's leading rebounder at 5.9 rebounds per game, picked up her fourth foul a minute into the fourth quarter, but TCU head coach Raegan Pebley kept Diaz in the game.
After a back and forth fourth quarter, Texas came a back to tie the game at 52 with six minutes left in the game.
Diaz fouled out of the game with a little more than five minutes to go, leaving with 4 points and six rebounds. Immediately after Diaz's fifth foul, Texas took a one-point lead, 53-52.
"With Jada [Butts] and Caitlin [Diaz], who are two of our better players at executing, in the same position, both of them play our three and four spots, fouled out that forced us to play a little bit smaller and to play a player out of position, which caused a lack of execution," Pebley said postgame.
TCU's defense unraveled in the fourth quarter, as Texas hit four of five shots over a two minute stretch, which allowed Texas to increase their lead to five, 59-55. However, Thompson hit another 3-pointer to cut the Longhorn lead to two with 1:30 left in the game.
Center Imani Boyette's block on Medley's driving layup, which would've tied the game with 1:15 left, sealed the deal.
"I figured that if I pump-faked that she would go for my shot and block, so I just tried to go into her arms to try and get a foul called hopefully, but it just didn't go like that," Medley said. "My thought process was to go into her body to try and draw a foul."
Turnovers also played a big role in TCU's demise, as they racked up eleven second-half turnovers.
"We lost this game because we didn't get defensive rebounds at the end, and we didn't execute well enough and that caused turnovers and contested shots," Pebley said.
TCU returns to Schollmaier Arena for their next game against West Virginia on Sunday at noon.