Brian Howard shines in Frogs' win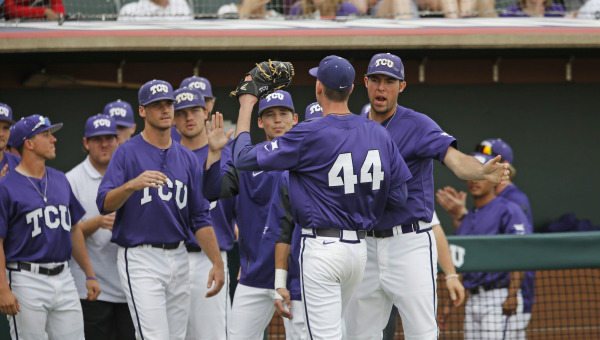 Published February 20, 2016
After suffering a tough loss on opening night, the Frogs bounced back on Saturday behind junior Brian Howard.
Howard pitched 6 1/3 shutout innings in TCU's 1-0 win over Loyola Marymount, only allowing three hits. He struck out five and walked two hitters during his time on the mound.
Howard got in a little bit of a jam during the first inning, but managed to work his way out of it.
Fantastic start for Brian Howard. Final line: 6.1 IP, 3 H, 0 R, 2 BB, 5 K pic.twitter.com/xNCsHow0WQ

— TCU Baseball (@TCU_Baseball) February 20, 2016
TCU hit the ball well but wasn't able to string together any hits until the third. Connor Wanhanen hit a two-out single and stole second base. Cam Warner then battled through a six-pitch at-bat before singling to left on as Wanhanen broke for third. The LMU third baseman went to cover but was left helpless as Warner ripped the ball out into left field.
TCU took a 1-0 lead and held onto it fro the remainder of the game. LMU threatened a couple of times, but the TCU pitchers were up to the challenge.
In the sixth inning, Howard pitched himself out of another jam. He retired three in a row after having two on and no outs.
Howard would return for the seventh and record one out before being pulled in favor of Drew Gooch. Gooch had a very short outing, throwing one pitch before getting replaced by Preston Guillory.
Guillory came in with two on and no outs. He retired two in a row, leaving two Lion baserunners stranded.
Brian Trieglaff closed the game in the ninth to complete the shutout. The Frogs now lead the NCAA with 24 shutouts in the NCAA over the past two seasons.
Also, TCU allowed <3 runs for the 80th time in past 134 games. That's 59.70149 percent of the time if I did the math in my head correctly.

— Carlos A. Mendez (@calexmendez) February 20, 2016
The Frogs will look to take the series on Sunday as they again take on LMU. First pitch is scheduled for 11:30 a.m. at Lupton Stadium.