TCU baseball cracks top 5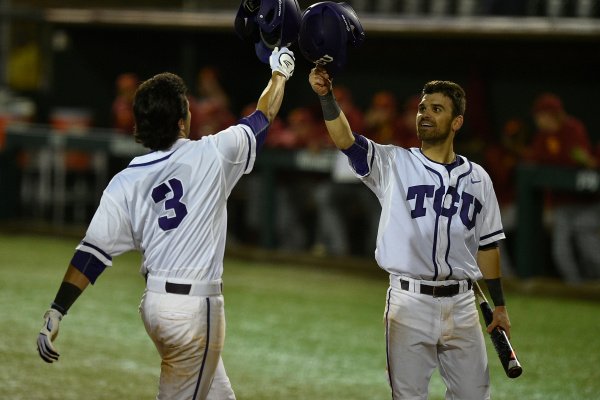 After sweeping West Virginia during opening weekend of conference play, Baseball America ranks TCU as No. 5, the highest they have been all season.
After this weekend, the Frogs are 3-0 in Big 12 play and 16-3 overall.
The spark for the Frogs this season has been in their bats. TCU has outhit their opponents 16 times and has scored multiple runs in an inning 37 times.
The efforts are teamwide.
Third baseman Elliott Barzilli leads the team batting average with .438 on the season. Barzilli has 32 hits including five home-runs and 11 doubles. He leads the team with nine multiple-RBI games.
Freshman pitcher and designated hitter Luken Baker has also had a hot start. In Sunday's game against West Virginia, Baker hit his first career grand slam, making it the first for the Frogs since 2013. Baker also had six multi-hit games and eight multiple-RBI games on the season.
Josh Watson has totaled four home-runs this season and has reached base safely in 10 games.
Austen Wade, Ryan Merrill, Evan Skoug and Dane Steinhagen have also had multiple multi-hit games throughout the season.
Head coach Jim Schlossnagle said the team is capable of scoring runs, but they are also capable of being a regional-caliber team.
"I'm sure that'll be proven out over the course of the year." Schlossnagle said.
Next up the Frogs host Abilene Christian University tonight. First pitch is scheduled for 6:30 pm.