A look at Jamie Dixon's impressive resume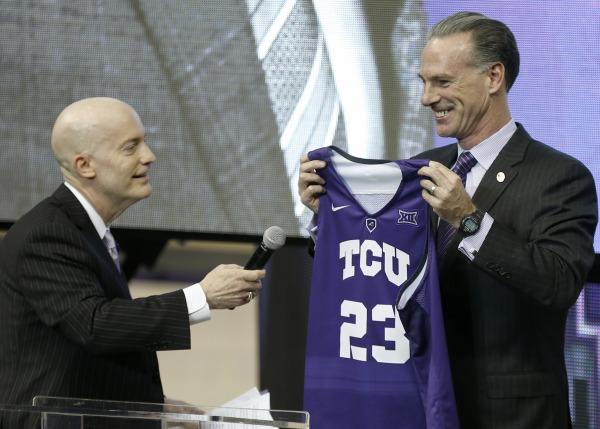 TCU basketball fans may be happy that TCU brought back its prodigal son to Fort Worth, but Jamie Dixon is more than just a former Horned Frog player.
He's also one of the most consistently successful coaches in the nation.
Dixon brings a litany of accomplishments with him to TCU from his time coaching Pittsburgh, where he spent the last 13 years at the helm of the Panthers.
Here's a look at what TCU is getting in Dixon, who was formally introduced at a press conference in front of more than a hundred fans at Schollmaier Arena in March.
A strong resume
In 1989, two years after graduating TCU, Dixon went to New Zealand and coached at Te Aute College before heading back to the U.S. to be an assistant at Los Angeles Valley Conference.
He was an assistant at Northern Arizona, UC-Santa Barbara, and Hawaii, and finally reunited with Ben Howland at Pitt. Howland was the head coach at NAU while Dixon was an assistant.
After Howland and Pittsburgh parted ways in 2002, Dixon stepped into the head coaching role and immediately saw success with the Panthers. His first season ended in a Sweet Sixteen appearance, and the Panthers made the Big East championship game.
The Big East dissolved in 2013, and while Pittsburgh left for the ACC, Dixon left with the all-time highest winning percentage in Big East history, at 65.8 percent.
The Panthers, in total, were 328-123 under Dixon in 13 seasons.
Pittsburgh made the NCAA Tournament 11 out of the 13 seasons that Dixon was at the helm. The Panthers made the Elite 8 in 2009, a season that also saw Pitt reach the No. 1 ranking in the nation. The Panthers made the Sweet Sixteen four other times.
Dixon was the Naismith Coach of the Year in 2009 and earned other national coaching honors in 2010 and 2011. He was the Big East Coach of the Year in 2004.
Success in purple and white
While Dixon has racked up wins as a coach, he was also a successful player at TCU.
Under head coach Jim Killingsworth, Dixon played guard for two Southwestern Conference championship teams. His game-winning shot against Texas in 1986 to clinch the championship remains a key part of TCU basketball lore, and was shown on the video board during his introductory press conference.
Dixon was 73-45 as a player at TCU. In his lone NCAA Tournament appearance in 1987, the Frogs beat Marshall in the first round before falling to Notre Dame.