Women's tennis: A serious year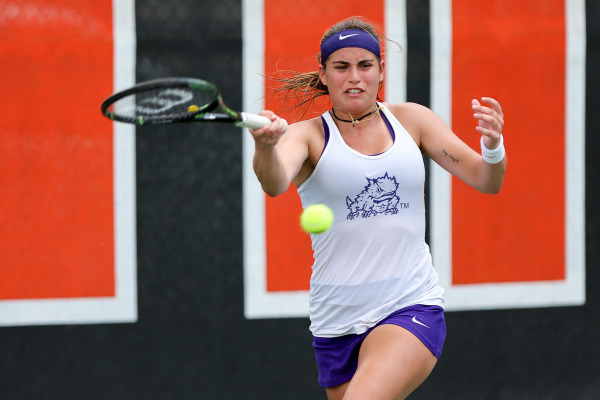 After finishing tied for second in the Big 12 last season, TCU women's tennis head coach Lee Taylor Walker says this season the team is returning loaded with upperclassmen and a set of high standards.
Despite his own high expectations for the team and those of the coaching staff, Walker says he's letting the players set their own goals this season.
"Any time you have a large senior class, they want to go out on top," Walker said.  "That's something they'll do, in terms of setting an actual goal of whether they want to win a national championship, a conference championship, top 10, top 5, top 20, that's really up to them to decide."
Walker says returning all-Big 12 doubles first team Seda Arantekin and Caroline Wegner have a chance to win an individual doubles national championship this year.
"They're top 25 in the country, and that's great, but really, we want them to be top 5 in the country," he said.
Walker also said that having Arantekin and Wegner back will help boost the confidence in the younger players. Having the rest of the team play against them during practices, or even splitting the duo up, pairing them with the less-experienced players, could build greater depth in the team, he said. 
Walker said that Big 12 newcomer of the year Olaya Garrido-Rivas can bring a lot of potential to the team. She wants to go out on top and along with her fellow seniors Arantekin, Wegner and Sofiko Kadzhaya, are dreaming pretty big, he said.
"Olaya…has some big goals for the fall," Walker said. "She wants to win a regional championship, and I think she's totally capable of doing that."
Mia King, who was a big contributor to the 2015-16 team, especially in doubles, returns this year as a student assistant coach.  Walker had high praise for her, saying that "there's some people that finish their eligibility that you don't really want around…and there's people like Mia, who you want around as long as possible."
Walker said this season is going to be a "serious year."
Tennis opens up play Sept. 16 at the Duke Invitational in Durham, North Carolina.