Some TCU students received a text message from an automated system instructing them to evacuate their dorm rooms Wednesday night, but the message was quickly determined to be a mistake.
Text messages obtained by TCU360 show the false alarm, which urges students to calmly exit their buildings.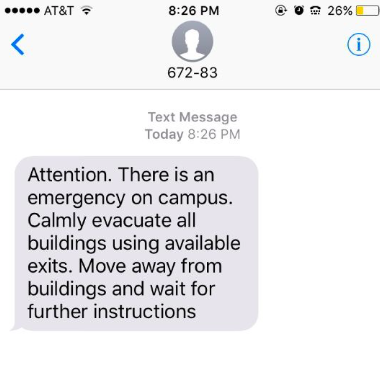 Resident assistants in TCU dormitories responded to students asking them about the veracity of the texts. They assured students that the texts did not come from a TCU source.
Students in other Texas colleges and high schools received similar messages as well. 
Some of those institutions took to social media to inform their students that the warnings were false.
UTPD receiving reports of false text alerts. We have not issued any emergency alerts this evening. Police are investigating.

— UT Austin Police (@UTAustinPolice) October 6, 2016
DC students received evacuation message from Lone Star College- possible gas leak. No problems at TMHS! Campus is great. Happy Homecoming

— Tomball Memorial HS (@TISDTMHS) October 6, 2016
As mentioned in the Tomball tweet, the messages are thought to have come from an automated warning system shared by many schools, including Lone Star College, in Houston. Lone Star had a gas leak Tuesday night, and the automated system spread the messages to other universities.
Students who took dual credit classes at community colleges in the Texas area that shared the warning system were likely to receive the messages.
The University of Texas at San Antonio Police Department confirmed the error on Facebook.
The TCU Police Department declined to confirm the Lone Star connection but said that the matter had been dealt with.
"There was not an emergency, and we did not send it," said dispatcher Ryan Proctor. "All the info I can give you is that we dealt with it."