TCU fell to the West Virginia Mountaineers in Morgantown for the first time in series history, 34-10.
TCU's road record against the Mountaineers is now 2-1 and 3-3 overall since both teams joined the Big 12 in 2012.
Here are five takeaways from the Frogs' performance.
Early turnovers hinder the Frogs once again
The turnover bug bit TCU hard to start Saturday's contest, as they turned the football over twice in under three minutes.
Wide receiver Deanté Gray fumbled the opening kickoff and West Virginia capitilized by converting the fumble into a touchdown pass by Mountaineer quarterback Skyler Howard.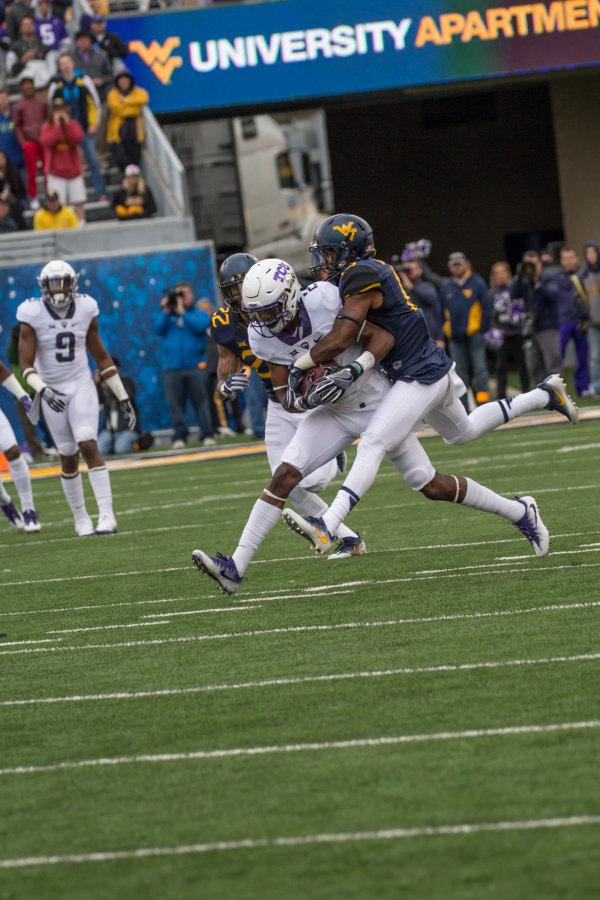 Another early turnover came from quarterback Kenny Hill. On TCU's first full possession of the game, he threw a wobbly pass that was picked off by Mountaineer cornerback Rasul Douglas.
At the end of the third quarter, Gray fumbled another kickoff return. Although WVU wasn't able to capitilize on the turnover, TCU lost a possession. And the Frogs needed every possession possible to mount a comeback.
Kyle Hicks does his job once again
While the Horned Frog offense totaled a season-low 300 yards, it was to no fault of junior running back Kyle Hicks. He ran for  103 on fifteen carries and 6.9 yards per carry. However, Hill threw for a season low 148 yards and the rest of the offense sputtered, as TCU mustered just 10 points.
Austin Schlottman returns, but KaVontae Turpin does not
TCU's center Austin Schlottman, returned to action Saturday. His return impacted the play-calling of Horned Frog offensive coordinators Sonny Cumbie and Doug Meacham. The vast majority of Hicks' 15 carries Saturday came in the first half, a stark difference from the Frogs' last game where Hicks had just nine carries in the first three quarters. Turpin suited up in full pads and jersey but did not play.
Jaelan Austin continues to score, but wide receiver core fails to create separation 
Sophomore wide receiver Jaelan Austin is continuing to push his streak of games with a scoring grab. Austin now has four, which is the longest streak since Josh Doctson; he had six. Austin now leads the team with five touchdown catches this season.
Senior wide receiver Daniel Walsh got his first start Saturday and led the Horned Frogs with four catches. The rest of the wide receivers put together a dismal performance, as four other receivers, including Austin, caught just two passes a piece.
Third down continues to baffle the Frogs 
Whether it was the offense or the defense, TCU did not perform during one of the most critical moments in football, third down. The offense converted just two of eleven third down opportunities. The TCU defense allowed the Mountaineers to convert over half of their third down plays.
In order for TCU to get the ball back to their offense and allow their defense more rest, TCU needs to limit their mistakes in crucial situations, like their numerous false start penalties.
TCU returns home to Amon G. Carter Stadium next Saturday against the Texas Tech Red Raiders. Kickoff is set for 2:30 p.m.
All photos courtesy of GoFrogs