TCU and Texas Tech bands to combine for halftime performance
The TCU and Texas Tech bands are combining to support the Frogs for the Cure event at the halftime show during the TCU vs. Texas Tech game on Saturday.
"The halftime show will be very moving," said Ann Louden, cancer survivor and chair of Frogs for the Cure. "It's the first time ever that two college bands have performed for a cancer tribute."
Students, faculty and staff may register online to be on the field for the Frogs for the Cure halftime performance.
"Both groups will use an even number of participants," said Brian Youngblood, director of the Horned Frog Marching Band. "We are utilizing a number that will help keep the sidelines clear as the teams re-enter for the second half."
The performance will feature a debut of the first-ever music video related to all cancers, "Fly Again" by Mark Bowling.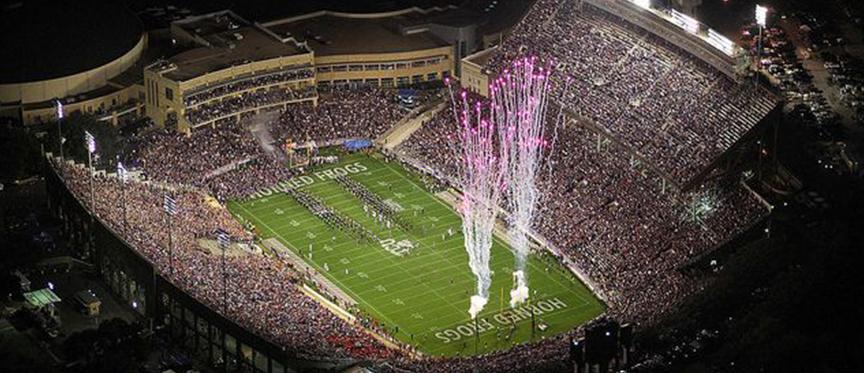 "Both bands have the drill sets and have practiced the past week," Youngblood said. "The first time that the bands will execute the sets together will be at the game."
Louden said there will be 1,000 people on the field and ten giant, stadium balloons tossed into the student crowd.
"I'm excited for this opportunity to join the Texas Tech marching band in support of such an amazing cause," said Jacob Collins, a junior drum major.
Flags and fireworks will represent all of the cancer-ribbon colors, and cancer survivors will make an appearance together on the field.
"We are all honored to stand by those we love as they go through the challenge of cancer," Louden said. "We show our collective support by uniting as a group to pay tribute to the courage of survivors."