Volleyball falls to Oklahoma, loses sixth straight match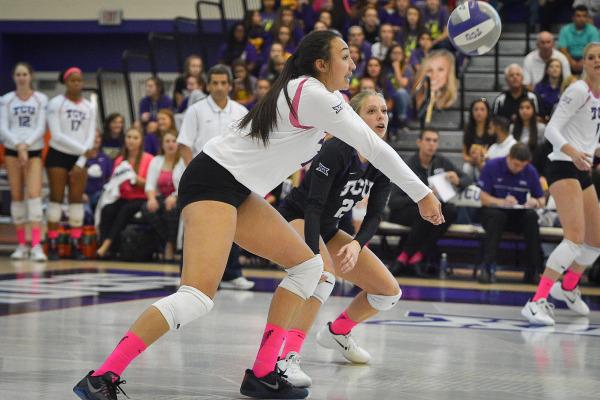 TCU volleyball lost its sixth straight match on Saturday, falling to the Oklahoma Sooners. The Frogs are now 10-10 on the season.
The Frogs opened the match with a close first set despite being down by as much as nine points. They battled back getting the score within one point, 23-24. But, the Sooners made one final kill to take the first set. The next two sets were lopsided with Oklahoma taking them 25-11 and 25-17 respectively.
Sarita Mikals made program history, becoming the 12th person to record 1000 digs. Leading the offense, she recorded 13 kills; Natalie Gower had 7.
Director of volleyball Jill Kramer said her offense was the best it had been in a while. The team came out and did a lot of the things they practiced throughout the week. But, Oklahoma played great, she said.
"Oklahoma played a heck of a match and their numbers were awesome," Kramer said. "There are a lot of competitive teams and Oklahoma is a well-coached team. They have also been working through some stuff and I think they came out and played great today. We will get back at it and get ready for Wednesday."
The Frogs will continue their season on Wednesday at 6 p.m. when they host No. 2 Texas in the University Recreation Center. The match will also be broadcasted on ESPNU.