Quarterback controversy continues as TCU heads to Waco to face Baylor
TCU head coach Gary Patterson didn't give quarterback Kenny Hill the starting job against the Baylor Bears Saturday, but he didn't take it away either.
"To the best of my knowledge, Kenny Hill remains the Horned Frogs' starting quarterback," Patterson said Tuesday during his weekly press conference, adding that fans "may see both" Hill and backup Foster Sawyer in the game.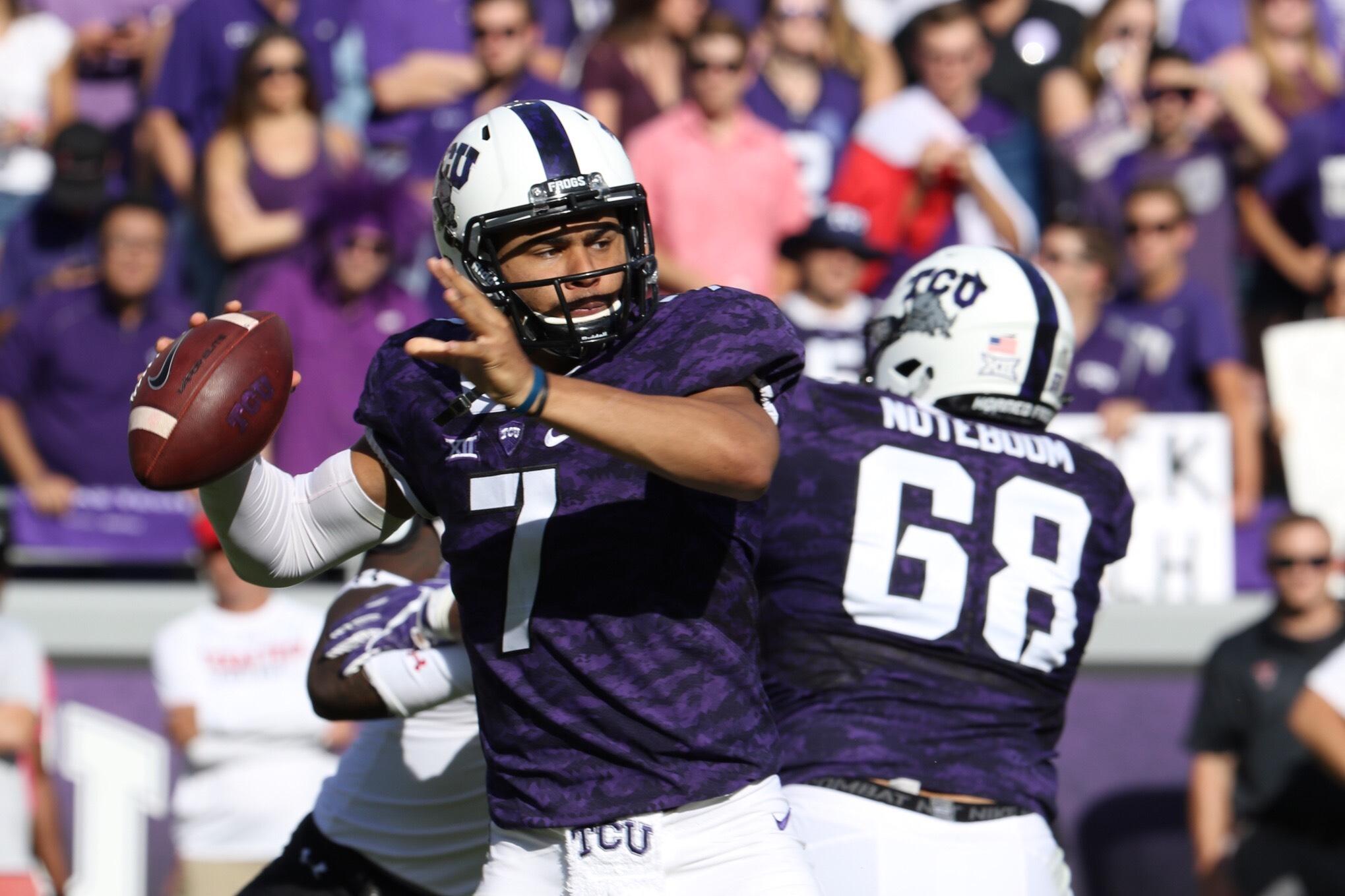 Hill was pulled from the second half of last week's game against Texas Tech after he threw an interception in the end zone. Hill has thrown 13 touchdown passes and 10 interceptions this season.
Sawyer, a redshirt sophomore, led the team on two scoring drives, including a touchdown pass in overtime. However, he completed only 6 of 17 passes during the double-overtime loss to Tech.
Patterson said KaVontae Turpin, sophomore wide receiver, is getting healthier and will be implemented more during the Baylor game. During the game against Tech, Turpin led the offense in receiving with four catches for 39 yards and a returned fourth quarter kickoff for 28 yards.
"I definitely think the offense had more spirit with him in the game," Patterson said.
TCU's defense has a task ahead as they face Baylor's deep vertical runs and passing game.
"Their offense comes straight at you," Patterson said.
Baylor's run game is No. 1 in the Big 12 and fourth in the nation, averaging 299.3 yards per game. Four of their players, including quarterback Seth Russell, averages 45 or more rushing yards per game.
Both TCU starting running back Kyle Hicks and starting defensive end Josh Carraway will most likely play on Saturday, Patterson said.
Another position creating controversy is the kicker.
Kicker Brandon Hatfield missed three of four field-goal attempts against Tech. Patterson said he regretted not encouraging Hatfield more after his early misses.
"I think on the last miss he lost his confidence," Patterson said. "I should've done a better job talking to him and telling him the misses weren't a big deal."
Patterson said sophomore kicker Jonathan Song is practicing with the rest of the kickers. Song won the starting job in spring drills but sustained a pulled quadriceps sustained during fall drills. Patterson said he needs to build up more leg strength before he returns.
"We'll kick who we think the best guy is," Patterson said.
The Horned Frogs are 2-2 against Baylor since joining the Big 12 in 2012.
TCU kicks off in Waco against the Bears on Saturday at 2:30 p.m.