TCU male student protests in front of Frog Fountain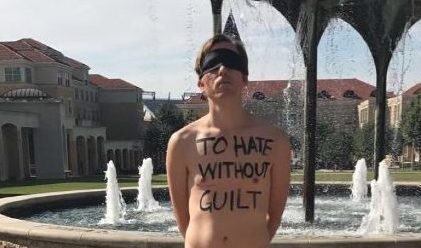 A male TCU student stood in front of Frog Fountain silently protesting Thursday afternoon around 2 p.m.
TCU Police Department detective Stephen Hall said the white male is a TCU student, but said he would not release the name of the student since the student has not committed a crime.
The student had "To hate without guilt" on his chest and was dressed in black pants and shoes with a black blindfold around his eyes.
It is uncertain as to why the student was protesting.
Andrea Aviles, a first-year music education major who was at the scene, said, "I think it was really ambiguous, so it's hard to tell exactly what he meant, but a lot of people interpreted it in a negative way."
Aviles described the scene as emotional, with several events occurring while the student stood there.
"As I was there, other people kept trying to go up to him and talk to him, but he wouldn't say anything to them," she said. "This one guy went up to him and gave him a hug.
"Then [the guy who hugged him] left and came back with food from Chick-Fil-A and dropped it in front of him. He gave him a pat on the shoulder and walked away really upset. There were a couple of girls who were people of color and they were crying and watching this unfold. There were a couple of people walking by, staring at him and taking pictures. One guy with a Make America Great Again hat yelled at him 'Make America Great Again!''' Aviles said.
Aviles said she interpreted the scene more positively than others.
"I hope he meant pro-Trumpers are blind to the guilt of the hate that Trump advocates for," she said. "I feel like that's maybe the message he meant, but it could've totally went the opposite way."
Kendra Hall, a sophomore strategic communications and French major, had the opposite opinion, writing in a snapchat post, "He's saying that because he's a cis white male [which] gives him the right to hate without feeling guilty about it."
Aviles also said she was not offended by the silent act of the male student.
"The way I interpreted it, it felt super powerful what he was doing and he was being very courageous and brave standing up there," she said.