International students' journey to TCU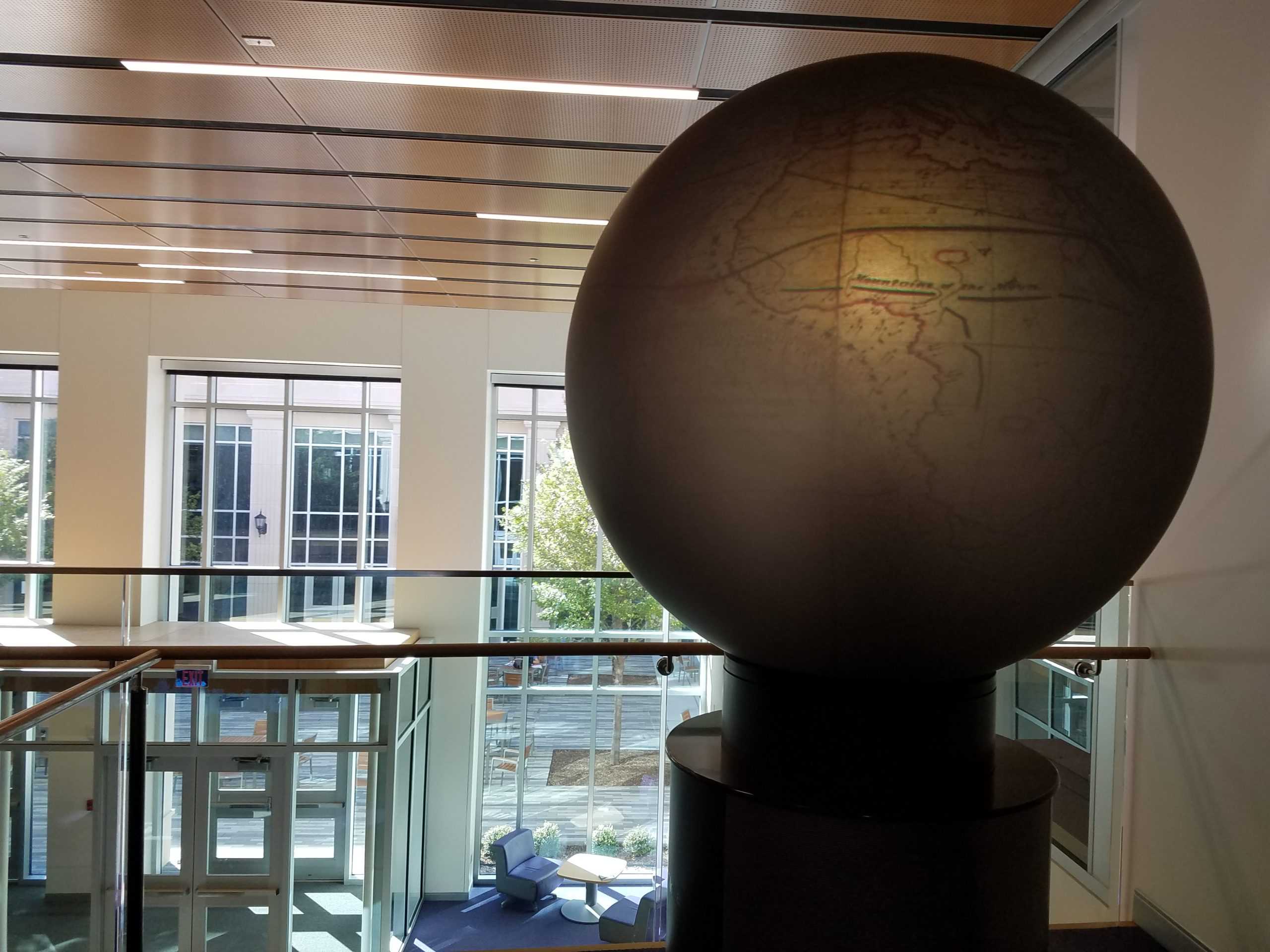 College applications can be daunting for anyone, but international students face an even more tedious admissions process to attend TCU.
Students from 78 countries attend TCU this year, according to the 2016 TCU Fact Book. The top 10 countries in order of highest to lowest that have the most students at TCU are Vietnam, China, Honduras, Mexico, El Salvador, India, Panama, Guatemala, the United Kingdom and Canada.
Karen Scott, director of international admission, said the reason for such a high enrollment of Vietnamese students is partially because of TCU's ability to offer financial aid and what others have said about TCU.
"Many students have heard great things about TCU from relatives or former classmates," Scott said. "The students from Vietnam have been happy and active on campus. They're excited to share this excitement with others back home."
Scott said 663 foreign students applied to TCU for the current academic year.  Of that number, 306 were admitted and 69 actually enrolled. Foreign transfer requests totaled 75, with 28 admitted and 17 enrolled. There are also 24 foreign non-degree students enrolled at TCU.
"I can't point to any one factor that caused us to be down in international enrollment this year," Scott said. "However, 81 [first years] prior to this fall represented an all-time high."
Scott said she is typically on the road for six to eight weeks in the fall and two weeks in the spring.
Scott said TCU admissions counselor Beatriz Gutierrez is in charge of admission for Latin American students, often traveling for the job.
"She travels in that region about two and a half weeks in the fall and two weeks in the spring," Scott said.
Scott also said national trends do have an impact on international student enrollment in positive and negative ways.
"There was a period when Japan was the top sending program to TCU and we worked closely with an educational organization there to attract students," Scott said. "When the Japanese economy had a downturn, the students and the organization started seeking regional colleges that were less expensive. We have a very small Japanese population now."
International students who seek a degree must submit the following documents in addition to the regular admission requirements:
National exam results
SAT or ACT scores
Test of English as a foreign language or international English language testing system scores
TCU financial statement
International notification of transfer form if they are currently studying in a U.S. high school or college.
International students  applying for the intensive English or the non-degree exchange program must submit the international student application for undergraduate admission in addition to the intensive English program. The list of requirements also includes an  international student financial statement, notification of transfer form for students who have an F-1 or J-1 visa, a college board CSS/financial aid profile and discipline statement.
Lorenzo Racca, a first-year pre-business major from Italy, said the process to apply to TCU was difficult, taking him around four months to complete.
"Applying for college being from a different country is kind of rough," Racca said. "Not only because you don't know a whole lot about colleges in general, like how it works. If it is long for American students to apply, for me, it was twice as long."
Racca said the application process for various universities was very similar in some ways, but the TCU process was more personal and straightforward.
"Many things were similar among schools," Racca said. "Applying through the Common Application was amazing – especially because using such an automated process while being unable to communicate with the schools helped a lot."
Racca said translating his documents during the admissions process was time-consuming as well.
"I had to translate everything that school officials did," he said. "Italian schools don't have a counselor so nobody was there to help me provide documents between schools. It was just a lot of stuff to do that's different for my country and the United States."
For most American students, finding the nearest testing center is easy, given that there are multiple locations. For Racca, this was not the case.
Racca woke up at 4 a.m. to take the 8 a.m. ACT.
"It's only available in major cities, and I don't really live close to Milan where it was," Racca said. "I had to drive for three hours."
John Singleton, director of International Services, said students have to show that their family has the ability to finance the student for their four years at TCU.
"You have to have proof that the student can pay, usually in the form of a salary," Singleton said. "I look this over and see that the student has enough to finance."
According to the TCU admissions website, the annual cost estimate for an international student is $61,370. An international student pays  $5,740 more than a student from the United States to study at TCU.
Scott said the families of international students make large financial sacrifices in order to make it possible for their child to study in the United States.
"The biggest investment is not on things like your house and car–it's education," Scott said. "In parts of the world, families put such an enormous percentage of their income toward education. I think more so than a lot of families here in the United States."
Singleton said the Office of International Services then sends the I-20 form, a copy of the student's financial documents and a link to the website for the student to make an appointment with the embassy.
"They have to get a student visa," Singleton said. "They pay the fee, now they are eligible to make an appointment at the embassy. In order to go and get their visa, they also have to do something called the DS-160, which is the embassy appointment fee of $160."
According to the Department of State website, students may apply for the F-1 visa if they plan to attend a university in the U.S., or a J-1 visa if they are attending an exchange program.
Singleton said the students then go to the embassy to turn in the documents and get the student visa. Receiving their visa is just the beginning of the process.
International students go through a two-day orientation program prior to the regular orientation after arriving at TCU so they are on the same page with the rest of the students, Singleton said.
"What we are trying to do in that program is to set it up, so that the minute you walk into that [regular orientation] program you are just like everybody else," Singleton said. "You don't have one question in your mind that American kids don't have. If you don't solve the simple stuff, an international student's mind is not going to be there."
Scott said international students are more informed about TCU now before arriving than they were when the program existed 10 years ago, but the internet has also caused for people to have some misconceptions about TCU as well.
"Some have heard about TCU from current and former students, so they have a general sense of what it's like, but much of what they know is from the internet," Scott said. "No matter how many pictures and videos people see, they're still not prepared for how beautiful the campus is and [how] sophisticated the facilities are. Most universities in other countries don't have residence halls, multiple dining venues or sports facilities. The amount of space TCU occupies can be overwhelming."
For other international students, the admissions process is a little more simple.
A junior psychology major, Jake Yang, is from South Korea. Yang said he was already studying at a high school in the U.S., so he already had his F-1 visa and knew the process for it.
"It wasn't a problem for me," Yang said. "I did have to go through a scholarship process, which was different for international students. I had to fill out a [College Scholarship Service] profile. I don't think I could have come to TCU by paying full tuition."
No matter where international students are in the process, TCU Office of Admissions helps international students in different ways.
Patrick Rutikanga, a student in the intensive English program from Rwanda, said TCU helped him get his J-1 visa by providing him with all the documents he needed to present to the embassy.
"When you go there with all the documents, you expect getting a visa or not getting a visa," Rutikanga said. "It's not always easy."
Racca said getting his visa was easy since International Services helped him get his visa by giving him specific instructions on what to do to obtain it.
"Applying was a pain because schools don't really care that much about you, you're not a student yet," Racca said. "But once I got into TCU, whatever I emailed my counselor she'd answer as soon as possible. It was nice. It made it easier."