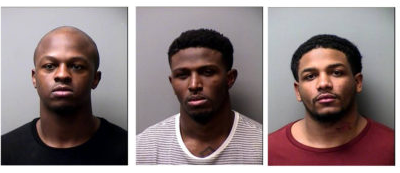 Editor's note: This story has been updated from its original version. 
TCU running back Kyle Hicks, the Horned Frogs' leading rusher and receiver last season, was arrested on a charge of public intoxication along with two former football players Saturday morning.
According to a report from the Fort Worth Police Department, Hicks and former players Bryson Henderson and George Baltimore were taken into custody after Fort Worth police were called to the Whataburger on the 2400 block of West Berry Street at 2:41 a.m. Officers were initially dispatched out for a fight at the restaurant.
Along with public intoxication, the report indicates Baltimore was also charged with resisting arrest.
TCU Athletics said in a statement Monday night that officials are aware of the incident and looking into it.
In 2016, Hicks scored 14 touchdowns, while totaling 1,042 rushing yards and 417 receiving yards on 47 receptions. Hicks recorded a career-high five touchdowns in TCU's 62-22 win over Baylor on Nov. 5, the most in a single game by a Horned Frog since LaDainian Tomlinson's record-setting six touchdowns against UTEP in 1999.