Horned Frogs look to take another step forward against Texas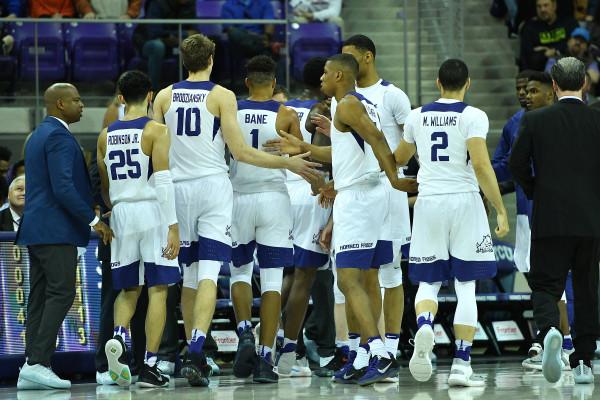 TCU finally broke through Wednesday at Kansas State, registering an 86-80 overtime road win, and now the team can look ahead to continue their winning ways against the Texas Longhorns.
"I think making shots early made a whole difference because it was the elephant in the room," Dixon said. "I think the missed shots just weighed on us."
The Horned Frogs shot 50 percent from the field and 59 percent from beyond the arc in Manhattan on Wednesday.
A significant factor in TCU's shooting success was forward Kenrich Williams. While he finished with 11 points, Williams established himself as a threat from three, shooting 3-4 from behind the three-point line.
"I'm telling him to shoot on the catch, not hesitate, and just simplify his game by driving to the hoop when given the opportunity," Dixon said. "As good as he is, we need Kenrich to be more aggressive scoring-wise, but again he was out all year missed the preseason, and we haven't even seen him play and really seen all his strengths."
Dixon said in time Williams can achieve an even higher level play, but that he still is overcoming time he missed because of microfracture surgery on his knee.
"It's hard to become a scorer overnight, and he didn't practice all summer and all fall," Dixon said. "To think it's going to happen right away is unrealistic."
Another standout performance during Wednesday's game came from freshman point Jaylen Fisher, a player for whom Dixon has high expectations. Fisher scored 12 points, shot 2-3 from three, dished out four assists, and helped TCU create separation in overtime.
"I think Jaylen was hitting the shots, and I think foul trouble has been bothering him and limiting his effectiveness, but he battled through it," Dixon said. "Plus, he's freshman going through it, and we knew it would come eventually."
Looking at the Horned Frog's March Madness resume, there aren't a lot of blemishes.
"The only horrible loss resume-wise has been Auburn at home, and otherwise we've been tied or ahead in pretty much every other game that we have lost," Dixon said. "We have a chance to finish in the top half of the league, and we have two road wins and lost to the best two teams in the league at home."
TCU has the opportunity to pad their NCAA tournament hopes as the season winds down with a favorable schedule down the stretch.
"We have five of our last nine at home, and I hope we can start playing our best basketball," Dixon said. "We're in position to do some things, but we can't take a step backwards, and we haven't except against Auburn when we hurt ourselves."
The Horned Frogs return to action Saturday against Texas at noon in Schollmaier Arena.