Hot bats and strong pitching propel Frogs to a 12-1 win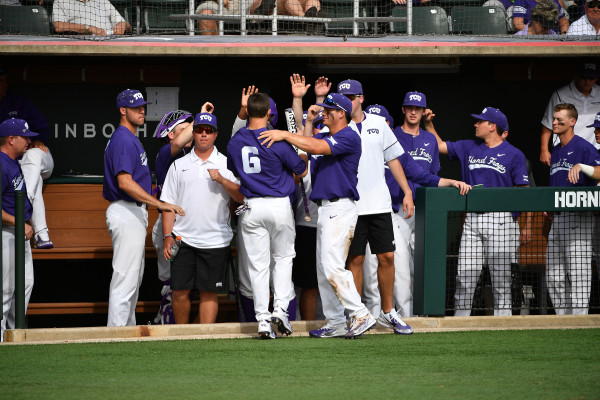 5,507 fans at Lupton Stadium witnessed TCU ride a strong six innings from Brian Howard and a career high four RBI day from Nolan Brown to an 11 run victory against Penn State Saturday.
Howard struggled in the first inning, as Penn State scored their only run of the day on a double from catcher Willie Burger that fell just out of the reach of a diving Brown in center field. Howard went on to retire the next fifteen batters on his way to a one run, three hit outing.
"Even though I'm a senior, I'm not immune to the first game of the year butterflies," Howard said.
Howard gave a lot of credit to freshman catcher, Zach Humphreys. "The first start of his college career, and he was outstanding. He handled it like a veteran," Howard said.
Offensively, the Horned Frogs tallied 13 hits after just two on Friday. After getting eight free passes on Friday, five of whom went on to score, Penn State pitchers walked five on Saturday and hit two more, resulting in four runs. TCU has capitalized on the Nittany Lions' struggles with command through the first two games of the series.
TCU went quietly in the first before scoring runs in each of the next four innings. The Frogs scored three runs in the second, powered by a two RBI single from Brown followed by an RBI single by Austen Wade. Junior starting pitcher Taylor Lehman was only able to record four outs before being replaced by Nick Distasio in the middle of the second inning.
The lead was extended on two sacrifice flies from Josh Watson and Humphreys, who recorded his first career RBI, putting the Horned Frogs ahead by four through three innings.
10 men hit in the bottom of the fourth, as TCU blew the game open in a six run inning highlighted by two run singles from Brown and senior shortstop Mason Hesse. Brown is now 4-7 with five RBIs to begin the season, coming off a year in which he saw very limited playing time due to injury.
"I prepared myself as best as I could, especially coming off an injury," Brown said. "It kind of gives you more of an appreciation for the game."
The final run of the day was scored as Elliott Barzilli led off the fifth inning with a home run to straight away center field. The home run was Barzilli's second hit of the day, giving him 43 multi-hit games in his career.
Penn State sent seven pitchers to the mound, one more than the six they used on Friday.
Highly touted freshman Charles King out of local Coppell High school made his much anticipated debut in the seventh inning, getting a double play and a strikeout to work around a lead off base hit. King then stranded two and struck out another to close out his first outing in the eighth.
The Frogs' head coach Jim Schlossnagle was complimentary of King's debut. "Perfect scenario for us to get him in the game," said Schlossnagle. "You saw the reasons why we are so excited about him. We anticipate bigger and bigger roles for him."
Redshirt freshman Austin Boyles followed King's debut with one of his own, pitching a perfect ninth inning and recording his first career strikeout, closing out the dominating win for the No. 1 Frogs.
Another exciting debut awaits on Sunday as Nick Lodolo, who turned down a professional contract worth 1.75 million dollars to pitch in Fort Worth, will make his first appearance in purple.
Lodolo's teammates are just as enthusiastic as fans are about his first start. Howard said "We got a kid, Nick Lodolo, throwing the ball tomorrow, so we are really excited to watch him do his thing."
First pitch for the final game against the Nittany Lions has been moved up to 11 a.m. due to the thunderstorms expected Sunday afternoon.