Freshman pitching debuts lead Frogs to game three win and sweep of Penn State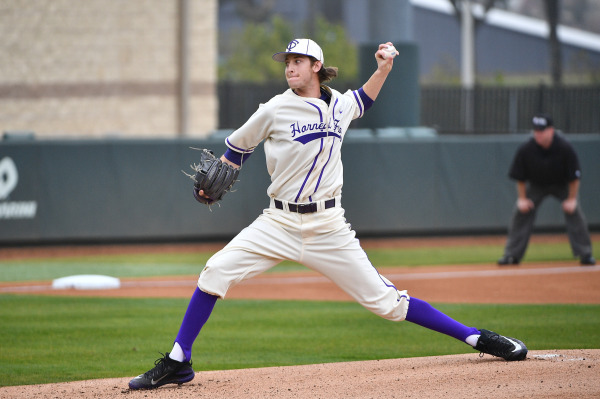 The No. 1 Horned Frogs used four freshman pitchers and timely hitting to secure a sweep of the Nittany Lions on Sunday in a 9-3 win.
The Frogs hit .272 on the series, collecting 25 hits, six of which were extra-base hits, to go along with 17 walks. TCU outscored Penn State 27-7 behind an weekend ERA of just 2.00.
TCU head coach Jim Schlossnagle was impressed with the way his young pitchers performed in their debuts. "Today was the very first time all four of those guys pitched in a division one baseball game," he said. "I thought they did a good job holding their composure."
Nick Lodolo started for TCU, giving up just two runs in five innings of work. Lodolo retired the first two batters he faced in the first inning before a double and a two-run home run from Penn State first baseman Willie Burger put the Nittany Lions in front at 2-0.
After striking out the last batter of the first inning, Lodolo settled in, allowing only one more hit over the next four innings along with two walks and seven total strikeouts.
"I started off a little shaky, but got it going in the right direction," he said. "I left a couple up that got hit, but after that I just went back to the bottom half of the zone."
Behind after one inning for the second straight day, the Frogs' bats came on strong to tie it at two runs apiece with two outs in the second inning. A walk from senior Nolan Brown and a single from senior Cam Warner put senior Ryan Merrill in position to drive in his first run of the season on a single to left field. With junior Connor Wanhanen at the plate and runners on the corners, TCU executed a double steal as Merrill got in a run-down between first and second while Warner came home from third.
The Horned Frogs took the lead for good in the third inning on a bases loaded sacrifice fly from sophomore Josh Watson. Brown came up with two on and two out and hit a hard line drive into the left-center field gap that was dropped by PSU center fielder Mason Nadeau, allowing both runs to score putting the Frogs ahead 5-2.
Penn State starting pitcher Justin Hagenman was pulled after the third, giving up five runs. The three Nittany Lions' starters combined for just eight innings pitched and allowed 12 runs over the weekend.
TCU left a man on third in the fourth inning, but came back in the fifth with their second three-run inning of the day.
Sophomore Luken Baker, making his second start at first base of his career, hit a no-doubt line drive over the left-center field fence. After getting his first home run out of the way, Baker said "It's not something that I really think about, but getting one out of the way is good, especially behind Nick who was making his first start."
Watson followed Baker's home run with a double, reaching base for the 16th consecutive game dating back to the 2016 season before Warner hit a two-run shot into the TCU bullpen giving the Frogs an 8-2 lead.
Freshman Jake Eissler came on to replace Lodolo to begin the sixth inning. Eissler, a native of Littleton, Colorado, tossed two scoreless innings in relief allowing one hit and walking one with two strikeouts.
Brown added the Frogs' final run of the day in the seventh inning as he drove in his fifth run of the season on an RBI single to center field that scored Baker.
The third true freshman of the day to take the mound, Cal Coughlin of Lake Forest, Illinois, came in and pitched the eighth. He surrendered a one out solo home run to Burger, his second of the afternoon. Despite the home run, Schlossnagle was glad to see Coughlin perform well after a change to his pitching mechanics within the last few weeks.
"A really good sign with Coughlin," he said. "We just dropped him down arm slot wise about a week and a half ago. I like to change the look out of the pen, so Cal can really do some good things for us in that role."
Finally, lefty Haylen Green from Lufkin, Texas, pitched a 1-2-3 ninth inning with a strikeout to conclude a six-run Horned Frog victory.
TCU is now 3-0 for the fourth time in the Schlossnagle era after a very successful opening weekend in Fort Worth.
"It's a good start," Schlossnagle said. "We're just trying to get into the rhythm of the season."
15,744 people watched TCU sweep Penn State, the largest opening weekend attendance in Lupton Baseball Stadium history.
The No. 1 team in the nation will be back in action on Tuesday against the UTA Mavericks in Arlington. Senior Mitchell Traver will take the mound for the Frogs. First pitch is scheduled for 6:30.