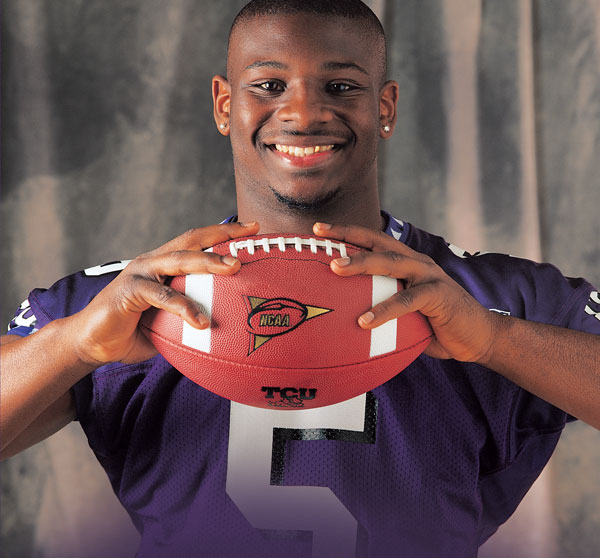 When Gary Patterson came to TCU in 1998 as a defensive coordinator, LaDanian Tomlinson was a backup running back.
Now, Patterson is the winningest coach in Horned Frogs' history, and Tomlinson is set to be inducted into the Pro Football Hall of Fame.
"LT was a great player but an even better person," Patterson said. "The way he represents the NFL and TCU is unbelievable. His legacy will carry on for many years in the community."
Tomlinson was a running back for TCU from 1997 to 2000. Tomlinson was selected by the San Diego Chargers as the fifth overall pick in the 2001 NFL Draft. He played 11 seasons in the league, from 2001 to 2011. His first nine seasons were with the Chargers, before ending his career with two years as a New York Jet.
Tomlinson is the Horned Frogs' all-time leading rusher with 5,263 yards while holding 14 of TCU's 17 rushing records.
Tomlinson was the 2006 NFL Most Valuable Player when he led the league with 1,815 yards rushing while setting a single-season record with 28 rushing touchdowns. He was also that year's recipient of the Walter Payton NFL Man of the Year Award.
"Wins and losses, they keep your job," Patterson said. "What we appreciate most is getting a chance to see how they've grown up and know that we were a part of them being able to have a better life."
TCU was one of the few schools to offer Tomlinson a scholarship to play college football.
"It's never been about how you start anyway," said Patterson. "All it is proof that you can move forward."
Tomlinson, selected in 2014 as the 11th Horned Frog in the College Football Hall of Fame, earned his TCU degree in August 2005.
"Greatness always comes at a price," Patterson said. "No matter how much running we would do in the summertime or whenever, whenever he got done he did more."
Patterson said the thing that sets great TCU players apart is what they do and how they do it.
"When LT first came to TCU as a sophomore, he weighed 210 pounds and ran a 4.60. In the offseason, he gained 10 pounds and ran a 4.38," Patterson said. "I thought the watches broke, and we even went back and ran it again," he said.
Patterson said that Tomlinson would go back out after practice and work for another 30 or 45 minutes.
"Ability is ability and then you've got to have a little luck to get where you need to be, but if you look at the kind of people they've become and how they've done things, that speaks volumes," Patterson said. "That's the thing that I'm most proud of."
[<a href="//storify.com/ktclarke/lt" target="_blank">View the story "LT" on Storify</a>]
Patterson said it helps that alumni like Tomlinson come back to visit. Tomlinson was in Fort Worth cheering on TCU Men's Basketball just a few days ago.
"There's not a better example of what you want to become to motivate our kids," Patterson said. "It's a circle of life, and it helps us with every facet."