Frogs drop another close one against Oklahoma for seventh straight loss, 73-68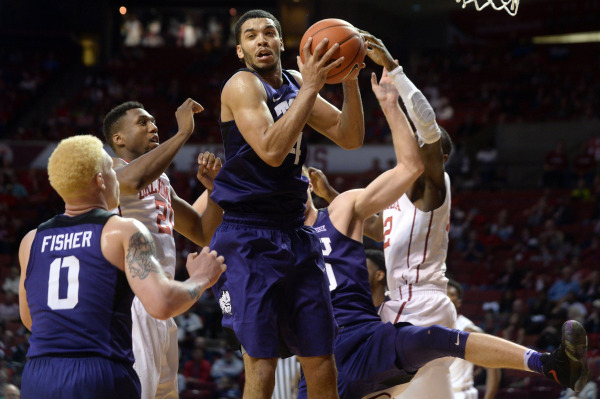 The Horned Frogs led the Oklahoma Sooners by as much as six points with ten minutes left to play in Norman, Oklahoma Saturday, but the couldn't hold on, losing their seventh consecutive game, 73-68.
After TCU forward Kenrich Williams knocked down a three-pointer with 1:05 left in the game to tie OU at 66, the Sooners found their way to the free-throw line and hit seven of their last eight free-throws to finish the game. TCU scored only two more points after Williams' game-tying shot on a layup by Vladimir Brodziansky.
Free throws were the only statistic where Oklahoma separated themselves from TCU, with the rest of the game even across the board.
"We're a team that has lost of lot of close games here down the stretch, and  we're battling, we're up, and we just didn't get it done," TCU head coach Jamie Dixon said. "Give OU credit for making their free throws because we didn't make ours and that puts you in a difficult situation."
The Sooners shot 77 percent (17-22) from the charity stripe, whereas TCU got to the free throw line just nine times and making four – a 44 percent clip.
"I thought our defense was better because we held them to 44 percent from the field. Simply put we have to get it done at the free throw line," Dixon said. "It seems that's been a common occurrence for us, and we'll have to improve in that area."
However, a couple of Horned Frogs individual performances shined brightly on Saturday: Kenrich Williams and Vladimir Brodziansky.
Williams and Brodziansky combined to score 34 of TCU's 68 points, each scoring 17. Williams notched his recorded his team-high 13th double-double on the season with 13 rebounds and is tied with Baylor's Johnathan Motley for the Big 12 lead in double-doubles.
"Kenrich was terrific today for us," Dixon said. "I thought he had about as good of an all-around game as you can play because he did a lot of great things for us: rebounding, passing, and some scoring."
In the end, Dixon kept chalking up TCU's loss to losing the battle at the free throw line.
We just have to finish plays and not put people on the foul line, but it came down to missing free throws.
They beat us by 13 at the free throw line," Dixon said. "That's going to do it."
TCU's next game is in Kansas City, Mo. at the Big 12 tournament on Wednesday March 8. Their first round contest will be a rematch of Saturday's game between the Horned Frogs and the Sooners with TCU as the No. 8 seed and OU as the No. 9 seed. Tipoff is set for 6 p.m., and the winner of that game will play No. 1 Kansas in the second round.
"We've played them twice and there was a split," Dixon said. "Quick turnaround, based on the first two, I expect it will be close game and will be decided by who gets to the foul line more."