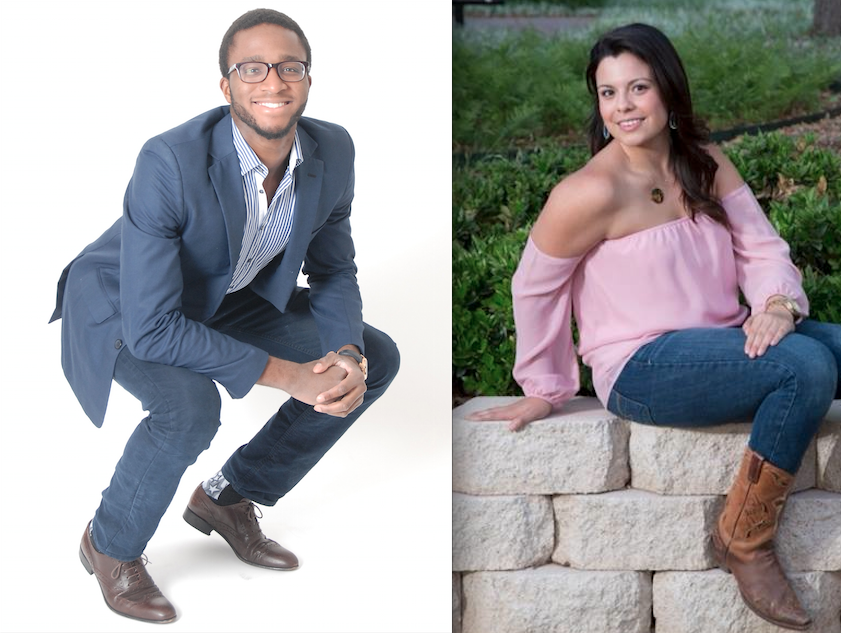 Bassi Doumbia remembers the day he walked onto the basketball court toward heckles and monkey noises. After being greeted with flying banana peels and the N-word, he knew that he was not welcome.
Doumbia, a senior economics major, said the reception he received while playing high school basketball in Serbia was one of the most hostile experiences he had while growing up in Europe.
Doumbia and Monica Valdez, a senior majoring in studio art, both recently spoke about how racism has effected their lives and how they've grown somewhat immune to social slights and insults.
Doumbia grew up in Geneva, Switzerland. He said he traveled Europe extensively.
"Serbia of all places is where I met with the most, I'd say, backlash, in terms of racial slurs and heckles," he said.
"You're on the court and you have the opponent who not only has the incentive to take you down and disorient you, but they might genuinely be these racist people who really do want to hurt you."
He said his experiences in the U.S. and at TCU haven't been as jarring, but he has experienced racism. Here, he said it sometimes occurs at house parties where he encounters, "that drunk guy who speaks his mind a little too freely."
While he said he is no longer phased by this kind of behavior, Doumbia said people should not  have to develop a resistance to it.
Senior Monica Valdez said she has also grown numb to racism.
Valdez said she has been told she was pretty, "for a Latina," and been judged on and off campus because of the color of her skin.
Valdez recalled one of her professors saying, "I didn't know you were from Mexico," after she correctly pronounced her name in class. Frustrated, she responded, "No, I'm from San Antonio."
"When people make those assumptions it hurts because it makes me feel like that's all you're going to see me as, as that one Mexican girl in your class," she said.
Being categorized by her last name makes Valdez feel that people are not seeing her for who she really is.
Valdez, who is Mexican and Spanish, said her Spanish-speaking peers have teased her for being monolingual.
She recalled others telling her, "Well if you can't speak Spanish, then obviously you're not Mexican."
People have also said they cannot consider her to be half Mexican because she "acts white."
Valdez says that she doesn't have to speak Spanish to prove anything.
She is not alone in her struggle.
Doumbia said he has also been categorized because of his speech and appearance. He said most people automatically assume he is African-American because he doesn't have an accent.
Doumbia was raised speaking English and French, but since moving to America uses English as his primary language.
He said that when he got to Texas, people expected he knew what popular stores like Kroger were, but everything was foreign to him.
Having great friends has allowed Doumbia to have a mostly positive experience at TCU. He does, however, know students who chose to leave TCU because they felt unwelcome.
"I see a lot of other people who struggle with this, not just for racial issues, but for sexual orientation," he said. "I know a lot of people here who aren't exactly fans of the LGBTQ community as a whole."
Doumbia said we need to continue to inform students so that this type of behavior no longer flies under the radar. He wants to ensure that the issues people face in their everyday lives are acknowledged.
"A lot of people who get offended, harassed or abused don't come forward to admit it," he said. "It might be as a result of shame or even the inability to express it themselves because it's too hard to talk about. It's hard to think about. Once you've gone through something traumatic, it's very hard to come to terms with."
Valdez said she feels better knowing that she's not the only one who sees this happening on campus.
"I had always kept my head down, mouth shut," she said. "I wouldn't bring it up because people had always been like, 'Oh, well I didn't mean it like that,' or, 'I was just joking, it's not serious.' "
Last semester, Valdez and many other TCU students took to Twitter to address issues of inequality on campus. The hashtag #beingaminorityattcu went viral, giving voices to the students who felt like they had none.
[<a href="//storify.com/MissDoumani/beingaminorityattcu" target="_blank">View the story "#beingaminorityattcu" on Storify</a>]
In October, Chancellor Victor Boschini implemented major changes to address issues of inequality on campus.
TCU now has a Chief Inclusion Officer and Title IX Coordinator, a major and minor in Comparative Race and Ethnic Studies, and is hosting speakers to get students talking about diversity on campus.
"I've never been so proud of a community," Valdez said. "It feels good to know TCU is standing behind us and hearing what we have to say."
Chief Inclusion Officer and Title IX Coordinator Darron Turner said students from different backgrounds have more in common than they may think. Turner urges students to spend more time getting to know each other.
"Don't let race be the thing that blocks us from interacting with one another," he said. "Don't let income be the thing that blocks us from interacting with one another. Don't let religious preference be the thing that blocks us from interacting with one another."
He also said that students are "better together." He joked that he wouldn't want "fifty of (himself), hanging around."
Turner calls students to step outside of their comfort zones. "We need to challenge comfortable conversations in ways that will make us grow. Uncomfortable at first, but grow."
Do you think TCU is doing a good job at creating an inclusive campus environment?Yes, I do.Yes, but TCU still has a long way to go.No, I don't.