Freshman all 'grown up and making plays down the stretch'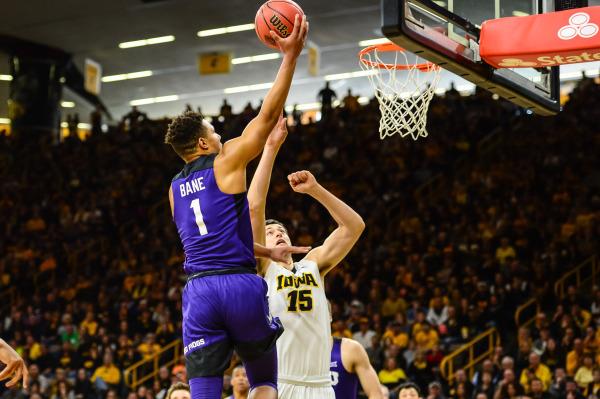 TCU freshman guard Desmond Bane was relatively unknown entering his senior year of high school, but as his first year at TCU winds down, he's now known for far more than having a last name of a Batman villain.
A broken hand before his senior year kept him off many schools' recruiting lists. Once he returned to full health, that changed almost immediately.
"I still couldn't get a Division I offer until the high school season started, and then they just started flooding in," TCU guard Desmond Bane said.
TCU head Coach Jamie Dixon has seen a lot of growth from the first-year wing as the season has progressed.
"He's the guy who had the open shot against West Virginia, doesn't make and is crushed, then, a couple  games later, he's on national tv winning the game against Kansas," Dixon said. "He's had a lifetime of experience in two weeks with the up's and the downs, and he's grown up after the Kansas game, making the three game-winning free throws."
Dixon knew Bane would play right away because of his offense, but his defense was going to dictate how much Bane would see the court.
"I think right away once he got here, we had an understanding that he was going to play and that it would be based on his defense because he has a knack for scoring and is unique in that he can finish around the rim and he's a shooter," Dixon said. "You've seen that throughout the year finishing with either hand, he has some tools offensively, but defensively, we had some concerns because he played in the middle of a 2-3 zone in high school, and that doesn't translate really well to guarding Kansas in the open court."
Dixon praised Bane's defense in their 94-92 win against Iowa, specifically his defense against Peter Jok, the Hawkeye's leading scorer.
"He did a good job defensively against Iowa and we had him on [Peter] Jok when he wasn't scoring," Dixon said. "I thought he's improved defensively."
A key in Bane moving forward from missing the game-winning shot against West Virginia  on Feb. 25 was advice from senior guard Brandon Parrish.
"I remember after the West Virginia game he was in the locker room with his head down, and I remember that was a moment where I went up to him and told him to never put his head down even moments like that because he's so talented and that he shouldn't let that miss affect another game," Parrish said. "The biggest thing I told him was that I believe in him, and sure enough, he's come through and been phenomenal."
Bane credited that moment with Parrish with helping him move on with his season.
"After the West Virginia game, I thought I let the team down, but the coaches, Brandon Parrish, and the other seniors have really had my back," Bane said. "The opportunity has arisen these past few games with Kansas and Iowa, to make big free throws and plays down the stretch and keep my confidence."
With all that Parrish and other seniors have given him, Bane just wants to return the favor.
"[On Tuesday],we just want to send them out the right way," Bane said.
TCU's Tuesday NIT quarterfinal game against Richmond at Ed and Rae Schollmaier Arena is set to tip off at 6 p.m.