Lodolo, Frogs earn key 9-4 victory over Baylor in series opener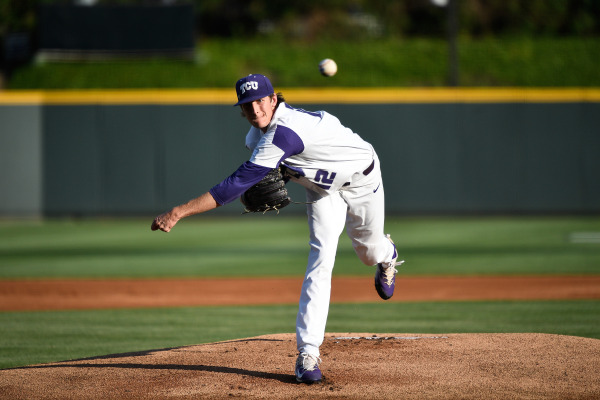 Nick Lodolo and the Horned Frogs jumped out to an early first inning lead and never looked back in a 9-4 victory in game one of a Big 12 series against the Baylor Bears on Friday at Lupton Stadium.
With Frog ace Jared Janczak out for at least the next two weeks due to shoulder soreness, usual Saturday starter Nick Lodolo was named the front man of the TCU (29-7, 10-3) rotation this weekend.
Lodolo (4-1), who has seen first inning struggles throughout the season, allowed the first two Bears to reach base in the first before getting a double play and a ground out to escape the inning unscathed.
"One of the biggest plays of the game, if not the biggest play of the game, was getting the double play ball in the first inning," said TCU head coach Jim Schlossnagle. "That inning could have gotten away from him. Nick has had his share of not getting through the first and second innings, but I thought once he got the groundball, he really caught a rhythm and started to make pitches."
From there, Lodolo settled in and kept Baylor (22-15, 5-8) scoreless through the fifth inning. He set down the Bears in order in the second and fifth innings, while stranding two runners on base in both the third and fourth.
Lodolo surrendered his only run in the sixth when he walked one and gave up two singles. He allowed seven hits total while walking just two and striking out five.
"After last weekend when our starting pitching wasn't really rolling that well, I knew I had to set the tone tonight and for the weekend," Lodolo said. "I hadn't been pitching my best, so tonight I just came out attacking."
Veteran outfielder Austen Wade commended the freshman on the way he pitched after stepping up into a bigger role.
"It was awesome to see Nick come out and throw quality pitches tonight and do a lot better job commanding his fastball," Wade said. "It was really good seeing him battling tonight."
Wade, the Frogs' leading hitter with a .345 average, led off the bottom of the first with a double to right center. The double was the first of four hard hit balls Wade had on Friday to go along with a walk. He finished the night 3-3 with two runs scored, a walk and an RBI on a sacrifice fly.
"I came out today and just said 'dial in as much as you can and the guys behind you will follow' and they did just that," Wade said.
After Connor Wanhanen was robbed of a single on a diving play in center following Wade's hit, Luken Baker walked, and Evan Skoug singled to load the bases with one out. Josh Watson followed with his 22nd RBI of the season on a four pitch walk. TCU's second run came across on a sacrifice fly by Nolan Brown.
Wade tacked on another run to make it 3-0 in the second, hitting a one out sacrifice fly that scored Ryan Merrill who had hit a triple to start the inning.
The Frogs blew it open in the fourth as they sent nine men to the plate and scored five runs. Back-to-back singles for Brown and Cam Warner started the inning. Barzilli drove home one on a one out single, before TCU loaded the bases on walks by Wade and Wanhanen. Baker then roped a single to left that cleared the bases. The first two runs were recorded as RBIs 32 and 33 for Baker while the third run scored on an error by the left fielder. Baker's single pushed his career-long hitting streak to 17 games.
A final run was plated on a run-scoring single by Skoug to make the score 8-0. Skoug's RBI tied him with Warner for the team lead at 34.
Baylor made a push late as they added on to the one run they got off Lodolo in the sixth with three runs in the eighth, pulling within four of TCU at 8-4.
Jake Eissler, who threw a scoreless seventh in relief of Lodolo, was charged with three runs on three hits and a hit batter in the eighth.
Cal Coughlin relieved him with two outs and let two inherited runners to score, but stranded the bases loaded. Coughlin has now stranded five of the nine runners he has inherited this season, to go along with a 1.04 ERA in 8.2 innings. The three runners stranded by the Bears in eighth moved their total to 12 left on base on the night.
In the bottom of the eighth, the Frogs answered Baylor's three with one of their own. A one out walk for Barzilli was followed by two effective hit-and-runs executed by Wade and defensive replacement Michael Landestoy. Landestoy's hit drove in his second run of the year and pushed the Frog lead to 9-4.
Coughlin returned for the ninth and set down the Bears in order to finish off a series opening victory for TCU.
Mitchell Traver will fill Janczak's spot in the weekend rotation as he is slated to take the ball in game two for the Horned Frogs at 3 p.m. on Saturday.
"From a weekend standpoint, to be able to plug Traver in there is a luxury," Schlossnagle said. "Hopefully he'll take it and run with it."