TCU 'honored' to host stiff competition in regional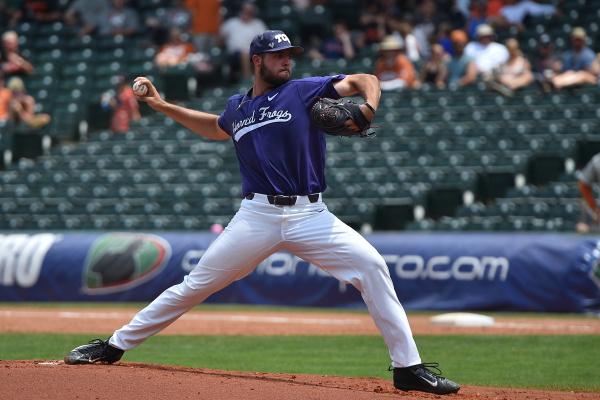 Update 7 p.m.: Due to inclement weather the opening regional games have been postponed until Saturday. Virgina and Dallas Baptist will play at 2 p.m. and TCU and Central Connecticut at 7 p.m. All games will be televised on ESPN3. 
If the Horned Frogs want to make a fourth consecutive trip to the College World Series, they'll be doing it the hard way.
TCU's reward for garnering the No. 6 national seed is hosting one of the toughest regionals in the country with University of Virginia, Dallas Baptist, and Central Connecticut state coming to Lupton Stadium this weekend.
"We feel very honored to have the privilege to host, it's not something we take lightly," TCU head coach Jim Schlossnagle said. "We look forward to a great weekend for baseball."
UVA has won 22 of its last 29 games behind .400 hitter Adam Haseley and Pavin Smith, who set the team's single-season RBI record with 72. Both are projected to be top ten picks in the upcoming MLB Draft. The Cavaliers have won 42 games this season, the same number as the Frogs.
DBU, a team that has clubbed 84 home runs, matched TCU, Florida, Louisville and LSU as the only teams with 40 wins in each of the past four seasons. The Patriots are also coming into Fort Worth on fire, winning 22 of their last 26 games.
Central Connecticut State has won 13 of its 15 games and led the Northeast Conference in team ERA.
"I don't know Dallas Baptist's RPI, but I know they're really good because we see them all the time and play them all the time," Schlossnagle said. "To be frank, Virginia was a team that more than deserved to be a very high seed and host a regional. Why that didn't happen, I don't know. Any time a program like that is a two-seed in any regional, it makes it very very strong. Central Connecticut has won 36 games."
The Frogs are 17-3 all-time in regional games at Lupton Stadium, and they've won six regional championships in the last nine seasons.
Playing without Luken Baker
The Horned Frogs are playing without superstar first baseman Luken Baker since he suffered a hairline fracture, a ligament injury and muscle tear in his left arm, requiring surgery that ended his sophomore season.
"Obviously you can't replace Luken Baker, but we don't need to because everyone on this team knows their role and can do their job well," pitcher Mitchell Traver said. "That's a great bat to have in the lineup, but we're confident in who we put out there."
The player filling Baker's spot in the lineup has been freshman backup catcher Zach Humphreys who has primarily hit in the designated hitter spot since Baker's injury.
"He's hit some home runs, a double, triple or two, but, it's more about getting on base, as well as allowing Evan [Skoug] and Cam [Warner] and other guys to remain in their same spots in the lineup," Schlossnagle said. "He handles the bat really well, he hits deep in counts, which we like, and he's not afraid to take a walk. Having [Austen] Wade there at leadoff and if Humphreys can do what he does, then it sets the table nicely for Nolan [Brown], Evan, and Cam."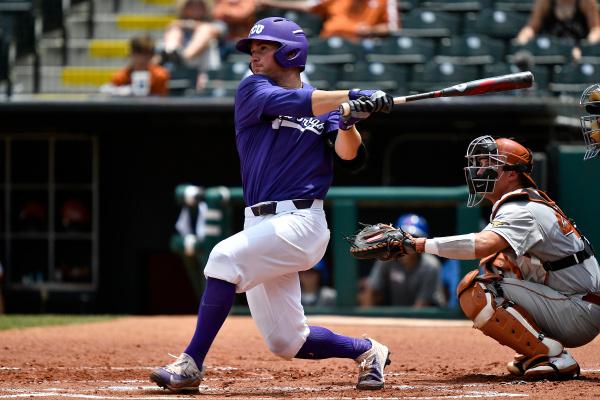 Starting the last six games, Humphreys is hitting .304 and led the team in RBI at the Big 12 Tournament with five. He's also drawn three walks for a .393 on-base percentage.
"We've played for three weeks without Luken," Schlossnagle said. "What's been really good since then is that we've really pitched, especially from a starting pitching perspective."
Starting pitching heating up at the right time 
Nick Lodolo, Jared Janczak, Brian Howard and Mitchell Traver turned in their best collective week, going 3-0 with a 1.29 earned-run average at the Big 12 tournament.
Janczak, who was named a third-team All-American Thursday, has pitched eight scoreless innings since returning from an injury that sidelined him for about a month.
After every start he makes, Schlossnagle said he feels more and more comfortable letting Janczak pitch deeper in games.
"I don't think there's any more limit on him than there is on anyone else, and he went 72 pitches last week," Schlossnagle said. "I would think he could at least go that or a tick more than that, but, probably not as much as Howard did in his game against Kansas."
Howard pitched a complete game shutout against Kansas on May 26, striking out a career-high 12 batters.
Lodolo allowed runs in only one of the seven innings he pitched against Kansas, leaving with the game tied.
Bullpen Youth
The Horned Frogs also have faith in their young bullpen, even though this will be the first NCAA Tournament run for most of the relievers.
"From a pitching standpoint, the energy is higher because you're playing for a national championship and you can only lose so many games before you can't play anymore," Traver said. "We have a full season under our belt, and they've already been in big spots, so they need just go one pitch at a time, and they'll be fine."
Seven of the 15 pitchers used this season are first-year students, while four others are sophomores. The seven first-year players have contributed 45.8 percent, 238.2 innings, of TCU's innings pitched this season.
TCU catcher Evan Skoug, who was named a second-team All-American Thursday, said he's learned to adapt to each of the younger pitchers as the season has progressed.
"For me, it's just continuing to work hard behind the plate for them and for them to have faith in me during those big spots and just recognizing some of their emotions and expressions, to calm them down or fire them up, whatever the situation dictates," Skoug said. "I'm living in the freshmen dorms so right now I'm really connecting with some of the young players, which has helped me understand how they react and respond."
Pitching Plan
In TCU's first game of the regional, Schlossnagle has elected to send senior right-hander Mitchell Traver to the mound.
"Mitchell is pitching, and then we'll see how the games go," Schlossnagle said. "I want to watch the games, but I have a good idea of what we want to do."
First pitch for the Horned Frog's matchup with Central Connecticut State Friday is set for 8 p.m. at Lupton Stadium.