Title IX: TCU coaches see growth in opportunities for female athletes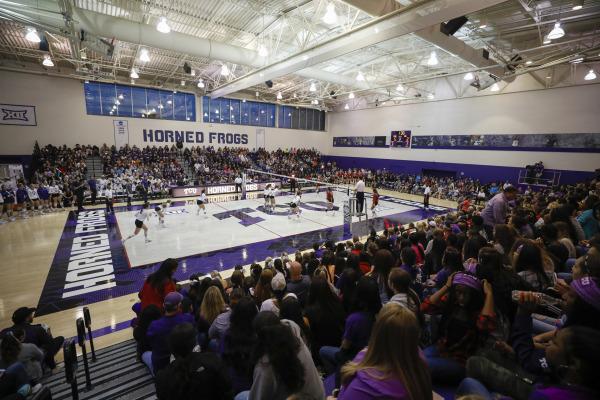 Volleyball director and coach Jill Kramer '99—who holds school records for kills and total career attacks—almost didn't go to TCU.
That's because when she was looking at colleges, TCU was just starting its volleyball program, the 11th women's sport the school has added since Title IX became law in 1972.
Title IX, also known as the Education Amendment Act of 1972, mandates that universities that receive federal funds cannot exclude or discriminate against anyone in its university programs on the basis of sex. Otherwise, the law warns, they would have their funding revoked.
Kramer received TCU's first volleyball scholarship. By her senior year in 1999, the volleyball team had 12 women on scholarship.
"Volleyball was created because of Title IX here," she said.
Volleyball wasn't the only sport to benefit. TCU has added 11 women's sports since Title IX, from tennis in 1972 to beach volleyball in 2015.
And though women's sports have grown significantly since Title IX was enacted, their struggle now is not getting administrative support but getting fans to come watch. Attendance is increasing, but coaches of the women's teams say it will take time to build a fan base.
TCU Associate Athletics Director Kim Johnson, who oversees Title IX compliance, said the law "has 100 percent aided women's sports at TCU."
Title IX mandated several changes that ultimately changed the face of college athletics:
Participation opportunities in sports should be equal to the proportion of male and female students.
Scholarships awarded should be proportionate to participation.
All athletes should have equal access to other services: facilities, equipment, food, housing, medical care, coaching, recruitment, publicity and support services.
Participation – then and now
In the 1998-9 academic year, TCU had the second worst participation proportion of female students among 114 schools, according to a Chronicle of Higher Education report obtained by The Skiff in 2000.
TCU was 28 percent below Title IX standards, but the government didn't stop funding the university because the act allows for a transition period if the university is making progress toward the standards. By 1999, TCU had added nine sports.
Then-Chancellor Michael Ferrari said the report was disappointing but that the situation had not reached a panic state, The Skiff reported.
"Any institution with a football program and such a high percentage of female students will always produce an unfavorable profile," Ferrari said. "We are making progress, and we know that. But we can always do more."
Today, TCU has the same ratio of undergraduates as in 1998-9: 60 percent female to 40 percent male, according to the TCU Factbook. But the participation rate of female athletes has increased by 11 percentage points.
Scholarships phase in
As TCU added women's sports and ramped up the participation rate of its female athletes, the school began to phase in scholarships for student-athletes like Kramer, Johnson said.
Kramer said she and two other athletes received the first three volleyball scholarships, and three scholarships were phased in each year until TCU fully funded volleyball scholarships up to the maximum limits set by the NCAA. For volleyball in the NCAA Division I, that number is 12.
Because TCU has a football team which is allowed 85 scholarships by the NCAA, the university had to add women's sports to follow another Title IX guideline: to have scholarship money that is representative of its participation rate of male and female athletes. TCU met that requirement for the 2015-16 academic year, according to Equity in Athletics data it is required to report under Title IX.
Coaches talk scholarships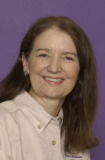 Karen Monez, coach of the women's rifle team, said she would like to have more scholarships for her shooters. The NCAA allows rifle the fewest of any sport, 3.6 partial scholarships, which Monez can divvy out to her shooters as needed.
This year, six of her 10 shooters have some of that athletic money, she said. Monez added that some of her shooters have academic scholarships.
It's a different story for Raegan Pebley, coach of the women's basketball team, who said she has too many scholarships for her athletes. Women's basketball receives 15 full scholarships for 15 athletes, which is two more than men's basketball.

A female basketball player might forego playing at another university because TCU has more to offer, which she said makes competitions unequal.
If NCAA limits could be changed, she said she'd like to see more scholarships allocated to other women's sports at TCU.
"If you took three scholarships away from women's basketball and allocated them to another women's sport," Pebley said, "that will have a trickle-down effect that's going to create more equality because those [basketball] players are going to go to some other school."
Coaches reflect on recruitment money available
Another possible area for growth is recruitment dollars, which are disproportionately allocated to men's sports, according to Equity in Athletics data.
Unlike scholarships, recruitment dollars do not have to be equally spread among men's and women's sports programs, said Patrick O'Rourke, a certified public accountant and analyst for ScholarshipStats.com.
While recruitment dollars are disproportionately allotted to men's teams including football and basketball, coaches of women's programs said they had enough.
Pebley said she is able to request what she needs from administrators and have it soon afterward.
"Well, I don't really care what the men need," she said. "Because our recruiting's different. I don't feel like I've gone without here. We are given what we need."
For Monez, more scholarship money for her team–which can't be raised by TCU but by the NCAA–could help make recruiting easier and make TCU more affordable, she said. But she said she's still able to recruit top-level shooters.
O'Rourke said there is no hard dollar amount for recruitment, but teams have to follow certain rules. For example, the school can't pay a student-athlete beyond scholarship money to recruit him or her.
After reviewing the Equity in Athletics data, O'Rourke said TCU has a pretty good track record.
"[TCU is] doing pretty well, to be honest with you," he said.
Equal access to other services
Beyond the hard numbers of participation and scholarships, Title IX requires student-athletes have equal access to housing, food, tutoring, facilities, medical services and publicity. Coaches praised the university for its allotment of these services.
Kramer said she never felt discriminated against as a female athlete at TCU. But she does remember a time she wanted to attend summer school so she could study and train for the upcoming season.
"They said, 'No you can't do that. Can't pay for summer school,'" Kramer remembers. "Why not? All these other athletes (football, basketball) are going to summer school, I don't get it."
Later, she called the athletic office and asked if she could go to summer school.
"I was just wondering why that wasn't available for me," she said. "And then it was available."
Monez praised the university's growth in facility improvement.
She said her rifle team once shared a facility with ROTC storage.
Now the rifle team has upgraded equipment with a display screen that lets fans track the bullet to its destination.
Publicity
Another of the myriad services Title IX requires equal access to is publicity.
This means men's and women's teams should have equal access to publicity resources and services including the athletics communications staff and the press releases they publish, according to the Women's Sport Foundation, established by tennis star Billie Jean King.
But women's coaches say they also have to work hard to get people to come to games. They said they can't expect media personnel to do all the work for them.
Building a fan base
Coaches Eric Bell of soccer, Pebley of women's basketball and Kramer of volleyball all have summer camps they use to train up a younger generation of female athletes and to build their fan bases.
"Our girls work hard all summer with marketing," Kramer said. "And they go out to camps all over the metroplex and meet these kids. I think they understand that they're role models and that their time is valuable to those people."
Kramer has more fan-building tactics in mind: she said before the season starts, her athletes and staff personally deliver about 30 to 40 season tickets to fans who've purchased them.
"That takes time and attention, but those people remember that, and our girls connect with them," she said.
She said she wants to engage the business community in Fort Worth as well.

Bell is hoping to get more students to come to soccer games but says he's encouraged by the family-oriented crowds who come.
"When I first got here we weren't very good," Bell said. "They came out and still supported us. They still continue to do that. I don't know what it is about TCU and this facility, but the fan base has always been good."
Pebley also involves her athletes in advertising for their basketball games, from putting up posters to throwing homecoming parades.
"Our girls are invested," she said. "I make them get invested in growing the fan base as well."
Attendance by the numbers: 
Efforts to grow the fan base in the past 16 years have shown some gradual increases in attendance for basketball, soccer and volleyball games in different years.
What these season averages leave out are spikes in numbers at particular games. Recently, Kramer's volleyball team saw its largest crowd of the season and the third largest in program history in its Oct. 18 game against Oklahoma, according to TCU Athletics. More than 2,200 attended.
Hope for more fans in the future
When sports columnist Jen Engel wrote for the Star-Telegram, she said she chose to cover men's sports.
"I am not covering women's basketball because I knew what that meant: that meant less bylines, less features," Engel said. "I got more bylines by covering more men's sports. I knew early on if I made that trade I would be in trouble. I knew if I covered women's basketball, I wouldn't get coverage as much."
But as more women don jerseys and more fans crowd bleachers to watch them, the perception of women in sports has changed, she said.
In her generation, Engel said playing sports or covering sports wasn't seen as "sexy [or] feminine," but it's a different story for her 8-year-old daughter.
"My daughter's generation grows up thinking everyone plays sports, sports are amazing," she said.
Mac Engel, a Star-Telegram columnist, formerly worked on the publicity team for women's basketball at TCU.
He said for women's sports to stand out, they need to be creative in how they market themselves—access to what the coach is telling players in the locker room, for example.
"You have to sell stories," he said. "You've got to be honest with me. You've got to give me something different."
Johnson said she's seeing how valued women's sports are on a professional and Olympic level because of their success and competitive nature.
"So the U.S. open, I've had the pleasure of going a time or two," she said. "And when Serena's playing, it is as packed as when Roger Federer is playing. So I think men, like women. like anyone – they respect high-level competition."
For women's basketball at TCU, Pebley isn't asking for more scholarships or recruitment dollars.
"I just want people to see these amazing women and what they do and how they do it and why we do it," she said. "They play for each other and they play for that crowd. I'd love for them to experience those diehards in there."
For Kramer, she just wants her athletes to have the same community connection she felt.
"I had that as a player here," she said. "I try to create that for my players as well."