TCU Campus Store offers free repair table for Mac and PC computers
The TCU Campus Store is offering free services and diagnostics on Mac and PC computers Nov. 8 to Nov. 30, from 11 a.m. to 3 p.m.
Apple Certified Technicians will be working to answer any technical questions students may have concerning their computers. However if the computer requires a replacement of hardware components, the customer would be charged at cost. All additional services, such as data transfer, virus removal and OS install are free of charge.
Shane Fisher, from TCU Campus Store's sales and services, is one of the technicians working the table.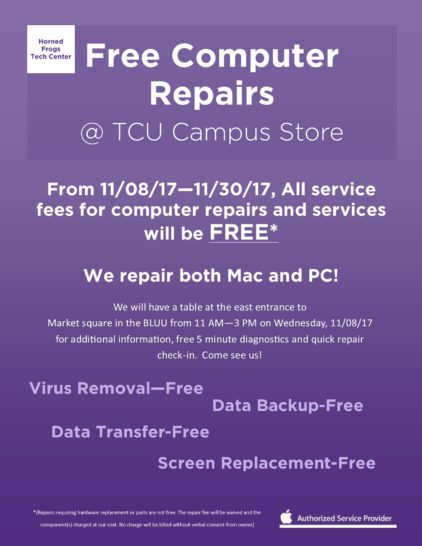 Fisher, who is also in charge of all sales and services surrounding TCU's technology department, said the department is looking to spread the word about the upcoming event.  
"This is the first time we are doing this at TCU," Fisher said. "We became an Authorized Apple Repair Center and Authorized Apple Reseller only recently, hence why we haven't been able to get the word out that we sell and service PC and Mac computers now!"
Sarah Cunningham, a sophomore communications major, said she wishes she could have attended this event when her computer broke down.
"About a week ago, I had to get a whole new computer because my old one broke down," Cunningham said. "This was the first time I have ever broken a computer. I would have definitely taken my computer to this event if I had known about it."
Fisher said the initial diagnostic at the table should take around five minutes. Students do not need to schedule an appointment. Repair times may differ depending on the problem, but complete repairs are estimated to take around 48 hours or less.