Gary Patterson's defense entered Saturday No. 1 in the Big 12 in essentially every statistical measure, but none of that mattered to Oklahoma quarterback Baker Mayfield in the first half who tore TCU apart to the tune of 299 passing yards and three touchdowns, scoring 38 points in what-looked like a blowout victory over TCU at the half, 38-14.
However, Patterson's bunch buckled down in the second half, limiting the Sooners to 138 yards and no points in what ended with a 38-20 road defeat.
Most of the Sooner signal-caller's scoring occurred in the first half and was provided by OU running back Rodney Anderson. Anderson earned 203 total yards and four touchdowns, two rushing and two receiving in the first half.
"Baker is a good player, and with Rodney Anderson we needed to do a better job of tackling and we didn't do that," Patterson said. "They have good players and you have to give their defense credit: we only scored 20 points."
The Horned Frogs also held themselves back in the first half, as they were called for a combined six penalties for 55 yards, including the ejection of defensive end Mat Boesen. OU's Anderson ripped off back-to-back runs of 30 and 24 yards, the last one going for a touchdown immediately after Boesen's disqualification. TCU also had their fast play of the night, a five-yard run by running back Kyle Hicks negated by an unnecessary roughness penalty from wide receiver John Diarse.
"Can't hurt yourself with penalties: look at the first series right out of the gate, you can't let the game get too big and too emotional," Patterson said. "If you do that, you get yourself in trouble."
Offensively, TCU's night started out with a lot of promise, as the Horned Frogs took a 7-3 lead over Oklahoma after two plays on its second drive. Running back Kyle Hicks slipped past the Sooner defense on a wheel route for a gain of 62 yards, and running back Darius Anderson punctuated the possession with a 13-yard touchdown run up the middle in which he was untouched.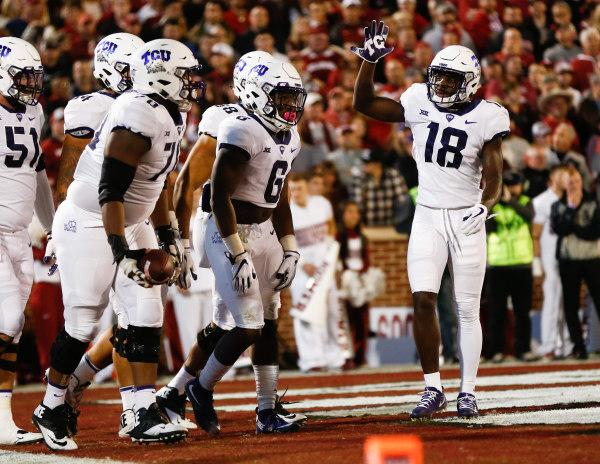 Outside of that first possession, TCU accumulated 176 yards the rest of the half for just seven more points, and Anderson suffered an injury just before halftime, as the Horned Frogs entered the locker room trailing by 24.
TCU quarterback Kenny Hill said the turning point came early in the first quarter when OU regained the lead, 10-7.
"After we missed a field goal and then we went three and out on the next drive, and then they went back and scored," Hill said of when the game began to unravel. "You know it's those stops early; we got to put up points early and we got to be able to match them."
After a scoreless third quarter, the Horned Frogs broke the drought with 10:44 remaining in the game on a three-yard touchdown pass from Hill to Hicks that cut the OU lead to 18, 38-20. However, TCU failed to pick up the two-point conversion that could've made it a two-possession game.
Defensively, TCU looked like the conference's top defense in the final 30 minutes, keeping Mayfield and company off the scoreboard.
"I told them at the half you have a choice: either we were going to come out and play or we were going to scrimmage tomorrow and if they didn't want to play, we were going to put pads on and have a scrimmage," Patterson said. "Obviously, we did a little bit in the second half: they started with 38 at halftime and ended the game with 38, so I was proud of our guys they did that because it's not like they sit on the ball."
Injuries
TCU kicker Jonathan Song, who is a perfect 8-8 on field goals this season, was on the sideline Saturday, but he didn't kick against the Sooners.
"Jonathan Song couldn't go, and he couldn't kick Thursday for whatever reason," Patterson said. "So we brought him, and we thought he maybe could tonight, but he couldn't, and we're back to the kicking extravaganza."
Horned Frog running back Darius Anderson suffered a lower-body injury in the second quarter and did not return to action. Patterson said it was doubtful that Anderson would play against Texas Tech and Baylor, TCU's last two opponents in the regular season.
"He's a big part of our offense, and when he touches the ball he can go the distance," Hill said of Anderson. "But you know people got to step up; Kyle and Sewo will be ready to go, plus Snell will get some looks at practice. We just have to have someone to step up."
Up Next:
TCU heads to Lubbock next for a matchup with Texas Tech while firmly entrenched in second place in the Big 12 standings after Iowa State's loss at home against Oklahoma State. Provided the Horned Frogs win out, they could see the Sooners again this season in the Big 12 championship game December 2.
"If we win our next two ball games, we have a possible opportunity to play that team again, but that starts with Texas Tech," Patterson said. "Here we go."
The Horned Frogs head to Lubbock, TX to face the Texas Tech Red Raiders Saturday. Kickoff is set for 11 a.m.