Most students stay busy by going to sporting events and keeping up with Greek life, but two "dudes" have been spending a majority of their time doing a something a little unorthodox — sewing hats for around 12 hours a week.
Senior Michael Ellington and his business partner Ross Van Gorder founded Patch Hat Co. in August. Within the first four months, they've sold 75 of their vintage-inspired, hand-sewn baseball caps and gained followers in Alabama, Oklahoma and North Carolina.
"People love the hats," Clyde Cross, a senior communication studies major, said. "The originality of each hat is unique and brings massive value. As for most of the hats, there is only one in existence, and people love that idea."
Madison Jones, a senior marketing major, bought a Patch hat with the Frog Camp logo.
"It was really cool because it was personal to me and I got to wear it all summer during camps," she said.
[wzslider]
Looking back at his first year of college, Ellington attributes his extensive hat collection to his time as a pledge for his fraternity when he wasn't allowed to wear hats inside for seven months. Once that time expired, he grew out his hair, wore hats nearly every day and started his hat collection.
Van Gorder, on the other hand, said his passion for hats came from, "just loving a good hat and wanting to have old school hats that look good. Also to get through the awkward phase of growing my hair out."
The idea for Patch Hat Co. came while Ellington was on a national park road trip this past summer. He was looking to add to his hat collection, but instead he began to collect patches to commemorate each park he visited.
"I wear hats all the time and thought it would be a cool way to rep the places I've been," he said.
With the intent of using their earnings to fund their travels, Van Gorder and Ellington decided to buy some hats and start sewing patches on. In the process, Van Gorder also bought felt material and decided to try cutting out letters and sewing them on by hand.
This led to the creation of two main Patch designs: One Hit Wonders and Patch Hats. Van Gorder said their One Hit Wonders are a line of hats with vintage patches found in secondhand stores, meaning each hat is one of a kind. The hats have hand-cut, felt letter designs on the front inspired by Van Gorder.
Using a wholesale hat provider and a needle and thread, the duo spends around 15 hours per week sewing hats and working on refining their website or social media presence. They do this in addition to being full-time students and employees. Ellington is currently taking 15 hours at TCU and has two internships, and Van Gorder is working 42-hour work weeks and taking online classes.
"People always say 'don't start a business when you're doing other things'" Ellington said, adding that he understands that now.
Despite their busy schedules though, the pair says they are enjoying this new business adventure.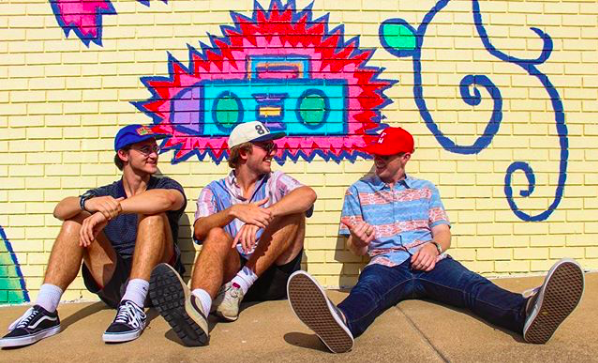 "We're just a couple of dudes sewing," Ellington said. "Just two guys sitting in my room like, 'How is life treating you?' We are old souls and we love it."
The two readily admit, though, that sewing is not their calling.
"There's definitely days we're like, 'Why did we do this?'" Ellington said. "We stab ourselves in the fingers constantly."
This past semester, the Patch founders decided to use their company to help others and fundraise for those affected by Hurricane Harvey.
Ellington, a Houston native, said he wanted to do something to help family and friends back home while he was in Fort Worth.
Thanks to help from family friends to offset material costs, the full price of each hat sold was entirely put towards Hurricane Harvey relief for one week. As a result, Patch sold around 14 hats, raising about $200. The two are open to the idea of more fundraisers if the company keeps expanding.
In the meantime, the two say they hope the uniqueness of their product will continue to attract customers.
"We want our hats to be an image of imperfection," Ellington said. "Nothing in life is going to be perfect. People kind of like it when things aren't exactly perfect. It's slightly off but it looks and functions well."
Gabby Nguyen, a senior accounting major, said the character of each hat is what draws her to the company.
"I love the authentic, handcrafted nature of the hats," she said. "When you wear the hat, you can picture Ross and Michael sitting at home sewing these hats. That's what makes them feel special."
Both Ellington and Van Gorder say they are excited to see how Patch continues to grow. They are looking to possibly try out different hat styles like double snapbacks or wool hats.
As for now, like their Instagram bio says, the two remain "just a couple of dudes sewing hats and figuring it out as we go."