TCU Polo brings new meaning to trusting a teammate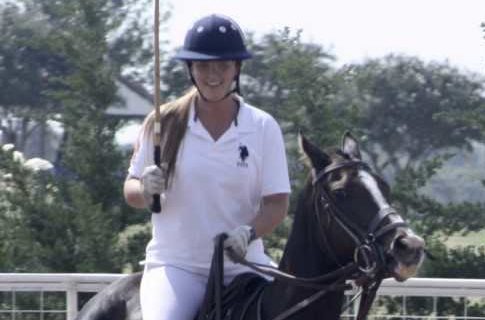 Team sports often require a lot of trust. The defense must trust the offense to make plays and the offense must trust the defense to shut down plays.
In polo, that trust also extends to the horse.
"Riding a horse is more than just directing them – it is a mutual partnership based on understanding and trust,"  said club president Paige Browning.
Having a horse as a teammate could easily complicate things, but Browning and sophomore polo member Havey Robson said in order to be successful on a horse, trust is absolutely necessary.
"Since we are constantly switching horses during competitions, often to horses we have never been on before, it is important to trust your horse and to trust your ability to hit the ball," Browning said.
Robson said most people have prior riding experience, which helps them be comfortable in the saddle so they can focus on the game rather than the horse.
Polo is a contact sport played on a horse that resembles a combination of field hockey, soccer and lacrosse, said Browning, a junior kinesiology major. She added that a polo horse is very athletic and versatile since they have the endurance and speed of a racehorse, the agility of a cutting horse, and the dependability of a lesson horse. All of this makes for an exciting combination on the field.
"The best word to describe it is probably adrenaline," sophomore polo member Havey Robson said. "You are holding on using your thighs and leaning over the horse, so you could fall off at any time, but you are also in control of performing your duties as a player in the competition."
Club competition is the highest level of national intercollegiate polo, Browning said. TCU competes in the central region, which also features SMU, Texas Tech, Texas A&M, Oklahoma State, Colorado State, and University of Texas at Austin.
"Our coach Vaughn Miller always says, 'polo is your passport to the world,'" Browning said.
Not only does polo allow the team to travel, but Robson said it is also a nice break from her hectic college schedule.
"There is a special feeling you get when you are out in the country riding a horse away from the hustle of school," Robson said.