TCU Equestrian finished its annual meet at the Fort Worth Stock Show and Rodeo with an 11-8 win over No. 3 Texas A&M Thursday night.
Hunt Seat competed at Turning Point Ranch Thursday morning and took a 6-3 lead. The team started strong with five impressive rides from seniors Mady Fithian, Jayme Omand, Carley Barnett, Emelie Burgess and freshman Raegan Rast, giving the Frogs a 5-0 lead. Barnett scored 85 points on her ride and earned herself a MOP title.
The Western group put on an impressive performance in front of a large crowd at the Stock Show. The win snapped TCU's three-match losing streak against Texas A&M (6-3).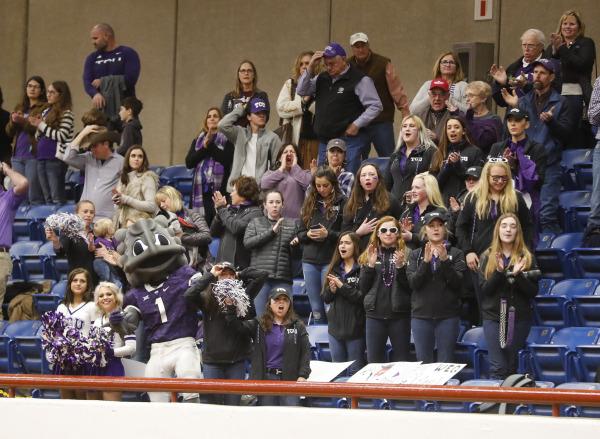 In Equitation over Fences, senior Jayme Omand earned the lone point over Aggie Caroline Dance as the Aggies took three points.
In the evening at John Justin Arena, sophomore Carly Lombard earned a MOP title with her 72.5 ride on Snoop Dog in the first discipline of the evening. The Frogs and the Aggies were tied 7-7 entering the final discipline.
In Horsemanship, sophomore Laska Anderson earned her first MOP title of the season with a 73.5 re-ride on Jack.
Sophomore Josie Mootz clinched the meet for the Frogs with a 74.5 ride on Bob.
The win snapped TCU's three-match losing streak against the Texas A&M Aggies. Up next, the Frogs will host No. 6 Fresno State at Turning Point Ranch Feb. 2.