SGA president proposes adding Intentional Dialogue program to Intro to University Life curriculum
In light of recent concerns over the campus climate, student body President Ben Taylor proposed that TCU's Intentional Dialogue program be added to the University Program Introduction to University Life course curriculum.
"In part of my campaign I said that I would try and address the diversity and inclusion issues on campus and this is one way we are trying to fix that," Taylor said.
The one-hour Introduction to University Life course assists students in transitioning TCU by providing them with the necessary skills to easily adapt to college life. Last year, 85 percent of freshmen completed the non-mandatory course.
"I believe it would be relatively easy to get the faculty certified in this training program and it would be a good way to effectively reach, in the small group setting of UNPR, a wide amount of our students," Taylor said.  "It's a good way to balance reach with the effectiveness of the program."
The Intentional Dialogue program's main purpose is to teach students how to have real conversations across differences to enhance community relations.
Sophomore pre-med student Akua Jonah said diversity and inclusion is a major issue on campus.
"I think the fact that you can walk into a room and most of the people are the same race means there is an issue with inclusion," Jonah said. "Even if you walk into a cafeteria where everyone is invited and all except for five people look the same, there is definitely an issue there."
According to data from the TCU Factbook, 70 percent of students are white, 13 percent are Hispanic and Latino and only five percent of the student body is African American.
In recent months, TCU has seen white supremacy posters on campus outside of Tandy Hall and derogatory comments toward African American students at the late-night breakfast at Market Square.
NPHC strolled at last night's late night BLUU breakfast. This was your student's response @TCU pic.twitter.com/wOyD5fAwTn

— Villalobos (@Jon_PauLobos) December 13, 2017
Taylor said he hopes his initiative will prevent similar situations from occurring on campus in the future.
The program was started by Intentional Dialogue committee chair and facilitator Ebony Rose in 2016 with hopes to handle conflict in residence halls, but has slowly grown to impact the campus as a whole.
"Small groups, typically less than 10 people, sit together during a two-hour process where you learn about what dialogue is and how to have effective dialogue across differences," Taylor said. "It's a very useful tool in becoming comfortable in having a productive conversation, which is what college is all about. This is a tool that equips students for the real world and how to interact with each other during the college experience."
However, the program is not required for all students. Currently, the program is limited to student leadership positions on campus like Frog Camp facilitators and orientation leaders.
But Taylor wants all incoming students to be prepared for all unanticipated situations of discourse and to participate in intentional dialogue training.
Former two-time Frog Camp facilitator Remi Swensson supported Taylor's proposition and benefited from the training, she said.
"Especially when working with other facilitators through the dialogue, you are able to get feedback," Swensson said. "When you practice your small group facilitation, it gives you confidence. I also think that you're more prepared when things don't go how you expect."
She said the dialogue provides you with the tools that are important to have when dealing with a diverse group of students.
Swensson went through three different versions of the training: the new facilitator training, the four-week first-year experience training and QPR training.
"With the new facilitator training, you bond with new facilitators," Swensson said. "You talk about worries coming in as a new facilitator. You work on your communication skills since you are working with kids that are basically your same age."
The four-week training is required for all First-Year Experience staff and it teaches facilitation skills such as leading in groups, how to take a follower's role in a group and the importance of how to go with the flow.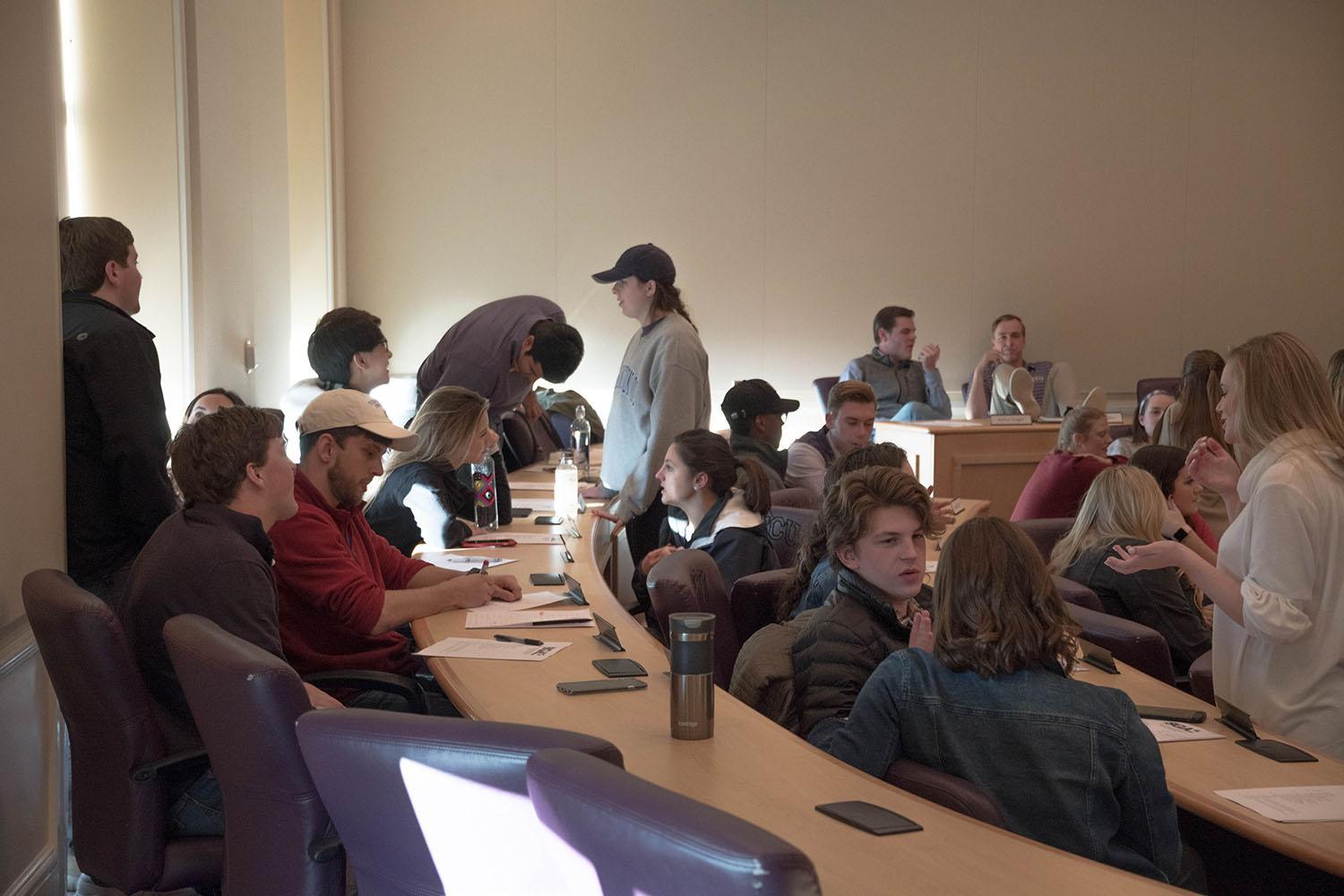 Swensson believes the QPR training is the most important of the three. QPR is an acronym for question, persuade and refer, focusing on suicide prevention.
"QPR equips you with the strategies to deal with kids that are struggling emotionally and may not want to open up to you," Swensson said.
From the program's beginning, Rose has tried to expand the program to all students.
"Regardless of how campus climate moves or shifts, the need to be trained to speak with your community will never go away," Rose said in a 2017 interview.
Jonah said she supports Taylor's initiative. She recently participated in the program in her Women and Gender Studies class.
"I think it's a great idea," Jonah said. "The dialogue program is fantastic and I learned a lot from it. I think it would be cool to spread that campus-wide, where the entire campus is having conversations about controversial issues."
However, sophomore engineering major Daniel Duplan is worried about the new program.
"Students will feel like they need to include people instead of just doing it," Duplan said. "It's going to become more of a necessity. It's more of including people because that's what I was taught to do. I don't think it would be very genuine."
Taylor's vision on revamping diversity and inclusion on campus is not limited to Intentional Dialogue.
"In about a month and a half, me and my director of diversity and inclusion, Heidi Nguyen, are working to bring a program called Dialogues on Diversity to campus," Taylor said. "They present diversity issues in an educational and comedic way."
Taylor also hopes to bring former government officials to campus to speak to students in the near future in hopes to further address questions of diversity and inclusion on campus. He has his eyes on former members of the Obama Administration and Republican-affiliated individuals.
"Last year, our theme was about being a part of the Horned Frog community, even with our different viewpoints on the world," Taylor said. "This year, I want to build on that. Because we are part of the Horned Frog community, what obligations do we have for each other?"