Campus sees bike-friendly changes

Fort Worth's push for more bike-friendly and pedestrian-friendly roads has made its way to TCU.
City workers re-striped the streets around campus with bike lanes during spring break to remind drivers to make room for those pedaling along. Julia Ryan, a senior transportation planner for the city, said the additions are a step in improving overall transportation in Fort Worth.
"The more we can give people options on transportation, the better our transportation system will be," Ryan said.
The re-striping came thanks to a voter-approved $200,000 bond program from 2014. These developments are aimed to improve pedestrian safety by moving vehicles farther from the sidewalks. Existing crosswalks were also re-striped.
Final-Design

The final design of TCU area bike striping project. (Map courtesy of Julia Ryan, Senior Transportation Planner)
Additionally, new signs were placed between TCU and the Trinity Trails to help pedestrians find their way. This project will make improvements to the TCU area and connect to the overall bike network, Ryan said.
Connectivity and safety were not the only factors that fueled this project. Ryan said the initiative is also looking to let people see Fort Worth in a new way.
"By providing bicycle facilities, people can experience the city and feel like they're part of a community," Ryan said. "Something you can't experience in a car."
Pleasure, exercise and stress relief are all benefits Julia Collins, a sophomore early childhood education major, said she experiences when riding her bike. However, she didn't feel safe due to the lack of bike lanes TCU had.
"My friends and I used to love biking at night," Collins said. "But the streets were too scary because there were no lanes. I think TCU needed the lanes to ensure that everyone stays safe. TCU has such an awesome campus and having bike lanes has made me want to get outside more."
Mikayla Brewer, a junior strategic communication and anthropology double major, said she would steer clear of the streets for fear of traveling.
"I really felt uncomfortable– especially on University because people go fast and there are a lot of students crossing," Brewer said. "There was not a designated space, so people would merge into your area all the time."
Brewer said she hopes that the new bike-friendly infrastructure will encourage students to spend time outdoors instead of traveling in their cars or on buses.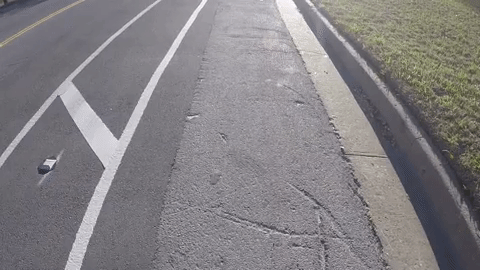 "[This] is a great opportunity to get people out there and engaged," Brewer said. "As a pedestrian, you won't always have to watch out for bikes on the sidewalk all the time."
Additional improvements to Park Hill Drive and Forest Park Boulevard were added following spring break.
For more information about the project, you can read more on the Fort Worth website.