Faculty Senate to discuss changes proposed to delay Greek recruitment
For many incoming first-year female TCU students, college life starts a week before classes as many women take part in recruitment.
Formal recruitment for many men occurs concurrently with their first week of classes.
But those traditions are facing scrutiny. A Faculty Senate committee is recommending that recruitment, for both sororities and fraternities, be delayed until spring semester. The committee recommendation is expected to be discussed during today's Faculty Senate meeting. If approved, the resolution calling for the change isn't binding, but the vote could prompt the university to review the recruitment process.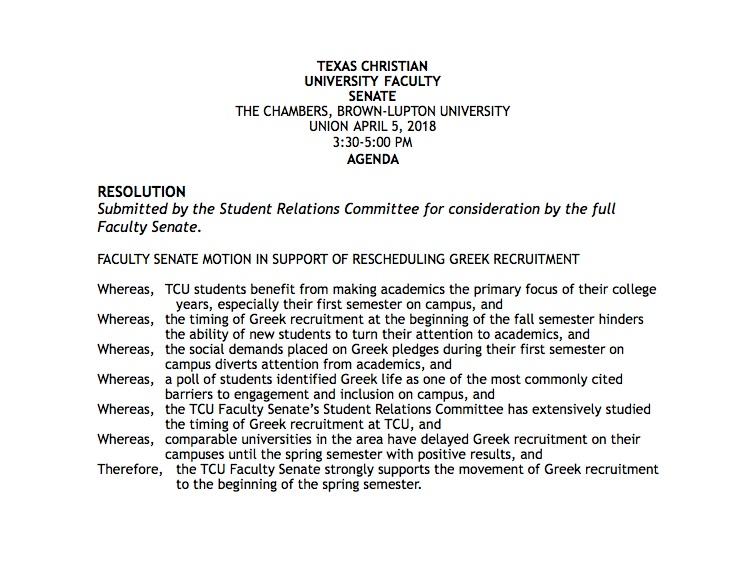 Some faculty are concerned recruitment in the first semester might be hurting first semester grades, said Professor Adam Schiffer, chair of the student relations committee. He said the move would also reinforce the idea of "Frogs First."
"You come here and you're Frogs for a semester," Schiffer said. "You get to know your roommates and the people on your floor. You get to know the students in your classes and you get to know students in different Greek organizations, too, because your first impression from somebody for just a few days of recruitment might change over the course of the semester."
But others aren't sold on the need for change. Students involved in Greek life said the delay could hurt recruitment numbers and students might feel adrift in their first semester.
"Although the process is very rigorous and timely, I think that, especially for me, I met a lot of people throughout the process that helped make my transition as an incoming freshman a lot easier," Alanna Carollo, finance major and Gamma Phi Beta member, said. "I think building those relationships before going through recruitment would make the whole process completely different."
During his town hall meeting with students, Chancellor Victor Boschini said he doesn't favor a move.
"If you choose to go through fraternity or sorority rush, it's a mutual selection process," Boschini said. "In the fall, when you go through it and get rejected, it's not you they rejected because they don't really know since you only spent thirty minutes in their living room."
He added he's been at institutions that participated in spring recruitment.
"In the spring, when you get rejected, it's you they rejected and so it's actually worse in my opinion."
Academics
Schiffer said some professors see a lot of students who do very poorly the first semester.
"They come in and ask for an extension on a paper or they come in upset after a midterm or test grade," Schiffer said. "They very often identify first semester Greek activities as one of the factors that is very overwhelming."
Some Panhellenic women said there are other factors that contribute to poor academic performance and Greek life shouldn't be singled out.
"I for sure lost focus but I wouldn't necessarily peg it to Greek life," said Marthann White, a sophomore elementary education major and Kappa Alpha Theta member. "I lost focus because I never wanted to miss out on things my friends were doing and for me that happened to be my sorority friends, but regardless if I was in Theta or not, I still would have lost focus by constantly wanting to be with my friends and having that initial desire to make friends."
Preslie Sandidge, political science major and Phi Mu member, said joining a sorority wasn't the problem; instead, she needed to learn good study habits and time management.
"Freshman year I just didn't know what I was doing," Sandidge said. "Yes, I was going out a ton, but I just didn't know what I was doing. Now I go out the same amount, if not more, but I know how to study and I know how to prepare for tests."
Emerson Nance, economics major and Sigma Alpha Epsilon member, said he agrees. He said adjusting to college academics was difficult in general.
"My grades freshman year in the fall were poor, but I mainly think it was from where I came from, a large public high school where I could skate by and not do much," said Nance.
Others point out sororities offer or require study hours as means of assuring student academic success. Although study hours are not always mandatory, in some sororities if they are met, then points are awarded to these women, which allow them the ability to attend social events.
Other Universities 
Both Baylor University and SMU conduct recruitment in the spring, however, some Panhellenic women there said they didn't feel particulary more relaxed by the later recruitment.
"I took less classes in the fall of my freshman year than I did in the spring so I had to focus more in the spring to keep my grades up," said Megan Green, SMU sophomore and Kappa Kappa Gamma member. "Spring semester is usually more busy with social events, but it is what you make of it."
At Baylor however, the culture for perspective sorority women affects the students' first semester.
"It is actually considered dangerous for potential new members to be seen out at all," said Denae Gerasta, junior Kappa Alpha Theta member at Baylor University. "Most who are seriously committed to rushing will only go out to parties once or twice over the entire semester. Freshmen are told not to stay anywhere past midnight. There can be no dancing on elevated surfaces or being seen getting too close with boys, and actually talking to boys is discouraged in general."
While some TCU Panhellenic women have said moving recruitment might hurt their numbers, Gerasta said Baylor's spring recruitment hasn't reduced interest.
"Incoming freshmen and transfers get involved in a lot of student organizations other than Greek life to fill their time, and then once they are in a sorority, they are able to represent Greek life to a diverse set of groups on campus," Gerasta said.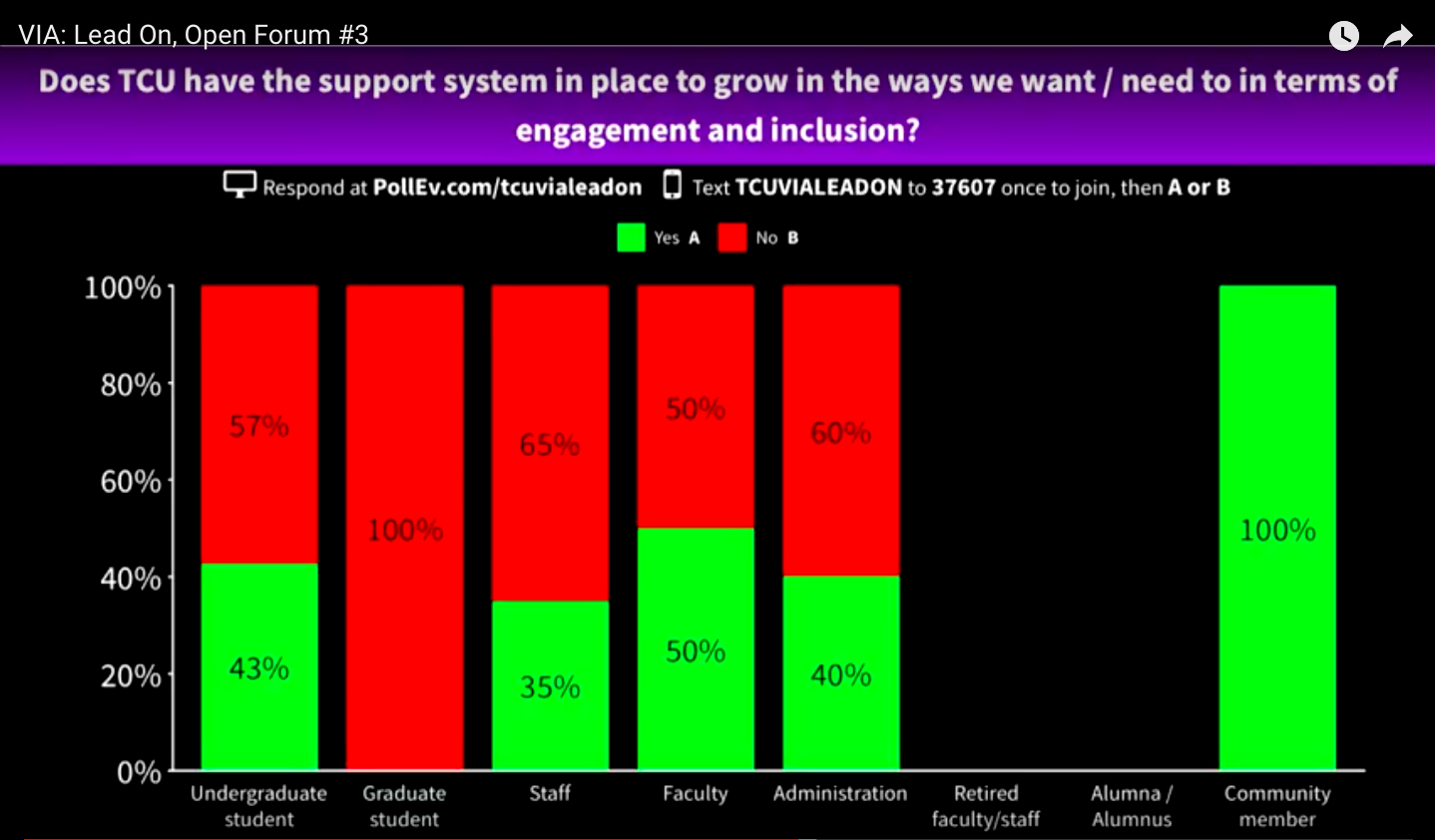 Continuing Debate 
Some panhellenic women agree with Boschini's stance on the motion because they believe the spring recruitment process can get very biased and personal.
"Girls are going to feel like it's more a 'them problem' if they are hanging out with a certain organization all semester and they're cut by an organization in the spring," White said. 
Some fraternity men said they prefer recruitment to take place in the fall because going through the process at the beginning of the second semester would be stressful.
"I feel like having it in the fall is a good thing because you get it out of the way before you really get into finding out your major and the classes you want to take," said history major and Sigma Alpha Epsilon member, Will Kirtley.
But Schiffer said the delay will result in a more informed decision about what group is a best.
Other supporters of spring recruitment said it allows students to get to know sororities instead of making quick judgments based on the reputation.
"Potential new members get a more holistic picture of the sororities because they are able to meet a lot of members over the course of the semester, rather than just the few that they happen to meet during recruitment week," said Gerasta.
A more personable spring recruitment would still show the Greek system is flawed, Schiffer said. As some students who make the effort to form deeper connections with active members during the "off" semester are still denied.  
"It is definitely difficult when potential new members that you were close with are released by your sorority because you cannot explain to them that unfortunately that is the nature of recruitment, and they can feel betrayed," Gerasta said. "Relationships are often very awkward for a while after recruitment, because it is so dramatic, emotions are running so high, and most people have their feelings hurt in some way."