Survivors of domestic, sexual violence encouraged to share their stories
T-shirts at Market Square inside the Brown-Lupton University Union Tuesday will provide an opportunity for survivors of domestic violence and sexual violence to tell their story.
This is a part of the Clothesline Project, which helps communities show survivors that they are both believed and supported. The Clothesline Project was founded in Hyannis, Massachusetts in 1990.
Students, faculty and staff can write on colored cards shaped like T-shirts, which will be displayed in Market Square and the Mary Couts Burnett Library Tuesday through Thursday.

April is Sexual Assault Awareness Month. Campus Advocacy, Resources and Education (CARE) is having events throughout the month.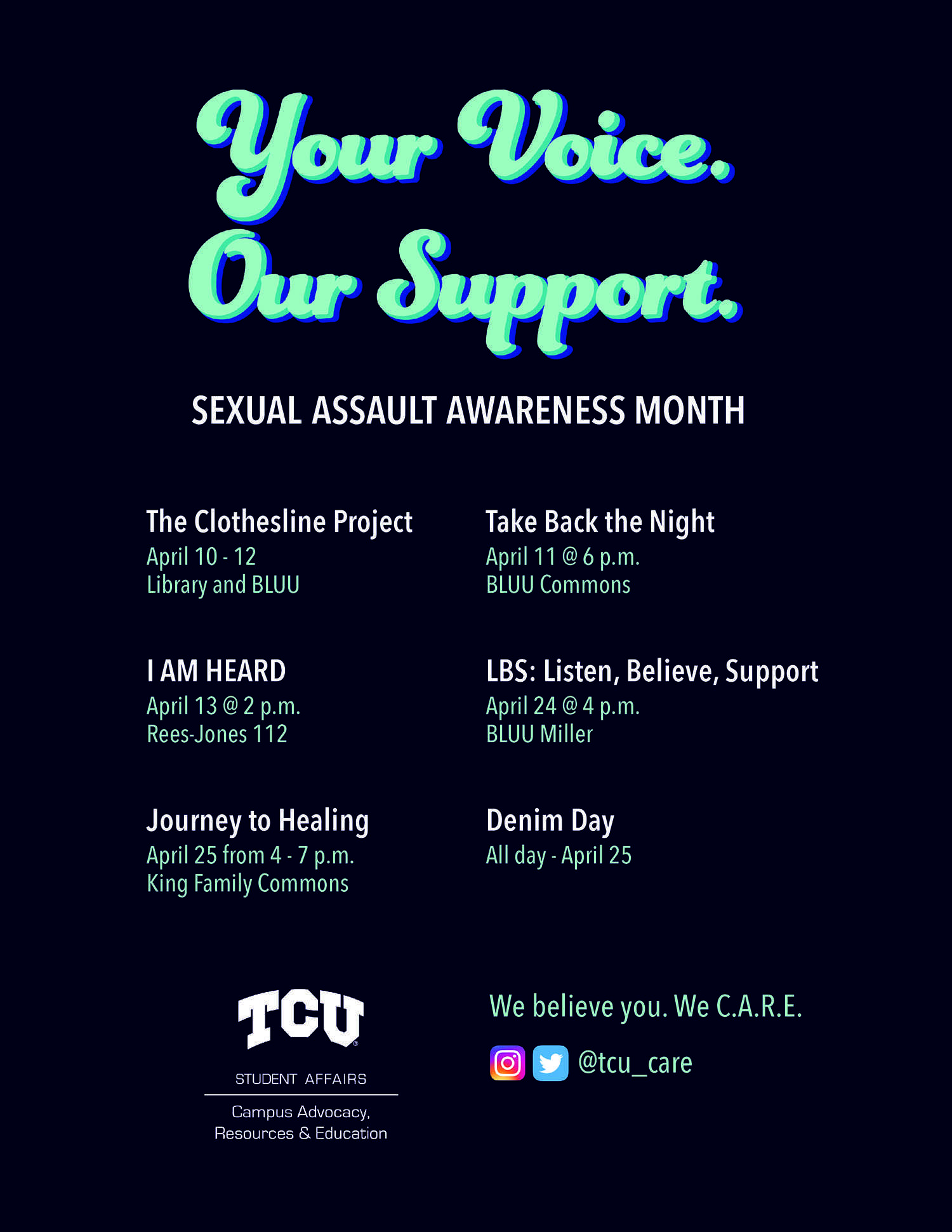 The CARE office mission is to advocate and support survivors of sexual and gender-based harassment, sexual assault, stalking, dating and domestic violence while promoting education and awareness that empowers lasting change in our community.
"The CARE office has not only helped me navigate my way through the Fort Worth Police Department and TCU Police Department, but CARE also helped me find many necessary resources like Campus Life and the TCU Counseling Center," said one anonymous student.
Leah Carnahan has worked at TCU for more than 15 years. She became the assistant director of Title IX Advocacy and Education in spring 2016 and the CARE office was established in the fall of 2017.
"The new position and office has allowed for students to have a confidential resource for support and allowed more time and energy for awareness and education efforts in the TCU community," Carnahan said.
At TCU, one in five students has experienced, completed or attempted sexual assault in their lifetime, according to the TCU police.
"After my assault, all I knew was I was scared, and I did not know how to feel safe on campus again," said a student who asked to remain anonymous. "The CARE office helped me feel safe without forcing me to make my assault public."
Roxo, TCU's student-run advertising and public relations agency, created the CARE office slogan: "We believe you. We C.A.R.E."
"I hope more students become aware of this resource on campus and understand its value," Katrina Palumbo, one of Roxo's account executives, said.
Carnahan's office is in Jarvis 124. She encourages people to email her at [email protected] or call (817)-257-5225 to make sure she is in her office, but walk-ins are welcome.
"Take a friend with you if needed," an anonymous TCU student said. "Leah will open her hands and her heart to hear you, believe you and assist you through this whole process."