10th-annual Frogstock features student-led music
"Three hours of peace and music" – those are the words on the newest poster for the 10th-annual Frogstock, an end-of-semester music festival held on TCU's Campus Commons.
TCU students are performing 15- to- 30-minute acts as bands or solo artists Wednesday, May 2, from 4-7 p.m.
The students who perform at Frogstock have music experience, but many are not music majors, said Kaitlin Page, the hall director of King-Wright halls.
"A really important piece of Frogstock is it gives these students who–maybe music is a hobby, and not their entire life–[it] gives them a stage to perform," Page said.
First-Time Performers
TCU juniors and roommates Cole Kellam and Luke Eidsvold are majoring in engineering and business, respectively, and are the first act to perform Wednesday. It's their first time performing at Frogstock together. 
Kellam has found a unique way to combine his love of engineering and music: he built his two electric guitars.
"I've loved Legos ever since I was little so being creative in that way and being able to express myself in that way is something I've always loved doing," he said.
Eidsvold said he plays guitar in the stairwell outside his dorm room to help him be more productive when he studies.
"I don't know how people who don't have an instrument study," he said. "I'm pretty sure it stimulates my brain."
At Frogstock, music from Kellam, Eidsvold and other performers can help set the mood for students to relax and celebrate their hard work, said Katy Flinn, hall director of Samuelson-Carter halls.  
'Three Hours of Peace and Music'
Frogstock organizers have arranged to give away 500 tacos and 600 Comfort Color T-shirts on a first-come, first-serve basis.
Organizers are planning for more than a thousand attendees after last year's impressive showing, Flinn said.
TCU's first Frogstock also featured music, food and activities–but for a smaller crowd.
Rachel Hopper, the associate director of TCU Housing and Residence Life, was the hall director of Samuelson-Carter halls when the Campus Commons opened in 2008.
She and her resident assistants organized the first Frogstock, and she has attended every Frogstock since. She estimated that about 50 people attended the first Frogstock. 
Where Frogstock Came From
Hopper said Frogstock was inspired by the 1969 Woodstock Music and Art Fair, which amassed a crowd of half a million people at a farm in upstate New York.
For "three days of peace and music," attendees listened to 32 musical acts including Janis Joplin, Santana and Jimi Hendrix.
"They did really outlandish things to get people's attention, to send a political message that they wanted peace and not war," Page said.
Page said Frogstock carries on in the bold spirit of Woodstock in that its students are "being bold by sharing their musical abilities in front of their peers."
Organizers are hoping this boldness can also bring about bonds.
"That's what our aim is, to really get to know students, connect them with other students, and really empower them in what values and passions and excitement they get from the skills that they have," Hopper said. 
'A Little Bit of Experience on the Stage'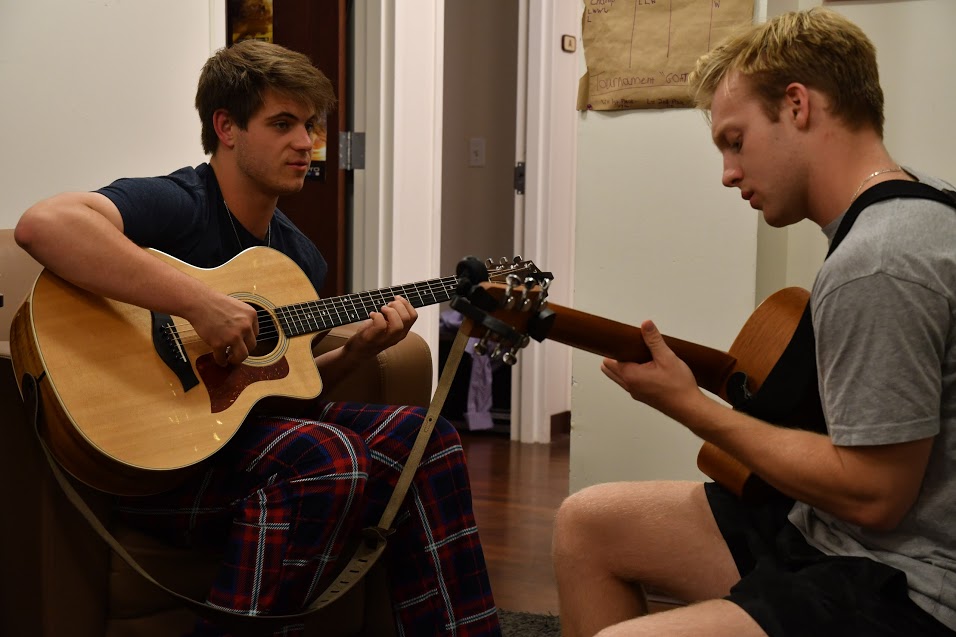 Since last year, students have been required to audition for Frogstock in front of the music committee.
As a member of the committee, senior TCU student and resident assistant Jordyn Hampe looked for musical quality and a passion for Frogstock when selecting the five bands or solo artists who perform Wednesday.
"I think it's important for musicians just to get a little bit of experience on the stage," said Hampe, a senior film, television and digital media major. "It's really great to see that there are some people that are trying to have a career in music."
Kellam is already pursuing a career in music through his band, Kellam Worship.
He and his younger brother Cade recorded an EP of all original worship songs that got released on major streaming platforms April 14 and has already earned a blue check mark of approval from Spotify. Cade plays drums, sings and writes songs, while Cole also writes songs and plays guitar.
For both Kellam and Eidsvold, Frogstock isn't just a platform for their music, but for their shared Christian faith. They said they hope to sing a worship song at Frogstock and influence their listeners with a positive message.
"I just hope people know how fun it is to be free," Eidsvold said. "I just hope to influence them in a positive light. I'm sure they probably have a lot of stuff going on, their own battles to fight, but still, there's still something to smile about."