Equestrian Wins Season Opener, 14-1, Over Texas Tech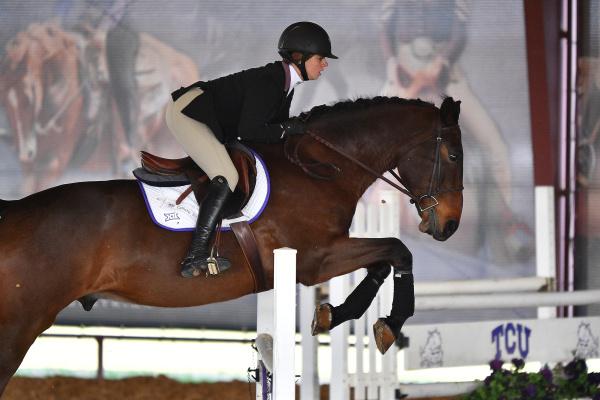 Fifth-ranked TCU equestrian began their season on a dominate note Friday, as they defeated Texas Tech 14-1 at Turning Point Ranch in Springview, Texas.
Although 12 TCU riders were competing for the first time, the Frogs looked seasoned already, sweeping the Most Outstanding Performer awards.
A group comprised of TCU first-years, Wynne Weatherly, Brooke Matson, Niki Barnes, Jacey Albaugh, and Bri Gonzalez, swept the discipline 4-0 in Equitation over Fences.  Weatherly won with an 85-40 decision, earning her first MOP.
Junior MG Reed was the standout in the Reining event.  The Frogs won the discipline 3-1, and Reed won with a 72-67.5 decision, taking home the second MOP of her career.
The Frogs swept the discipline again in the Flat, this time with Matson winning an MOP. Both Matson and Albaugh scored 85 points in the event to beat their respective opponents.
After strong rides by junior Drew Rodgers and sophomore Anna Hauter, freshman Natlia DeVencenty won in a 73-70.5 decision to achieve MOP in her first exhibition.
The Horned Frogs victory over the Red Raiders gives TCU a 4-0 record in their all-time series with Texas Tech.
TCU's next competition is September 27 at home against Delaware State. The exhibition is set to be at Turning Point Ranch at 11 a.m.