Students address diversity and inclusion in 'Dear TCU' campaign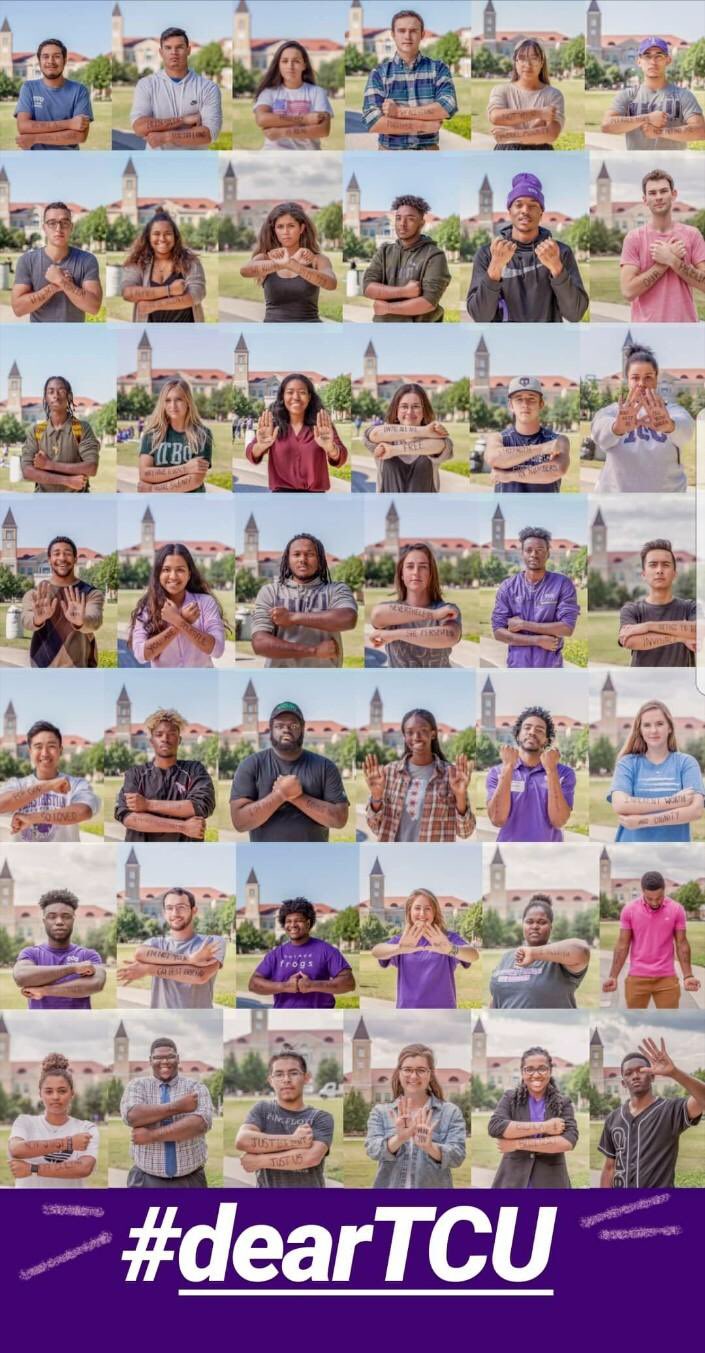 The TCU Justice Coalition will be using a social media campaign made by students to bring diversity and social justice issues on campus to light.
"Dear TCU" is a social media campaign that uses pictures of students to help tell their story. The campaign was thought of by Hope Bentley and Michelle Nguyen.
The way the campaign works is students write words on their bodies, take a picture of what they wrote and post it to social media. Participants have the opportunity to tell their own story through their captions.
Tamara Gilbert, a sophomore sociology major, is on the leadership team for the Justice Coalition and is optimistic about the campaign.
"I hope that it will bring the issues that we talk about in the Justice Coalition meetings to light and that our student body will become more aware and cognizant of things that impact their fellow Horned Frogs," Gilbert said.
#DearTCU
As a Hispanic and bisexual student at a predominantly white cis/het campus, I want to see administration act on behalf of ALL students, not just the majority, or whenever it looks good for the media. (1/3) pic.twitter.com/M39wrdoykK

— Isaac 🔱 (@kingXtide) November 8, 2018
#DearTCU
We are not "blacks" and we are not "whites." We are black people and we are white people. We are more than just a color. pic.twitter.com/OdHtxeG6kI

— Caitlyn Young (@caitlynyoung__) November 8, 2018
#deartcu As a current junior at TCU I still fear for all colored freshmen coming in. My freshman year was filled with a many racial activities. During the Trump election students would write on the whiteboards of colored freshmen doors "we need to bring back the 3/5 rule". pic.twitter.com/Tqi89BlKAc

— Trevon Thomas (@TrevonThomas5) November 8, 2018
Sophomore journalism major Cristian Argueta Soto was the photographer for this campaign. He took the pictures of students who wanted to participate at Frog Fountain, edited them and sent them back to the students.
"While our goal is to reach as many people as possible, we want to reach those people through stories, not pretty photos," Soto said.
Soto said that this campaign was created to bring awareness to the diversity issues this campus faces.
"This movement is a set up to greater ideas in the future," Soto said. "We as a group are trying to pass DEI (diversity, equity and inclusion) in the core curriculum in hopes of helping TCU students feel more at home on campus."
#DEARTCU My experiences are valid. My skin is valid. I deserve to be here. WE are valuable to this University. I bleed PURPLE everyday. ✊🏾💜 pic.twitter.com/82qF4YOYEz

— 𝕥𝕣𝕚𝕤 ⚡️ (@_StayFancy) November 8, 2018

To find more about people's personal stories, search #DearTCU on Twitter.