Eco-Friendly hair salons look to encourage others to help the environment
Every minute, one garbage truck full of plastic is dumped into our oceans, which has led to more than 5 trillion pieces of plastic currently littering our beautiful waters, according to National Geographic.
For some salons in Fort Worth, they are working to help the environment in their own terms.
Currently only 9 percent of our world's plastics are recycled, according to The Economist.
The beauty industry, alongside other industries, is one the biggest producers of waste and harsh chemicals found in waterways.
"Most people are aware that the beauty industry produces a lot of waste," said Rosalie Reeder, a customer at a beauty salon in Fort Worth, Texas.
The issues surrounding salons and the environment are based on the products used and disposal of their waste.
Hair and beauty salons impact the health of our planet and the way they are run makes a difference.
Tiffany Cofer, a hair specialist in Salons of Volterra located in Fort Worth, Texas is an environmentalist who uses natural products and recycles all the used material at her salon.
"Beauty comes at a price and at the moment, it's an expensive one for our environment," said Cofer.
Everyone in the salon uses an Eufora product, which utilizes Certified Organic Aloe, along with nearly 75 different natural plant extracts and essential oils, all of which are classified as renewable resources and considered biodegradable, said Cofer.
Tara Spieker, a hair specialist, is a partner of Tiffany's.
"Tiffany and I recently went out on our own to be able to carry a product that is made of natural ingredients like beeswax and coconut rather than harsh chemicals most beauty products are made of," Spieker said. "This is healthier for the environment and our customers."
Reusing the bottles that products come in is another way Cofer and Spieker are making the efforts to save plastic waste.
The Gallons of Water Per Day
Currently on average, a salon basin uses more than 150 gallons of water per day, according to lovekevinmurphy.com.
"Not keeping the water running in our salon is something so simple to do and it allows us to save gallons of water each day," said Shannon Webb, a hair specialist at The Look Inc. in Lafayette, LA.
"We are a hair salon," Cofer said. "We are washing hair and towels all day, but there are simple ways to watch the amount of water you use."
Cofer's salon tries to run the washing machine only once a day to help this problem.
Shampoo is another major environmental risk due to its release of chemicals into the water supply through the drain.
"Most chemicals in shampoo are harmful to the environment in one way or another," Cofer said.
Most shampoos contain a chemical called Sodium Laureth Sulfate, which is mutagenic to animals.
"When animals in the wild drink water with this chemical, it can be harmful to them," Cofer said.
Small local salons Are becoming more environmentally friendly  
Locally owned salons across the nation are becoming more cautious about the chemicals in the products they use as a push to become part of the solution for the environment, rather than the problem.
"There are so many opportunities when it comes to environmentally friendly hair products," said Webb.
Webb uses Kevin Murphy products that are cautious with their carbon footprint.
The Kevin Murphy bottles are made from 100 percent recycled ocean plastics in an effort to create a circular supply chain, according to their website.
Environmentally friendly products come at a cost
Environmentally friendly products are priced at a higher rate over other options and some customers may not be willing to pay a higher price in order to receive a higher quality product that helps the environment.
"Being environmentally friendly, it is considered to be on the medium to high price range," said Cofer.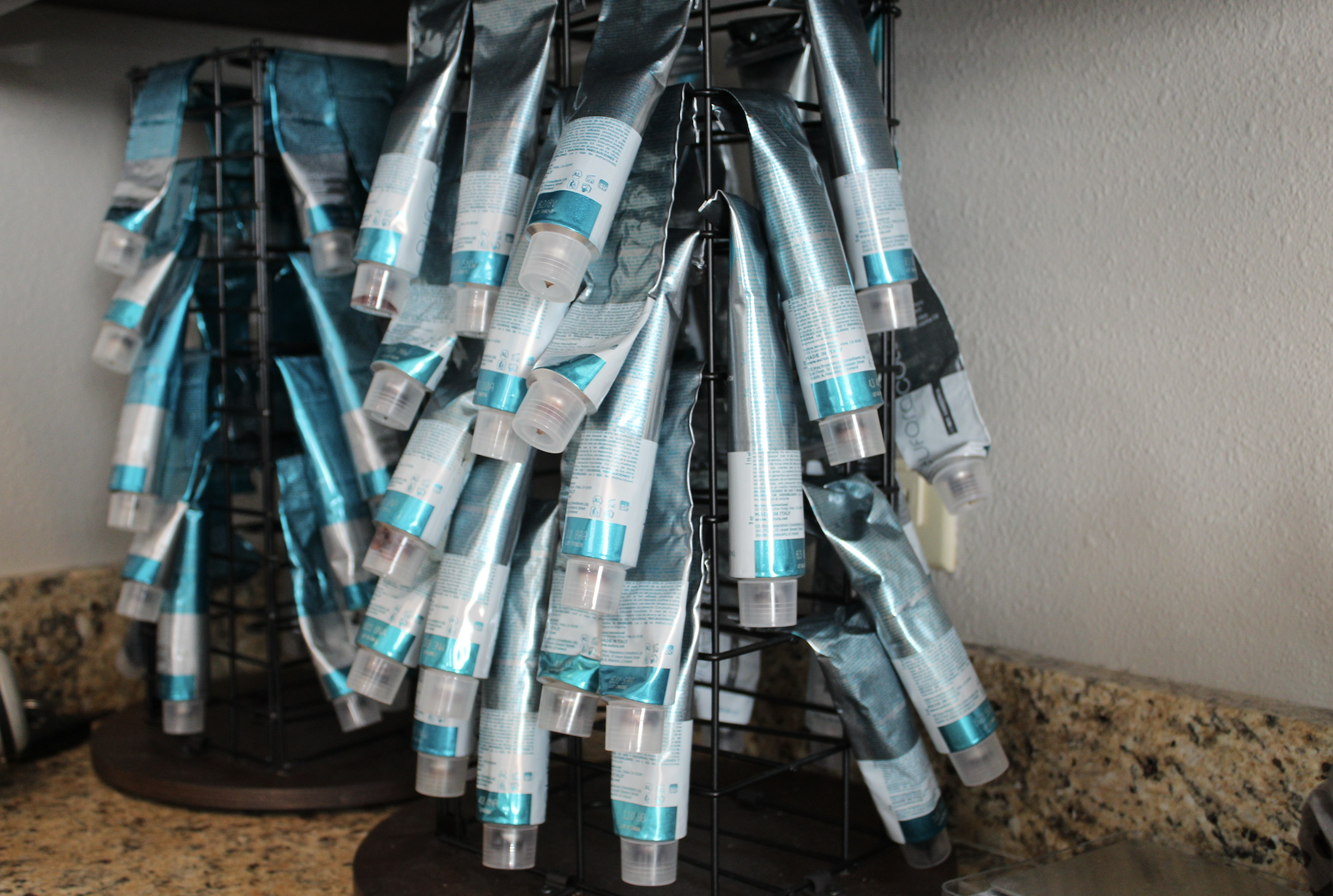 "Average size shampoo bottles and styling products are around $20 with the quality definitely being higher than that of what you get from the grocery store, so you don't use as much either," she said.
Hairdressers like Cofer, Spieker and Webb try to take steps toward improving the environment in the hair and beauty industry, making an impact by taking simple actions in their salon.