Groundhog Day facts: what to know about this holiday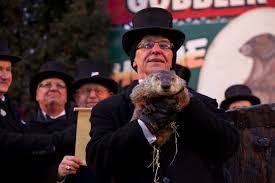 Happy Feb. 2, also known as Groundhog Day! The groundhog, Punxsutawney Phil, has been hibernating all winter and is ready to come out and determine if there will be six more weeks of winter or if spring is upon us.
Here are some fun facts about the holiday to get you ready for Groundhog Day:
If the groundhog sees his shadow, there will be six more weeks of winter. If he doesn't, then spring will arrive soon. He has seen his shadow 103 times and has not seen it 18 times.
The groundhog's real name is "Punxsutawney Phil, Seer of Seers, Sage of Sages, Prognosticator of Prognosticators, and Weather Prophet Extraordinary."
The first Groundhog Day ceremony was in 1886.
The average groundhog lives six to eight years, but Punxsutawney Phil drinks a magical potion that gives him seven more years of life. He is at least 133 years old, according to the Inner Circle of the Groundhog Club.
Punxsutawney Phil makes his prediction at Gobbler's Knob in Punxsutawney, Pa. The prediction happens around 7:20 a.m. EST.
The groundhog tells his prediction to the president of the Inner Circle of the Groundhog Club in Groundhogese, the language spoken between the two.
Groundhog Day with Bill Murray did not use Punxsutawney Phil for the movie. Instead, a groundhog named Scooter was used and he bit Murray three times during filming.
To watch Punxsutawney Phil make his prediction, click here. It will begin at 6 a.m. EST.