What we're reading: Pelosi announces impeachment inquiry against President Trump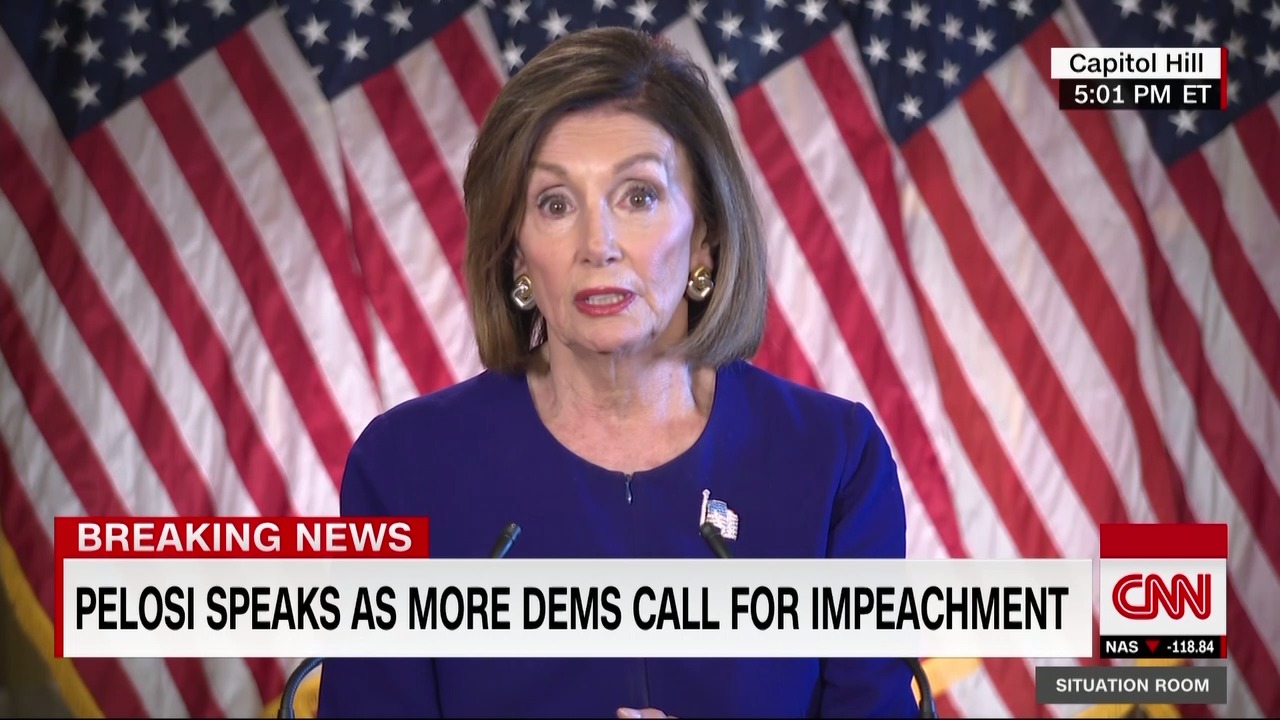 House Speaker Nancy Pelosi announces a formal impeachment
Speaker of the House Nancy Pelosi announced a formal impeachment inquiry into President Trump today.
Calls for the inquiry have ramped up in recent days after reports that Trump pressured Ukrainian President Voldymyr Zelenskiy to investigate former Vice President Joe Biden.
The two leaders discussed potential "investigations into Joe Biden" according to the Associated Press.
Trump froze $400 million in aid to Ukraine just days before his call with Zelenskiy.
Trump stated he did "absolutely nothing wrong" during the call with Zelenskiy. "Trump said he will release the "unredacted transcript" of his phone call with the Ukrainian president tomorrow," according to CNN.
"The President must be held accountable," Pelosi said. "No one is above the law."
Two wounded after senator fires gun outside of Haitian parliament
An Associated Press photographer and another man were shot during a protest outside the Haitian Parliament Monday.
The protest was centered around the governing party's nomination of Fritz William Michel as prime minister.
Sen. Ralph Fethiere fired a pistol during a confrontation with protestors, stating it was a defensive measure against "violent militants."
AP photographer Dieu-Nalio Chery was hit in the jaw by a bullet fragment. He was released from a hospital in the capital of Port-au-Prince but will undergo further treatment this week.
No charges have been filed against Fethiye.
A Reuters photographer captured the moment a pro-government senator in #Haiti shot multiple people ahead of a vote to ratify the PM in Parliament this morning. A chaotic situation is unfolding and many unplanned protests happening now pic.twitter.com/JVHj2talXz

— Etant Dupain (@gaetantguevara) September 23, 2019
Supreme court will soon decide if someone can be fired for being gay
The Supreme Court will decide next month whether gay and transgender people are protected from workplace discrimination under existing federal law, according to The New York Times.
Lawyers for the gay and transgender plaintiffs in the case stated the protections in Title VII of the Civil Rights of 1964 should include "sexual orientation" and "gender identity."
In 1964, sexual discrimination protections only covered bias against either a man or a woman.
Joe Biden hosts big dollar fundraiser in Philadelphia
Former Vice President and current Presidential candidate Joe Biden hosted a large fundraising event in Philadelphia Monday ahead of next week's third-quarter filing deadline, according to AP News.
To enter the event as a guest was $500. To enter as a "friend" it was $1,000. To be a "sponsor" and receive a photo with Biden, the cost to enter the event was $2,800.
If that didn't break the bank, there were "VIP" tickets up for grabs.
If you raised $20,000 for the campaign, you were considered a "co-host" and could attend the private reception. In order to attend the special VIP reception, your cost to enter was $40,000, according to AP News.
Biden's small-dollar, online fundraising operation fell short last quarter, forcing him to rely on more big-donor fundraising events. Biden did not say how much money was raised during the event.