TCU to students: Do not party
The University of North Carolina told its undergraduates to go home Monday. On Tuesday, Michigan State told its undergraduates not to come, and Notre Dame announced classes would be fully online for the next two weeks.
As the nation's campuses become the latest hot zones for COVID 19, TCU has reminded students they shouldn't be going to or hosting parties.
The message came Tuesday in an email from Vice Chancellor for Student Affairs Kathy Cavins-Tull.
"We are counting on each of you to do your part to keep our community together," Cavins-Tull wrote in the email. "The equation is simple, we follow our plan and we get to learn in-person. Thank you for stepping up."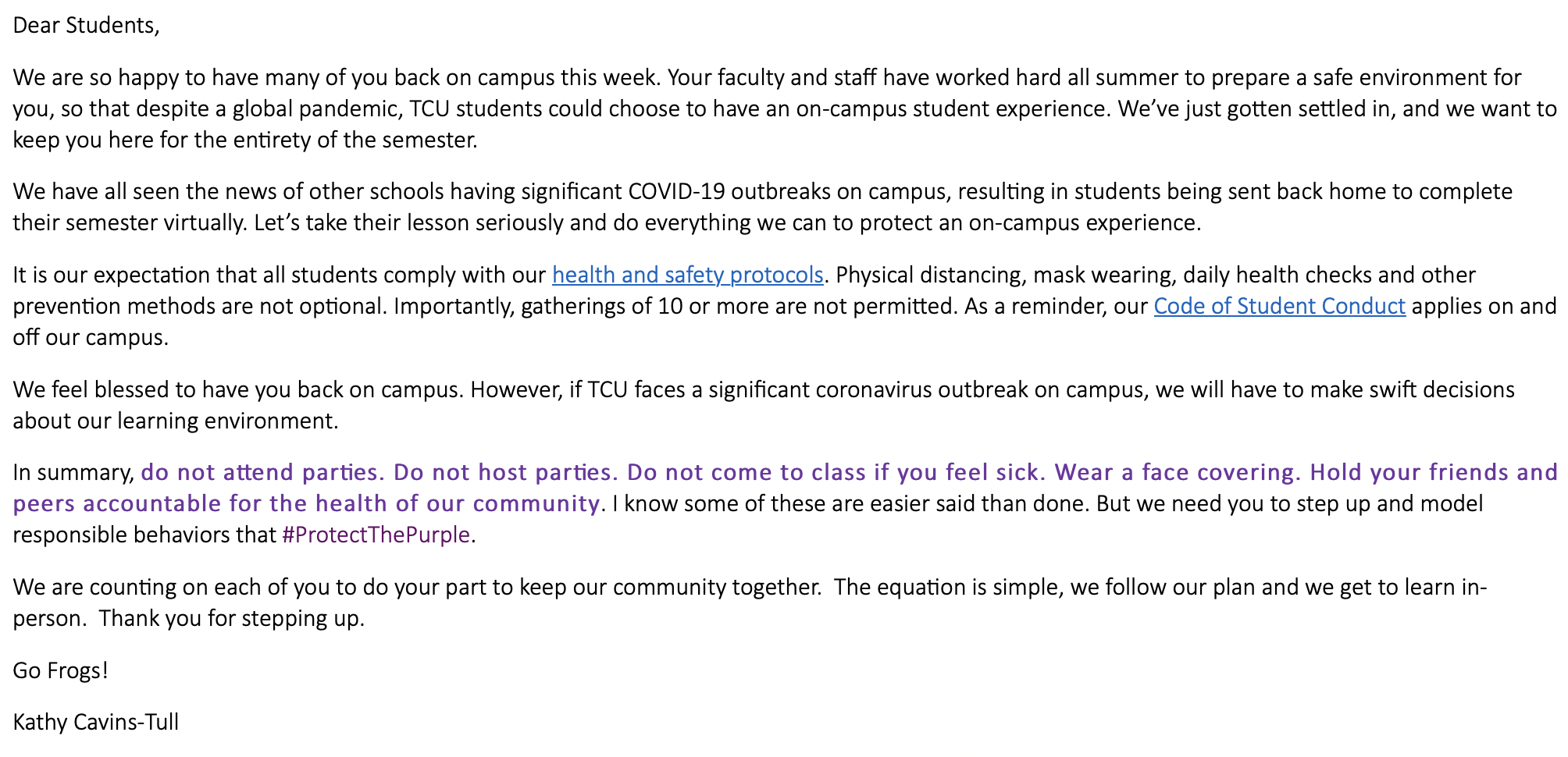 The increase in student cases at TCU and other universities is not isolated. The World Health Organization (WHO) said Tuesday young people are becoming the main spreaders of the disease in many countries.
TCU's Code of Student Conduct gives the university the right to send revelers home.
In her email, Cavins-Tull mentioned a recent trend of spikes in COVID-19 case counts at universities across the country.
Some schools have transitioned to distance learning after initially holding on-campus classes. For example, the University of North Carolina at Chapel Hill moved to fully online instruction after a week of in-person classes, and Notre Dame announced Tuesday it would move to distance learning for two weeks.
Michigan State University also decided to shift to remote learning for the semester, asking students who were supposed to live on campus to stay home. In East Lansing, 187 positive cases were linked to an outbreak at a college bar in July.
In many cases, parties hosted by Greek organizations have been identified as the source of the outbreaks.
On Monday, TCU reported eight active student cases with a direct on-campus impact. Tuesday, the university reported 11. (A direct on-campus impact means the student was on campus within two days of an onset of symptoms or a positive test result.)
TCU's case numbers are updated daily here.