What we're reading: Wildfires continue to burn, Trump bans racial sensitivity training
Cause of San Bernardino wildfire determined
California officials said a smoke-generated pyrotechnic device used at a gender reveal party might have sparked the El Dorado wildfire in San Bernardino.  
According to CalFire, the fire is one of the three major fires burning in San Diego and Fresno counties. On Sunday, California Gov. Gavin Newsom declared a state of emergency in the three counties.
The agency had increased staffing to prepare for the "critical fire weather." Residents were forcefully evacuated over the Labor Day weekend, according to NBC News.
The 23 fires burning through the counties have also caused a spike in temperatures and a dangerous heatwave, with record-high temperatures recorded on Saturday.  
Tropical Storm Paulette approaching
A depression in the Atlantic Ocean formed into a tropical storm is expected to intensify over the next couple of days, according to forecasters.  
Tropical Storm Paulette, located 1,205 miles west of the Cabo Verde Islands, has sustained winds of 40 miles per hour and is moving toward the west-northwest, according to the National Hurricane Center.  
Forecasters are tracking multiple tropical depressions and waves off the coast of western Africa.
Active hurricane predictions have been met and a record-breaking hurricane season is expected, according to USA Today.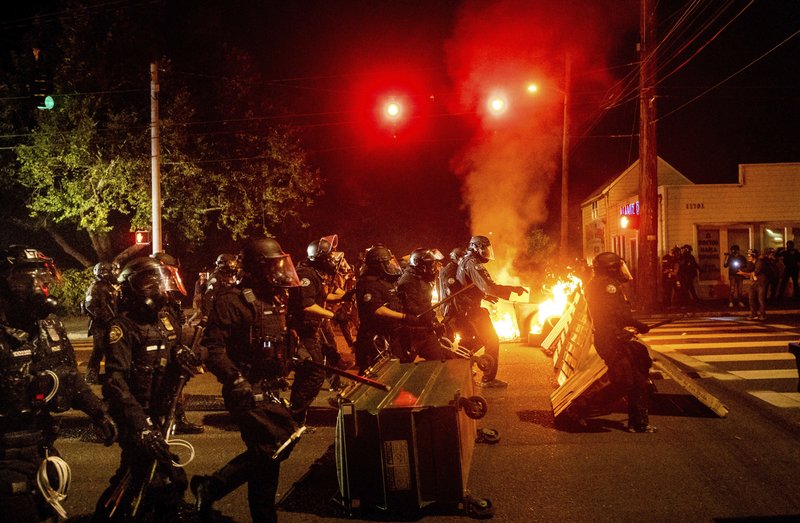 One-hundredth night of Portland protests   
Fifty people were arrested Saturday in the 100th night of the Portland protests and riots following the death of George Floyd, according to CNN.
Multiple firebombs were thrown at police and one set a community member on fire, according to police. The use of firebombs was an "extreme danger to life safety," police said.
Rocks and commercial-grade fireworks were also thrown at police. Protesters lit dumpsters and wooden pallets on fire on the streets, and officers used tear gas and other crowd-control munitions.  
The protesters were dressed in all black and wore protective gear.
"It was clear that the intent of the crowd was not peaceful protest," police said.
Trump bans 'anti-American' diversity training  
President Donald Trump ordered a ban on racial sensitivity training in federal agencies, labeling them as "divisive, anti-American propaganda," according to BBC.
In a memo to government agencies, Trump said millions of dollars of taxpayer's money fund these trainings, which "foster resentment in the workforce."  
The memo cites press reports stating that employees of the executive branch "have been required to attend trainings where they are told that 'virtually all White people contribute to racism,'" and that these trainings "run counter to the fundamental beliefs for which our Nation has stood."