What we're reading: COVID-19 trials paused, Supreme Court rules on the census
COVID-19 drug trials paused due to safety concerns
Two COVID-19 treatment studies have been put on pause by drugmakers as they investigate safety concerns, according to the Associated Press.
Johnson & Johnson paused all clinical trials of its experimental COVID-19 vaccine after a study participant became sick with an "unexplained illness." The company released a statement Monday, saying it had "temporarily paused further dosing in all our COVID-19 vaccine candidate clinical trials," including a Phase 3 trial that began late last month, while it investigated the illness.
Less than 24 hours later, Eli Lilly also stopped a study that was testing another product called ACTIV-3, a monoclonal antibody designed to stop the virus from infecting cells.
In a conference call Tuesday morning, Johnson & Johnson said it had learned about a participant's illness Sunday evening and immediately informed an independent data and safety monitoring board.
Mathai Mammen, who leads global research and development at Janssen, Johnson & Johnson's pharmaceutical division, said on the call the company does not yet know whether the participant had received the vaccine or a placebo.
"We know very little at this point, and it will be a few days at minimum for the right set of information to be gathered and evaluated," he said.
Disney recruits Rapsody to create an EP to honor Black lives
Disney recruited the rapper Rapsody to amplify Black voices and bring awareness to the social injustices going on in the country, according to the Associated Press.
Recorded under quarantine during the pandemic, Rapsody came up with the soulful rap tune "Pray Momma Don't Cry." She said she drew from Sam Cooke's "A Change Is Gonna Come" and Marvin Gaye's "Mercy Mercy Me (The Ecology)," calling the classic songs "beautiful music but it was also heavy and real at the same time."
"Pray Momma Don't Cry" is one of four songs featured on "I Can't Breathe/Music for the Movement," a four-song album that is a joint venture between Disney Music Group and The Undefeated, ESPN's platform for exploring the intersections of race, sports and culture.
Rapsody hopes the album can unite people.
"Sometimes music does more than sitting across the table trying to hammer something into somebody's head who just doesn't get it because they don't live your life," she said. "Music is a universal language in that way."
Jill Biden rallies voters in Texas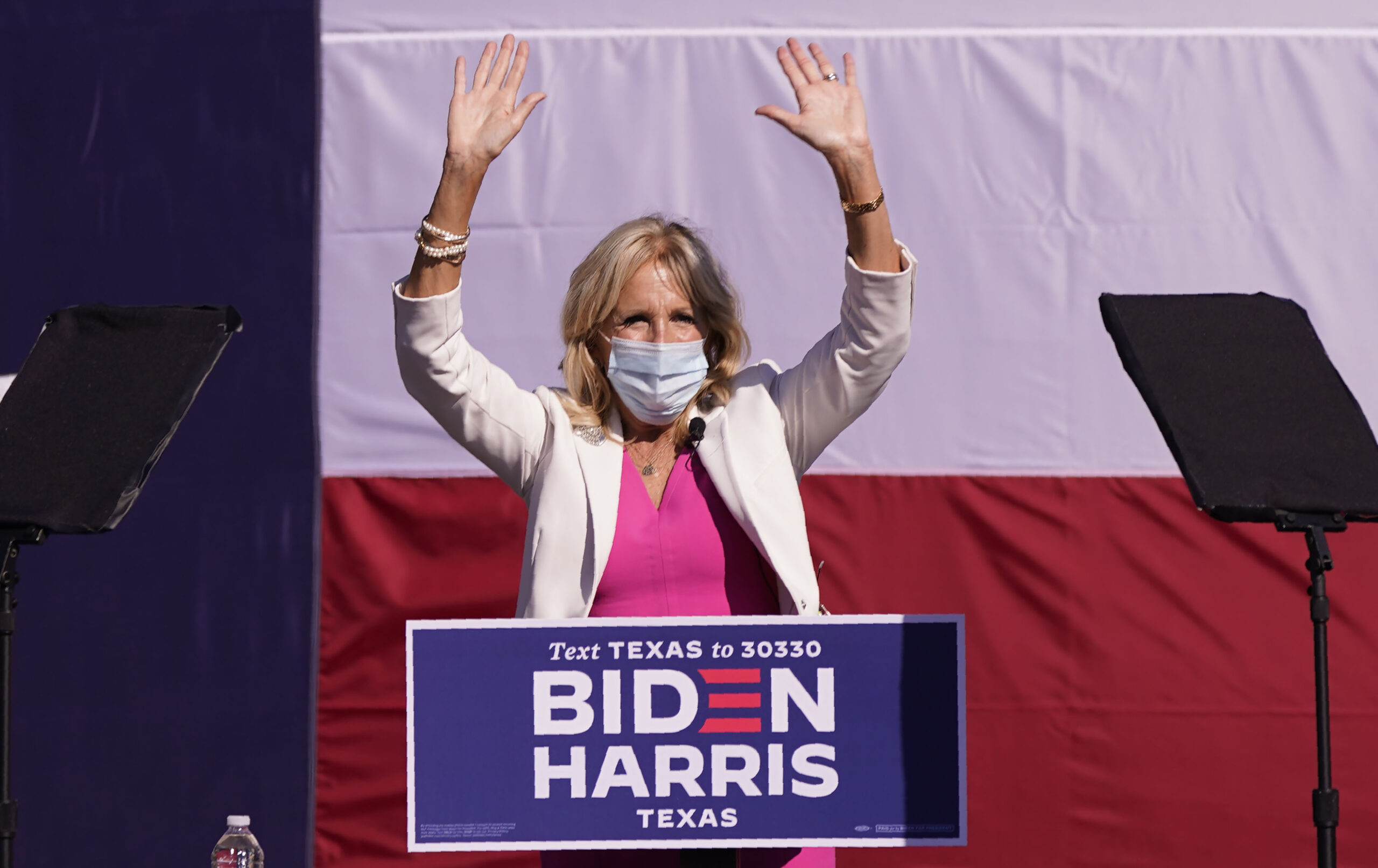 Jill Biden urged Texas voters Tuesday to flood the polls, elect her husband, Joe Biden, president, and in the process turn Texas blue, according to the Dallas Morning News.
Tuesday marked the first day of a three-week early voting period. Jill Biden made stops in Dallas and El Paso to rally Democrats, but the turnout in the Dallas area and throughout the state was exceptionally brisk, observers said.
Jill Biden's trip to Texas is mild evidence that the former vice president's campaign is making a move to win what once was a reliably red state. Biden currently has a larger staff in Texas than any Democratic presidential candidate in recent history.
Although Joe Biden has yet to visit Texas since his primary campaign, there's still time. In some instances, visits from the potential first lady are followed by an appearance by the presidential and vice-presidential candidate.
Supreme Court rules census count can be cut short
After extending the deadline to count every person in America, a process that was complicated by the coronavirus pandemic, the Trump administration reversed course, according to the New York Times.
On Tuesday, the Supreme Court allowed the Trump administration to halt the 2020 census count ahead of schedule, effectively shutting down what has been the most contentious and litigated census in memory. The order formally pauses the population count while the administration and a host of groups advocating for a more accurate census battle in a federal appeals court over whether the count could be stopped early.
This order suggests there will be an early end because the census — one of the largest government activities, involving hundreds of thousands of workers — cannot be easily restarted and little time remains before its current deadline at the end of this month. Some census workers say the bureau had already begun shutting down parts of its count despite a court order to continue it.
Its early end could mean that White House officials, rather than Census Bureau experts, may use the population numbers to determine representation in the House of Representatives and in state and local governments.
Terri Ann Lowenthal, a longtime census expert and consultant to several groups pressing for an accurate tally, charged that the disarray caused by the administration's handling of the count "inevitably will undermine whatever public confidence remains in the census results."