The Office of Religious & Spiritual Life to host eighth annual Crossroads Lecture
The Office of Religious & Spiritual Life will host their eight annual Crossroads Lecture on Faith and Public Life today, inviting medical professionals to discuss how their faith and careers intersect.
The Crossroads Lecture has partnered with the Center for Career and Professional Development this year. Kim Satz, the associate director for employer development in the career center, said the purpose of the event is to highlight religious diversity in the workplace and show how faith can inform career choices. 
The lecture will include TCU alumni panelists Dr. Ryan Huey, who graduated in 2008, and Rachel Rudberg, who graduated in 2017.
Huey is a gastrointestinal medical oncologist at MD Anderson Cancer Center and a member of City Church Houston. Rudberg, an active member in the Dallas Jewish young adult community, works in the cardiothoracic and transplant intensive care unit at Baylor University Medical Center in Dallas.
"Through our alumni panelists, we hope students gain a better sense of how faith can inform their choice vocation and the impact COVID-19 can have on work and spirituality," said Satz.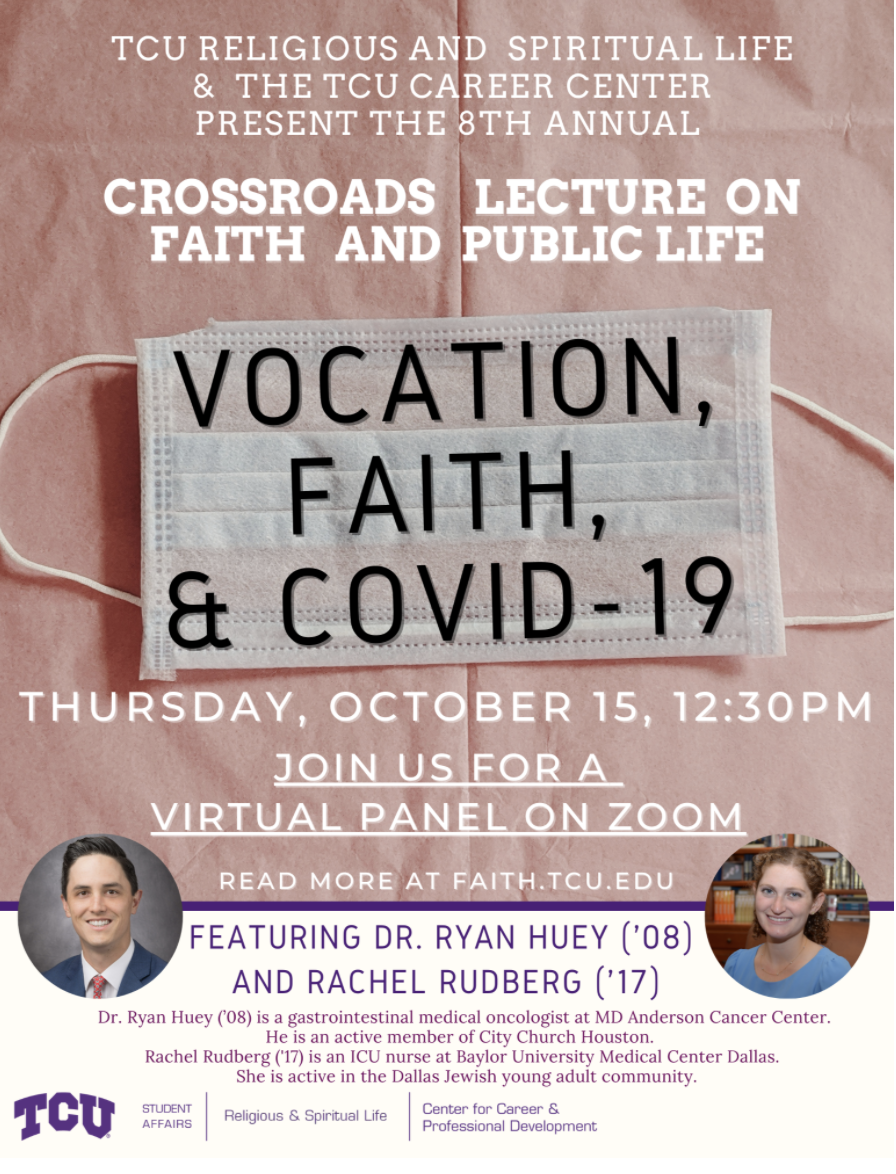 An associate chaplain in RSL, Britt Luby, said the lecture will talk about pressing issues in mainstream media and how it intersects with religion. She plans to interview the alumni panelists for this event. 
COVID-19 caused issues for RSL when it came to planning this event, said Luby. She believes this event will enrich the TCU community because it will help students who care about their faith and career see how to navigate the workforce.
"Understanding, especially students who choose to work in healthcare, how COVID-19 has changed work and what their work looks like now," said Luby. "I think that'll be interesting, especially for our pre-med students and our pre-health students to think: 'What I thought being a nurse or doctor two years ago looks really different than what it looks like now,' and they'll get first-hand accounts of that."
For more information on the event, which will be held at 12:30 p.m. via Zoom, students can visit this website.