"Hamilton" actors Christopher Jackson and Jonathan Groff discussed the hit musical, their careers and life advice in a virtual event with TCU students Friday.
The event was put on by the student organization theEnd, and moderated by D'Mariel Jones, a junior musical theatre major.
Jackson, who portrayed President George Washington, and Groff, who played King George III, answered questions sent in over social media and from members of theEnd.
The actors recounted the most exciting celebrities who came to see the show during their time performing. Groff gushed about meeting Beyoncé and Jay-Z, while Jackson raved about two actors in particular.
"My first one is Meryl Streep because we kicked it for, like, an hour," Jackson said. "And the other was Kareem Abdul-Jabbar. He's the most random, weird dude I've ever met in my life."
They discussed their experience in "Hamilton," and both praised their castmates for their immense talent and dedication to their craft and their characters.
"Everyone in this show is so committed to what they're doing; that has something to do with the show, obviously, but also has something to do with each individual artist," Groff said. "The group that they assembled, when it came to being on stage and doing their job, they were so into it."
Jackson echoed his castmate's sentiment, comparing the cast to the 1992 U.S. Olympic "Dream Team."
"In 1992, the best basketball players in the world played on the Olympic 'Dream Team,'" Jackson said. "The best basketball that's ever been played in the history of that particular sport, that discipline… The idea that this show was kind of that, is kind of insane."
One of the major topics of the conversation centered around the idea of rejection. Jackson argued that viewing setbacks as rejection is unproductive.
"All of the things that go into whether or not you get an opportunity to do a role has nothing to do with acceptance or rejection," Jackson said. "If you don't think about things in terms of being accepted or rejected, now you've not put your ego in the same spot as your career."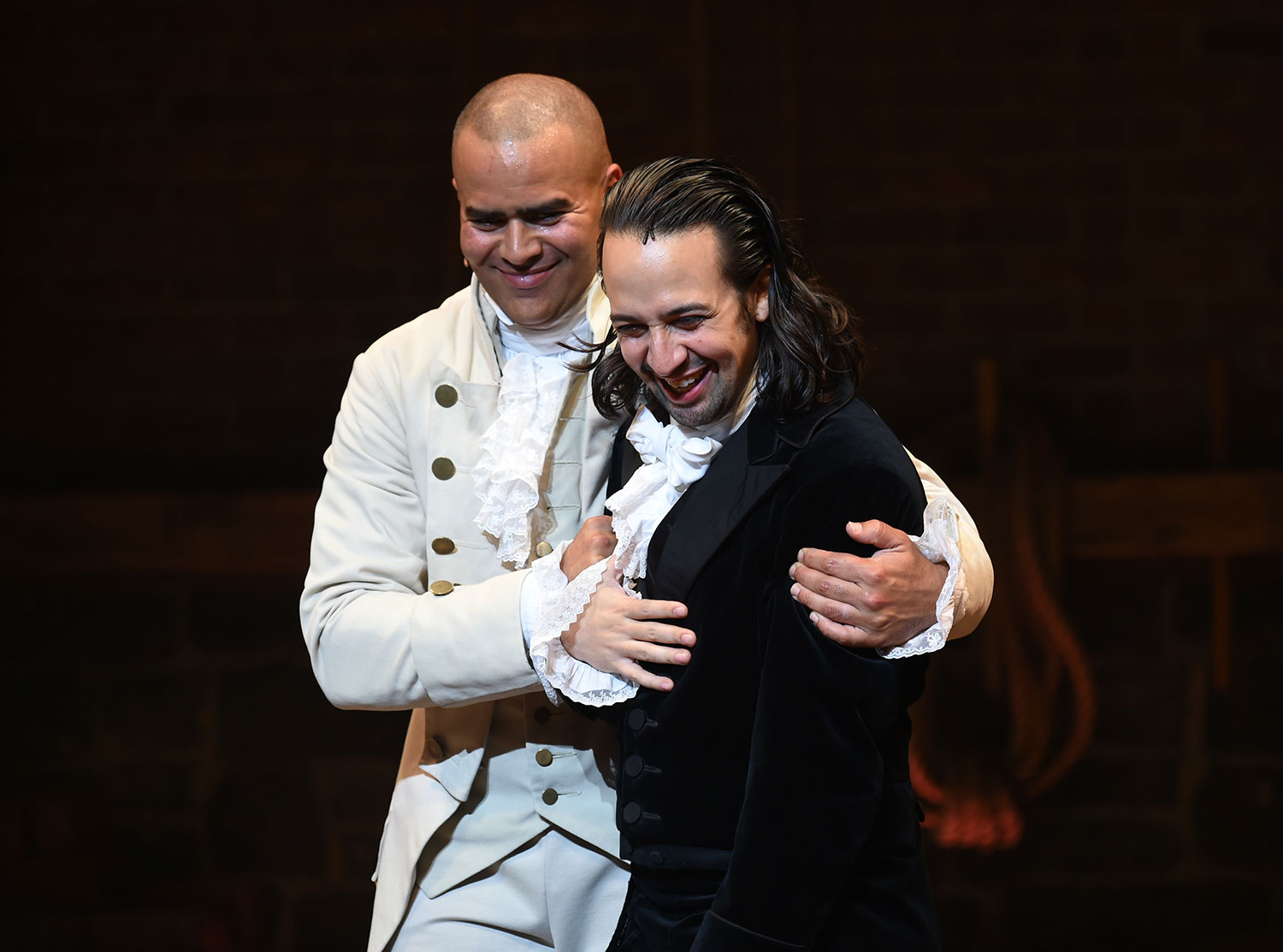 Jackson emphasized the importance of keeping one's self-worth separate from one's career journey.
"In your career, it's about pursuing a path…it's not about: 'Oh, they love me, now I'm worthy of love,'" Jackson said.
Groff agreed and shared a recent incident when he grappled with feeling rejected.
"Last week I had a meeting with these two directors, and I felt rejected by them when the meeting was over," Groff said. "They weren't rejecting me — we're not going to do the movie together — but I felt rejected."
Groff then explained how he was able to process his emotions.
"I just tried to close my eyes and be, like, 'Oh my God, okay, this feeling does not go away; it does not matter how old you get, it doesn't matter how successful you are or you aren't,'" Groff said. "Let me take a deep breath, let me live in the way this feels…and then slowly, like the weather, it just starts to change again."
Bringing in the talent
Maggie Tucker, the head director of theEnd and a senior secondary education and teaching major, explained the process of the club bringing talent to TCU with the help of Student Activities Coordinator Kelly Lee.
"[Lee] actually gets a list of students' opinions and ideas on who we want to bring to campus," Tucker said.
After that, Lee takes the list to different talent agencies to see which celebrities fit within the organization's budget and timeframe.
Tucker said that theEnd was able to book Groff and Jackson after the club was approached by a talent agency the group worked with in the past.
"Our talent agency actually approached [Lee] with a really cool opportunity that they were interested in doing this, and they were available during our timeframe that we had open, so we worked really close with their managers and talent to… figure out the logistics of how that would happen," Tucker said.
 

 

 

View this post on Instagram

 

 
Tucker said that, during COVID-19, theEnd has been "very successful" in making the transition between in-person and virtual shows, and they've been trying to bring more interactive elements to the new format.
"For this last event we had 'go bags' for students to grab where they can decorate a playbill, and so not only were ticket sales successful, but also just students feeling like they're a part of the event in a way that is a little different than what happened in pre-COVID-19 times," Tucker said. "It's cool to see the interest spark where they can do something hands-on while the event is happening instead of just sitting there and watching it."
Tucker said she was happy with how the event went and noted in particular the clear connection between Jackson and Groff.
"Everything they said was very down-to-earth and surreal, and they were just laughing with each other and it seemed very casual, which also made it more comfortable for us as viewers," Tucker said.
Looking forward on Broadway
Groff and Jackson also reflected on what changes they hoped to see on Broadway in the future, especially given the recent political and social movements in recent months.
Jackson discussed how he sees the legacy of "Hamilton" impacting future generations of theater artists.
"I think, having worked with a lot of producers at the highest level, I know that they are in a tough spot, because a couple of them that have wanted to do different things couldn't find an audience for them, and because Broadway is a commercial enterprise, that can be a little tricky," Jackson said. "But I feel like the work that 'Hamilton' has done, and is doing and will continue to do is going to bridge a lot of the gaps that we never really expected to see bridged."
Jackson also talked about the best way to bring more actors of color onto Broadway stages.
"I don't find a lot of solace in the history of Broadway, in terms of old revivals that can be rethought. I don't want to see that," Jackson said. "I want to see somebody write something new, from a different perspective — from a perspective that I haven't experienced. And that's the show that I want to be in."
Jackson emphasized Broadway has a responsibility to tell more stories about people of color.
"There are no more excuses. Black folks can bring the money—and they can bring the audiences. And they can tell the story," Jackson said.
Groff said he hoped the musical's release on film will encourage more people to "raise the bar" and create more groundbreaking and unique shows for Broadway.
"I want to see original work, I want to hear new music, I want to hear new voices," Groff said. "Everyone at this college, right now, I hope that they're writing and collaborating and making things to inspire us."