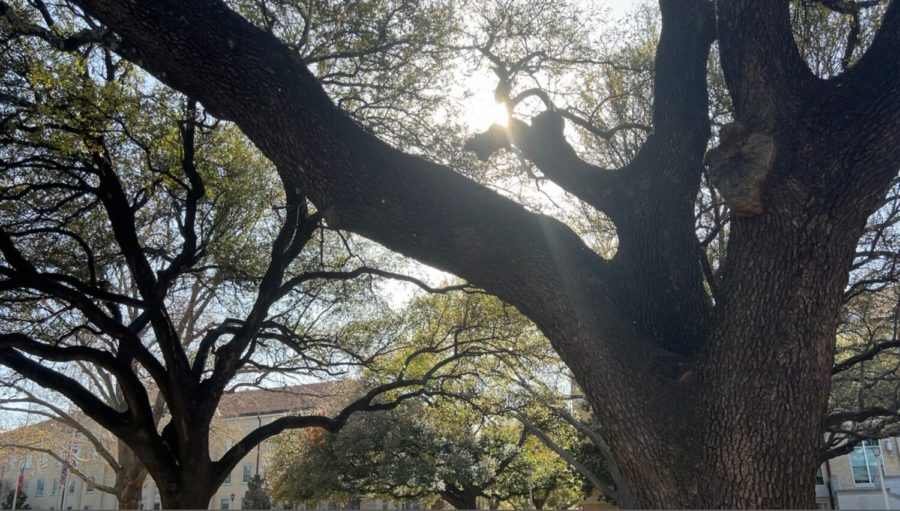 Fort Worth residents can't help but notice the giant oak trees and colorful tulips scattered throughout campus.
The Arbor Foundation has recognized TCU as an Outstanding Tree Campus for the sixth consecutive year, so it should not come as a surprise to know that the university takes extreme measures in taking care of and maintaining its landscaping.
"The grounds team already puts a whole lot of time and effort into taking care of the campus, including the trees, but when we win or when we are recognized nationally for something like this, it really just helps everybody realize all the work that the team puts in," said Erik Trevino, director of landscaping and grounds at TCU.
Read more: TCU recognized as Tree Campus USA by Arbor Day FoundationThe landscaping and grounds team focuses on what people see — more specifically, the beauty and appearance of TCU's campus.
Trevino said the team recognizes that the grounds are the first thing anyone sees when they set foot on TCU's campus, whether that be as a prospective student, current student, event attendee or a member of the surrounding community.
The facts
TCU's campus is home to around 3,200 trees of various species. TCU prides itself on its tree diversity in different areas of campus, whether that be along university streets or encircling facility buildings.
The many species of trees on TCU's campus include live oaks, red oaks, cedar elms, sycamores, pecans, bur oaks, magnolias and Chinese pistaches. Monterrey oaks can be found around the music and fine arts building
The majority of trees on campus are live oaks, which are the large shade trees that cover the sides of university roads. They are especially fascinating because these types of trees were planted about 50 to 60 years ago and keep their leaves all winter long. Once the new leaves start growing in, the old ones start to fall.
In addition to appearance, TCU diversifies its trees for their own protection and adaptiveness, such as if a disease were to affect a certain species in an area.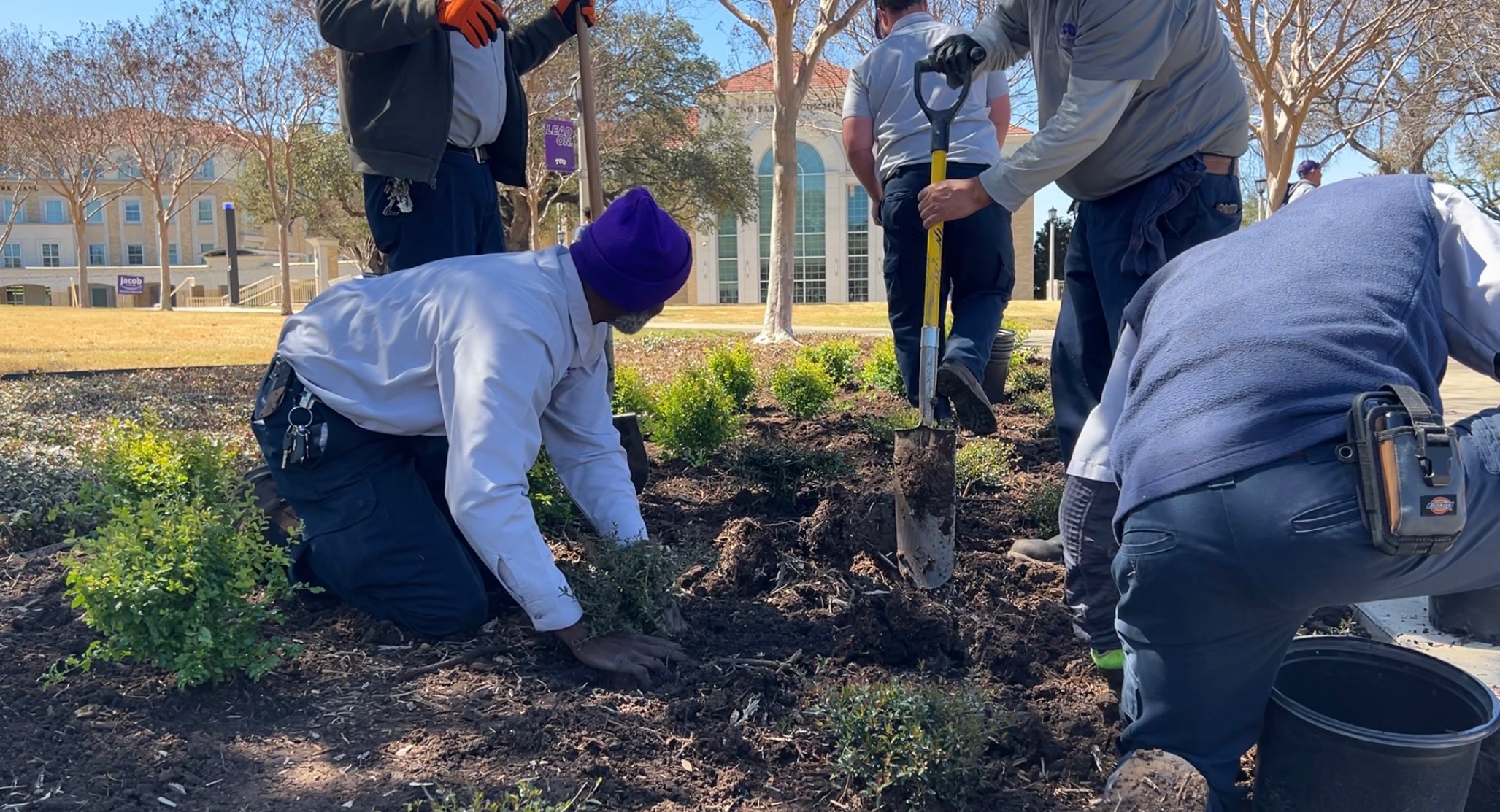 The TCU Landscaping and Grounds Team plant new bushes around Greek Village. (TCU 360/Katharine Vaughn)
Who's behind it all
A variety of teams are responsible for the planning and preparation of planting new trees around campus. Each team has a crucial role in determining the location, maintenance and design of the landscaping within university grounds.
For example, landscaping and grounds partners with arborists and tree contractors who help them do pruning they cannot reach. Before and while planting a new tree, the utility teams consider the underground wiring, plumbing and sewage.
The Landscaping and Grounds Department is broken up into sections of teams on campus. Each team has a supervisor, and each group takes care of the grounds in their designated area.
One of the teams' jobs is to calculate the exact measurement of space needed to plant a tree.
When a tree is first planted, it might only be five feet in radius. But as the tree grows, it eventually reaches about 20 to 30 feet in radius and 60 feet in diameter when it has fully matured.
The challenge is figuring out the exact measurements needed to make an impact. If trees are planted 60 feet apart, or even just 40, there is not much of a noticeable impact.
"So, we have to plan on how close we want the trees too, where you can have impact […] when they're planted, but also make it where they're not overcrowded 30 years from now when they're full-grown," Trevino said. "We definitely don't want to plant trees too close together to where in 10 years we have to consider removing one because they were planted too close together."
Planting a new tree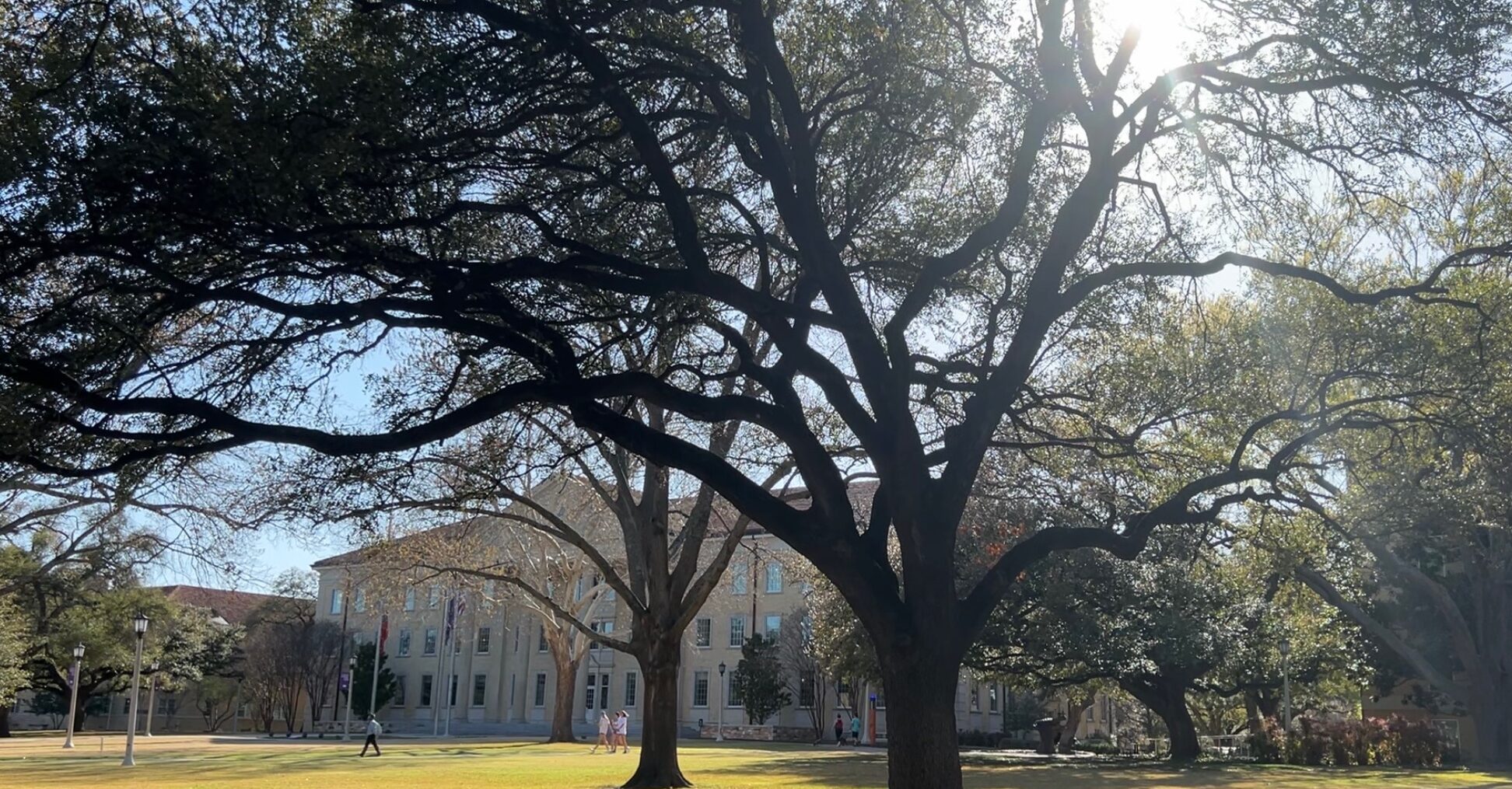 A variety of trees are scattered all around campus. (TCU 360/Katharine Vaughn)
When new trees are planted, it's typically because a new building has been constructed on campus.
When that new building is being designed, the grounds and design team work together with the landscape architects to share their concerns or ideas of improvement. They must be extremely considerate of the spacing and variety of the tree.
The TCU Grounds and Design team provide a general idea of the appearance of the landscape, and the landscape architect presents schematics of their vision for the spacing of the trees.
"We have the opportunity to go back and propose. We can say, 'we don't want the trees that close,' or 'we don't want that all the same type of tree,' or 'let's consider this maintenance issue if we put that tree close to that light'– those type of deals."
What the future holds
For the future, Trevino and his team are focusing on ways to continue to use sustainable practices.
They hope to use adaptive plants that thrive without requiring excessive amounts of water, maintenance or fertilizers.
"A lot of people comment on just how beautiful the campus is," Trevino said. "We want to try to keep everything as natural as we can while still maintaining the beauty that has already been instilled in this campus over decades and decades."