Second Annual Reconciliation Day event to recognize TCU's hidden figures
TCU was founded in 1865 after the Civil War, but much of the labor — cooking for students, maintenance work, caring for sick students — was done by a formerly enslaved couple.
The role of Charley and Kate Thorp in TCU's history has been little more than a footnote. However, TCU plans to publicly recognize their part in the success of the university's early days.
Charley Thorp was first brought to TCU as a slave to Pleasant Thorp, who established the Add-Ran Male and Female college in 1854. Charley Thorp later married Kate Lee in 1882, whose mother was formerly enslaved by the family of Randolph Clark's wife.
On Wednesday, TCU will recognize Charley and Kate Thorp as individuals and some of their descendants during the second annual Race and Reconciliation event, which will be held from 11:00 a.m. – 12:00 p.m. in the Brown-Lupton University Union Auditorium followed by lunch until 1 p.m.
Over 30 of their living descendants have been located and are expected to attend the event.
"Although it happened so long ago, it's still something we're connected to," said Dr. Frederick Gooding, chair of the race and reconciliation initiative. "People today walk the earth, living, and breathing. We have DNA in our blood that goes back to our original DNA. We have the opportunity to not only recognize that but to reconcile. So we're very excited about welcoming them back to our campus formally and acknowledging this relationship and where it goes from here."
The event is part of TCU's five-year race and reconciliation initiative, which began studying TCU's history with slavery, racism, and the Confederacy in July 2020. In the first year survey report, the group divided TCU's history into three windows of time: early period, 1861-1891; middle period, 1941-1971; and modern period, 1998-present.
Last year the board of trustees unanimously approved seven key recommendations that helped "institutionalize our efforts," Gooding said.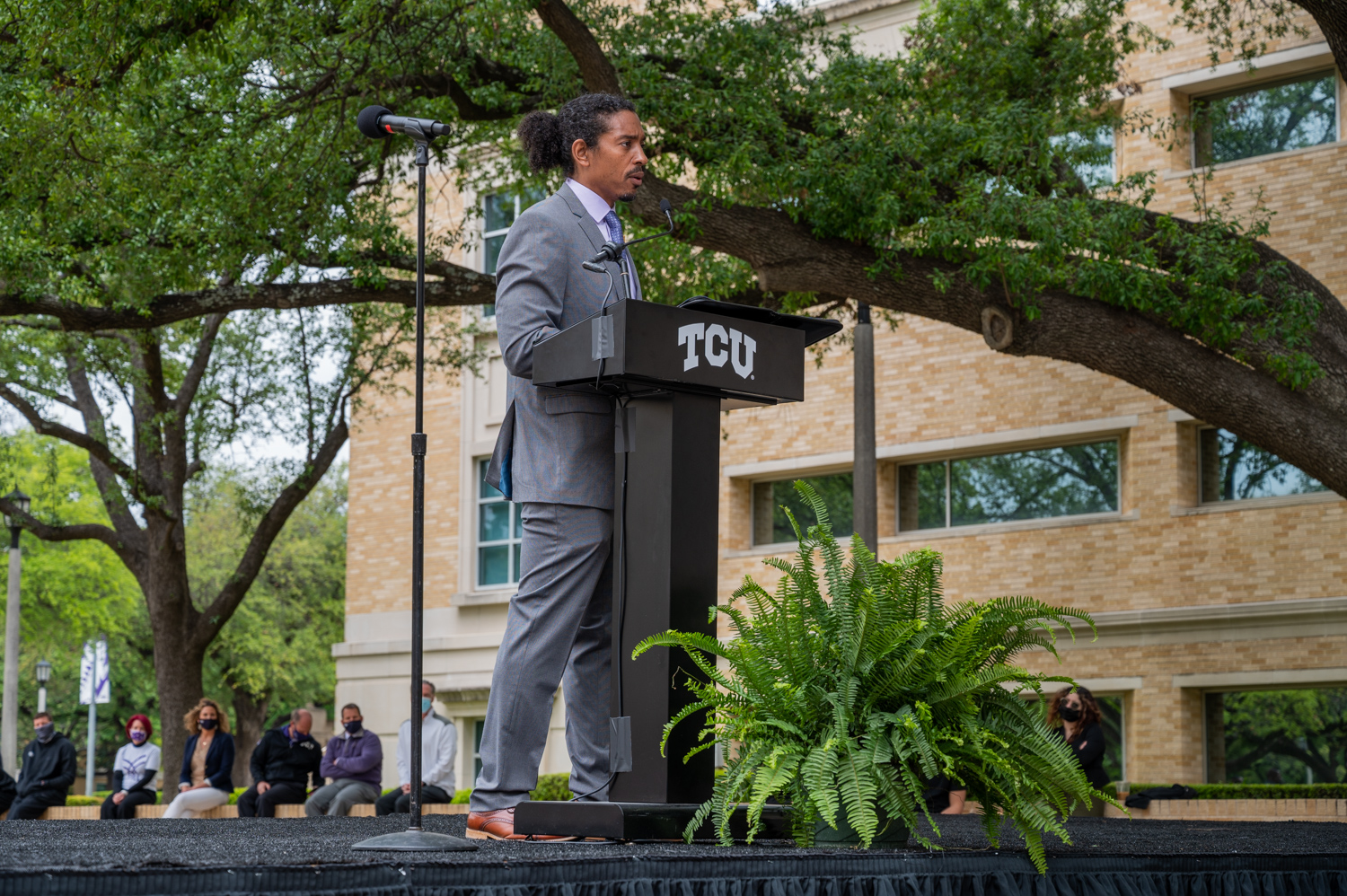 The seven recommendations will be reviewed on Wednesday.
They include:
1. Develop a comprehensive plan that promotes equity in graduate and undergraduate admissions
2. Provide more contextual information near the Clark Brother's statue to display a more complete story of TCU's history
3. Develop and maintain an online depository focused on Race and Reconciliation
4. Recognize contributions of Black, Indigenous, and other alumni of color through maintaining the RRI Oral History Project
5. Continue tradition of "TCU Reconciliation Day" and increase access to TCU media channels to amplify multiple voices on campus
6. Conduct a comprehensive inventory of vendors working with TCU to assess equitable representation
7. Continue Race and Reconciliation Initiative beyond the initial one-year time frame
Part of the program will be dedicated to reviewing these seven key recommendations in order to give an update on the group's progress and goals.
The program will also feature a five-person panel, which will include Chancellor Victor Boschini. Gooding said he is excited to have the Chancellor's support at the event.
"The idea is that he also loves that TCU is taking steps and making the effort," Gooding said. "I think his presence and not just being in the audience, but to actually participate and be on stage with us, I think symbolizes in so many ways it's important to him."
Gooding said Race and Reconciliation Day is not a day to celebrate that we are perfect, but rather a day where we can come together to move forward from the past and celebrate that we are on the right path toward reconciliation.