TCU spring study-abroad application due date approaching
The TCU spring study-abroad application date is fast approaching, with paperwork due by Oct. 1.
TCU students have the opportunity to pick from nine different cities, including Sicily, Florence, London, Madrid, Rome, Seville, Stellenbosch and Oxford. The study abroad department has resources to help students navigate the abroad experience. 
Hailey Dondus, a junior interior design major, is planning to study abroad in Florence.
"I'm really excited about being in a new place, learning a new culture, getting to eat Italian food because I've been to Italy a few times but I love the way it's like a normalcy, getting to have good food all the time," Dondus said.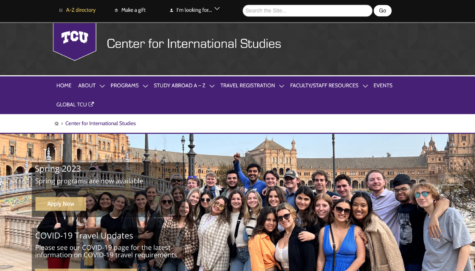 Dondus explained that traveling with TCU puts her worries at ease because she knows that she has a support system. Like many, she is excited to travel around Europe and take day trips. 
TCU senior Alexa Hyslop, who studied abroad in Rome, shared her experience and gave advice to students who plan to go abroad.
"Something that I think someone who is going to study abroad should do is download Babble or some kind of language app to learn the basics of speaking,"  Hyslop said. "You need to make sure to keep your belongings very close to you because pickpocketing is more prominent abroad.
You can visit TCU's Center for International Studies website to learn more about the program and find resources on class selection.